Reapers Calling by Tijuana Tom's is not your average hot sauce. It's made with Carolina Reapers and Trinidad Moruga Scorpion Peppers, two of the hottest peppers on the planet.
But what sets this limited edition sauce apart is the addition of Third Moon Brewing Co's Double Stout. This unique pairing creates a bold and flavourful sauce that's not for the faint of heart.
In this review, we'll take a closer look at Reapers Calling and see if it lives up to its fiery reputation.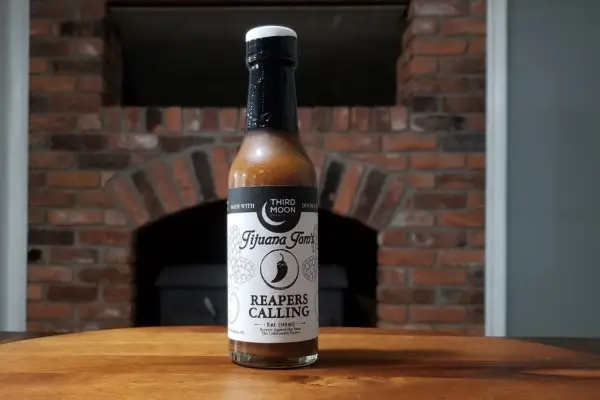 Introducing: Tijuana Tom's Reapers Calling Hot Sauce
Are you ready for a spicy adventure?
Look no further than Reapers Calling, the latest hot sauce offering from Tijuana Tom's House of Hot Sauce. This limited edition sauce is the result of a collaboration between Tijuana Tom's and Third Moon Brewing Co, two Milton-based companies that are passionate about crafting bold and flavourful products.
Reapers Calling is part of Tijuana Tom's Brew Line, where they team up with local breweries to create a unique hot sauce and beer pairing. This sauce features Third Moon Brewing Co's Double Stout beer, which adds a rich, smoky depth to the already-intense flavour of Carolina Reaper and Trinidad Moruga Scorpion peppers.
While this sauce is currently sold out, keep an eye out for future limited editions in the Brew Line. If you're feeling brave, click on the link below to see what other hot sauce and beer collaborations Tijuana Tom's has in store.
Manufacturer: Tijuana Tom's
Made In: Ontario
Heat Rating: 8/10
Size: 148mL
Price Range: $10
Buy from Tijuana Tom's

Ingredients: Apple Cider Vinegar, Red Onions, Cubanelle Peppers, Raw Garlic, Third Moon Double Stout, Sugars (100% Canadian Maple Syrup), Trinidad Moruga Scorpion Peppers, Garlic Powder, Himalayan Pink Sea Salt, Carolina Reaper Peppers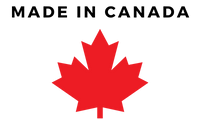 Appearance
The sauce comes in a standard woozy bottle with a white lid and a black and white paper label. The label features limited edition graphics for Reapers Calling, as well as the logos for both Tijuana Tom's and Third Moon Brewing Co.
On the back of the label, you'll find the nutritional information and ingredients list.
As for the sauce inside, it's a vibrant tomato paste red color, with all the ingredients well-blended to create a smooth consistency. The sauce flows nicely and doesn't clog the top of the bottle, making it easy to dispense.
Upon closer inspection, you'll notice bits of ingredients floating around, adding texture and depth to the sauce. Overall, Reapers Calling has a simple but effective appearance that lets the sauce speak for itself.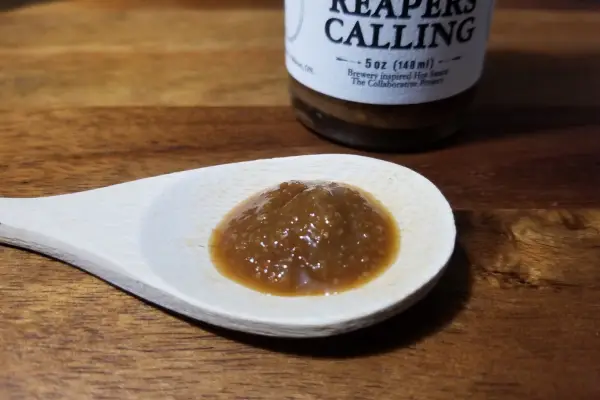 Smell
The first thing you'll notice when you crack open a bottle of Reapers Calling is the rich, smoky aroma. This scent is a result of the Double Stout beer used in the sauce, which adds a depth and complexity to the overall flavour profile.
The spiciness of the peppers is also quite strong and tickles the nose, but it's not overpowering. There's an earthiness to the scent as well, which gives the sauce a grounded and natural feel.
While the smell of the apple cider vinegar used in the sauce is present, it's not overwhelming.
Finally, you can detect a hint of onions in the mix, which adds a slight sweetness and tanginess to the overall scent. Overall, the aroma of Reapers Calling is complex, smoky, and spicy, with a touch of sweetness and tanginess.
Taste and Flavour
When it comes to the taste and flavour of Reapers Calling, the heat is the first thing that hits you. It comes on strong and fast, overwhelming the other flavours at first. But once your taste buds adjust, you can start to pick out the subtle nuances in the sauce.
There's a bit of sweetness that likely comes from the Double Stout beer and maple syrup, providing a nice balance to the heat. As you keep eating, you'll notice a slight tanginess from the apple cider vinegar and a hint of peppers and onions.
The sweetness of the red onions also adds a unique flavour to the mix.
The texture of the sauce is smooth, with no chunks or grittiness. It's not too thick or too watery, making it easy to pour or drizzle onto your food.
Overall, Reapers Calling packs a punch of heat, but it's balanced by the sweetness and tanginess of the other ingredients, making for a well-rounded flavour profile.
Heat Level
For those who love spicy food, Reapers Calling is definitely worth a try.
This hot sauce is not for the faint of heart, with a heat level that I would rate as an 8 out of 10. The intense heat comes from the combination of Trinidad Moruga Scorpions and Carolina Reaper peppers, two of the hottest peppers in the world.
The heat is strong and compounds as you eat more, with a sting that's mainly felt around the tip of the tongue and on the lips. After a few minutes, I started to feel a sweat on my forehead, hairline, and cheeks.
The heat was so intense that I found myself blowing on my tongue to cool it down. If you're someone who loves a good burn, then Reapers Calling is definitely the hot sauce for you.
Conclusion: Overall Thoughts
Overall, Reapers Calling by Tijuana Tom's House of Hot Sauce and Third Moon Brewing Co is a hot sauce that is not for the faint of heart. With a heat level that's sure to make even the most experienced spice lovers sweat, this hot sauce is definitely a unique experience.
Made with a combination of Carolina Reaper and Trinidad Moruga Scorpion peppers, the sauce has a sweet and tangy flavour that's complemented by the smokiness of Third Moon Brewing Co's Double Stout.
Although it's a limited-edition hot sauce, it's definitely worth trying if you can get your hands on it. Just be prepared for the heat!
Please remember that taste is subjective and everyone will experience hot sauce uniquely. These reviews contain my own thoughts and opinions. If you think you'll enjoy a hot sauce then you should definitely try it out.
Mike P
Mike is a hot sauce lover. He has never, and will never say no to hot wings. Mike loves a balance of flavour and heat; he prefers his food on the spicy side but also likes some sweetness too.

About Us