Get ready to take your taste buds on a wild ride with Britannia Mills' Chaude Boucane hot sauce! Hailing from Quebec's scenic landscapes, this smoky sensation is made right on-site.
Packed with a secret blend of hot peppers, smoked to perfection, it brings a blazing heat that scores a solid 6 out of 10 on my personal scale.
Britannia Mills knows their peppers, and this artisanal creation is a testament to their fiery expertise.
Join me as we unravel the complexities of Chaude Boucane, where smoky flavors and intense heat collide in a gastronomic adventure like no other.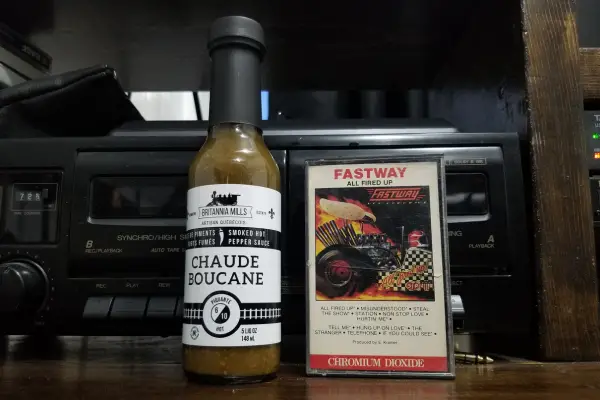 Introducing: Chaude Boucane by Britannia Mills
Introducing Chaude Boucane, the sensational hot sauce handcrafted by Britannia Mills in the heart of Quebec. What sets this hot sauce apart is its commitment to using all-natural ingredients, carefully nurtured on their very own farm.
With a farm-to-bottle approach, Britannia Mills ensures that every drop of this smoky delight is created on-site, guaranteeing the freshest and most authentic flavor. Prepare yourself for a taste explosion as Chaude Boucane unveils its sharp and pleasant heat level, complemented by its distinct smoky undertones.
This hot sauce is a carnivore's dream, reminiscent of a mouthwatering BBQ sauce, making it the perfect companion for sizzling meats. Just imagine generously slathering it on a succulent rack of ribs.
Packaged in a classic 148mL woozy bottle, Chaude Boucane can be easily purchased on Britannia Mills' website at an affordable price of approximately $12CAD. It's time to add a fiery twist to your culinary adventures with this extraordinary hot sauce.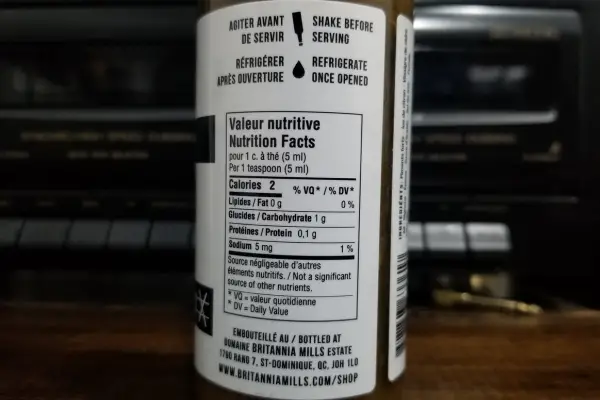 Manufacturer: Britannia Mills
Made In: Quebec
Heat Rating: 6/10
Size: 148mL
Price Range: $12
Buy from Britannia Mills

Ingredients: Hot Peppers (smoked), Lemon Juice, Cider Vinegar, Garlic, Onions, Spices, Maple Sugar, Sea Salt, Natural Smoke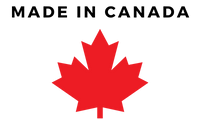 Appearance
Let's dive into the captivating appearance of Chaude Boucane!
Housed in a 148mL woozy bottle with a sleek black lid, this hot sauce commands attention. Its label features a white background with striking black graphics, including a heat rating and charming train-themed designs.
Inside the bottle, a brownish-yellow hot sauce awaits, with delightful bits of ingredients gracefully floating within. Don't forget to savor the scattered pepper bits, adding bursts of flavor and a delightful texture.
The sauce strikes the perfect balance of thickness, allowing for easy dolloping on your favorite dishes. Chaude Boucane not only delivers in taste but also captivates with its irresistible appearance.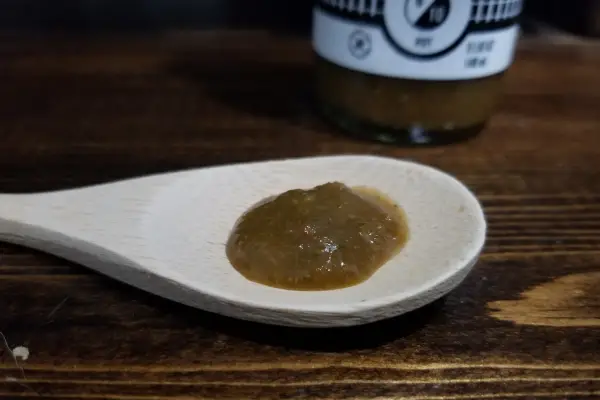 Smell
Prepare to be greeted by a tantalizing aroma when you open the bottle of Chaude Boucane hot sauce.
The scent is a harmonious blend of smokiness, tanginess, and spiciness, with a subtle undertone of garlic. The natural smoky fragrance, derived from the smoked peppers, immediately captivates your senses, drawing you closer to discover the enticing medley of flavors within.
It's a welcoming scent that serves as a perfect introduction to the rich and enticing combination of ingredients that make up this exceptional hot sauce.
Taste and Flavour
This remarkable creation tantalizes your palate with a delectable combination of sweet, savory, tangy, and spicy notes all in one bottle.
It's a flavor symphony that elevates any meal, particularly when paired with hearty meats, especially BBQ.
As you savor each bite, the large bits of ingredients within the sauce act as flavor bombs, bursting in your mouth and delighting your taste buds with their intense flavors.
I must admit, this sauce has quickly become one of my favorites due to its exceptional taste.
Not only does it taste amazing, but the texture is also noteworthy. Taking a bite that includes a tiny bit of pepper releases a burst of fresh pepper taste, adding a delightful element to the overall experience.
Heat Level

Get ready to feel the heat with Chaude Boucane, rated at a solid 6 out of 10, and I couldn't agree more. This hot sauce brings a sharp and lingering heat that demands your attention.
If I were to take a guess, it's likely crafted with fiery peppers like Habaneros or Ghost Peppers. The heat hits you upfront, primarily on the tip of your tongue, with a slight tingle on the lips.
As you indulge, be prepared for your forehead and hairline to break a sweat. The heat lingers around, making its presence known for quite some time.
What's impressive is that this heat feels fresh, not overwhelming or overpowering, as if it were a concentrated extract.
Interestingly, the heat doesn't exponentially intensify with each mouthful, though you might find yourself sweating a bit more.
Conclusion: Overall Thoughts
In conclusion, Chaude Boucane by Britannia Mills is a smoky, tangy, and delightfully hot sauce.
With its mouthwatering flavor, lingering heat, and captivating aroma, it's a must-try for any hot sauce enthusiast. Slather it on your favorite dishes, and let the flavor explosion begin!
Please remember that taste is subjective and everyone will experience hot sauce uniquely. These reviews contain my own thoughts and opinions. If you think you'll enjoy a hot sauce then you should definitely try it out.
Mike P
Mike is a hot sauce lover. He has never, and will never say no to hot wings. Mike loves a balance of flavour and heat; he prefers his food on the spicy side but also likes some sweetness too.

About Us