A friend of mine sent me a care package of hot sauce from Tata Hot Sauce Emporium in Toronto. The first sauce I tried was the Smoke Papaya. It sounded like it would go great with the sandwich I was having for lunch.
This hot sauce is a great blend of scotch bonnet peppers and smoked papaya. It has the delightful texture of apple sauce but with a spicy kick. Great for meats and leaves.
Smoke Papaya by Tata is so good you can eat it right out of the bottle.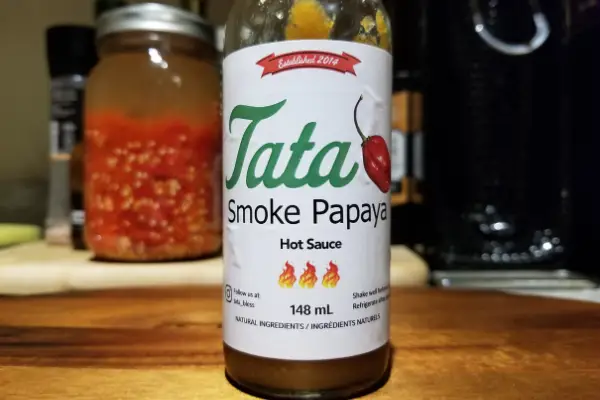 Introducing: Tata Scotch Bonnet and Smoke Papaya
Wow! What a great-tasting hot sauce this was. The smoky flavour blew me away and helped usher in just the right amount of heat. The fine people over at Tata Hot Sauce Emporium sure know to make delicious tropical-inspired hot sauces.
As I mentioned already, this bottle of hot sauce was a gift from a friend who had tried their sauce in Toronto. Tata's is located in East York and also serves some pretty wicked take-out sandwiches. They make all of their hot sauces in small batches using scotch bonnet peppers and tropical fruits.
This hot sauce in particular is made with Scotch Bonnet peppers and Smoked Papaya. Hence the name Smoke Papaya. What a great combination of heat and sweetness they have created.
Smoke Papaya hits you with the savoury smokiness of the papaya and then seals the deal with the heat from the scotch bonnets. This sauce is good for anything from steak and chicken to veggies and salads.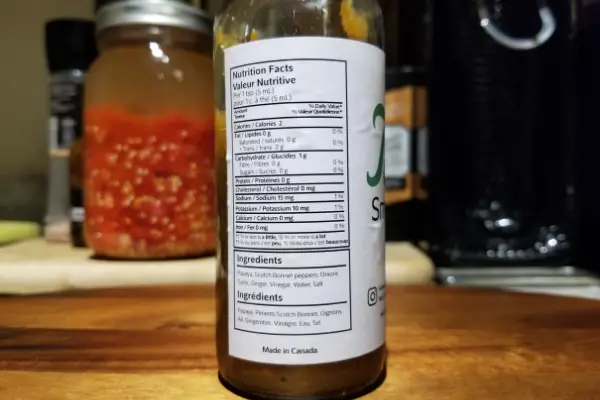 Manufacturer: Tata Hot Sauce Emporium
Made In: Toronto
Heat Rating: 5/10
Size: 148mL
Price Range: $8-$12 (available on Uber Eats in Toronto or in-store)

Ingredients: Papaya, Scotch Bonnet peppers, Onions, Garlic, Ginger, Vinegar, Water, Salt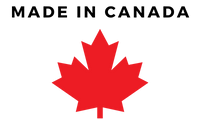 Appearance
You know how sometimes hot sauce bottles look so good that you just have to try them? Tata's Smoke Papaya is one of these examples.
The bottle itself is a standard woozy bottle but the label is what makes it. Tata uses a white label with their logo and everything else you need on a label. It is not overdone and definitely not underdone. The label looks like a good tasty craft hot sauce label should.
Inside the bottle is a savoury looking brown sauce with little bits of seeds and ingredients floating around. The sauce has a consistency of apple sauce and let me tell you, I could definitely eat some of this sauce on its own when I'm feeling spicy.
Pouring the sauce is a breeze, it flows well and does not clog the top of the bottle at all.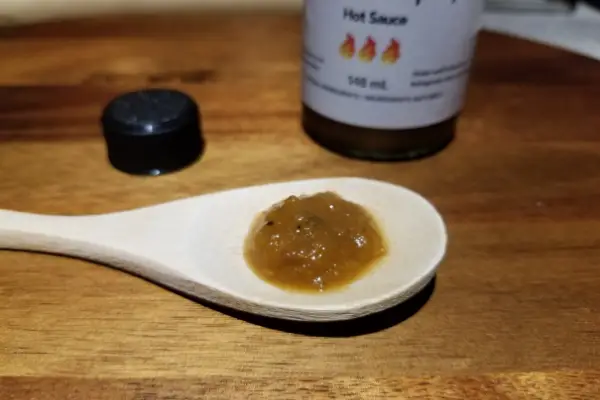 Smell
Really smokey, I'm not sure if they use liquid smoke on the papayas but either way, this smells delicious.
Smoke Papaya is pungent as well, once you open the bottle you will smell it.
You'll also smell a little bit of sweetness, no doubt from the papaya. I would say this hot sauce smells a little bit like grilled pineapple.
The smell is incredibly inviting, you'll want to taste this for sure once you open it.
Taste
Incredible and unique.
Smoke Papaya tastes so fresh and savoury. The smokiness is the glue that binds the rest of the flavours to the papaya. With the smoked papaya, you have sweet and smokey which pairs well with the savoury allure of the garlic and onions.
The ginger is subtle but adds to the freshness of the sauce. On the tangy side, we have vinegar which is also very subtle but effective.
In summary, Smoke Papaya tastes smokey, then sweet, then spicy. All three S's in one bottle.
Heat Level
Smoke Papaya has a pretty mild heat level. Scotch bonnets are pretty spicy peppers, coming in around 100,000-350,000 Scoville units. But in Smoke Papaya they are used sparingly which leads to a milder heat level.
The heat is sharp and lingers for quite some time. The only time I sweat was while enjoying a lot of this hot sauce on wings.
I was sweating on my forehead and the back of my head but not too much on the face.
Smoke Papaya has a tolerable heat level that is suitable for most situations.
Flavour
Smoke Papaya is just about as tropical as you can get for hot sauce. First of all, it is clear all of the ingredients are fresh. Freshness is something that is very important to tropical hot sauces.
Second, this hot sauce is sweet and fruity with a little bit of smoke. It reminds me of beach barbeques or grilled pineapple. So good.
Think of apple sauce on pork chops but with a little spice.
Conclusion: Overall Thoughts
I have to say, I love this hot sauce, the taste is incredible, and the heat level is great and not overpowering.
Each of the dishes I tried Smoke Papaya with was enhanced by the smokey sweet flavour. The texture is smooth and refreshing. It literally tastes great right out of the bottle.
Unfortunately, Tata Hot Sauce Emporium does not do e-comm, but I can't wait to head up to Toronto to try some of their sandwiches and buy all of their sauce.
Please remember that taste is subjective and everyone will experience hot sauce uniquely. These reviews contain my own thoughts and opinions. If you think you'll enjoy a hot sauce then you should definitely try it out.
Mike P
Mike is a hot sauce lover. He has never, and will never say no to hot wings. Mike loves a balance of flavour and heat; he prefers his food on the spicy side but also likes some sweetness too.

About Us