Hailing from the hot sauce makers at Pepper North Artisan Foods, Stargazer is the hottest selection from their portfolio. Made with reaper powder and a mystery pepper mash, Stargazer is a sriracha-inspired hot sauce.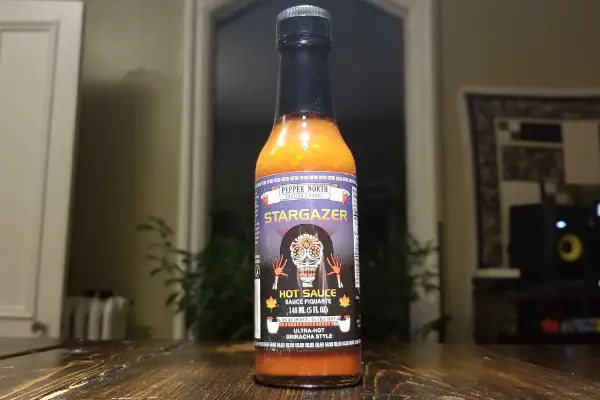 Introducing: Pepper North Artisan Foods Stargazer
Stargazer, you are crazy!
Stargazer will have you looking up to the skies like the character on the bottle. It is very hot, mostly due to the reaper powder and the super-hot pepper mash. When I tried this one I was sweating almost instantly.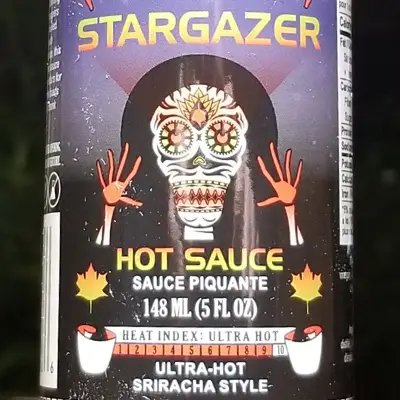 I'm not usually a fan of sriracha-style sauces or sauces that are pushing a 9 or 10 on heat level. I usually find they taste a little unnatural. Stargazer from Pepper North tastes fresh and real just like the rest of their hot sauces.
However, I did find the reaper powder produced an unnatural heat and made this sauce taste a little bit like those novelty "so hot you'll burn your face off" sauces. Not too much, but a little bit.
You can find Stargazer in a 148mL bottle in a grocery store near you for around $10-$15, depending on where you are.
If you are into super-hot sauces or really sriracha but wish it had more heat, Stargazer might be for you.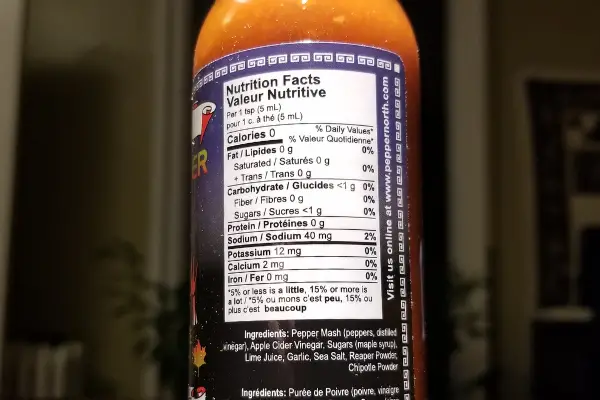 Manufacturer: Pepper North Artisan Foods
Made In: Ontario
Heat Rating: 9/10
Size: 148mL
Price Range: $10-$15
Buy At Pepper North
Buy on Chilly Chile's

Ingredients: Pepper Mash (peppers, distilled vinegar), Apple Cider Vinegar, Sugars (Maple Syrup), Lime Juice, Garlic, Sea Salt, Reaper Powder, Chipotle powder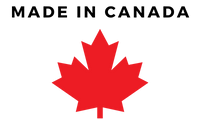 Appearance
As mentioned already, this hot sauce comes in a 148mL woozy bottle with a neat label with a Mexican-inspired alien-looking character. You'll also notice some maple leaves on the label which represent the maple syrup used to sweeten up this bad boy.
The hot sauce inside is a red colour one would expect from a sriracha-style hot sauce. A tad bit darker than Huy Fong Sriracha sauce.
Like all Pepper North hot sauces, Stargazer is a pretty homogenous mixture and is blended well, save for a few seeds and bits of the other ingredients. I'm not sure what type of pepper the seeds come from but they definitely pack some heat if you chew on them.
The sauce is thin and flows well enough to coat whatever you want. As long as the bottle is not super cold. Also, the top of the bottle tends to gum up a bit with hot sauce. I haven't had this happen with any other Pepper North sauces but it happened with Stargazer. This is pretty normal for hot sauce though.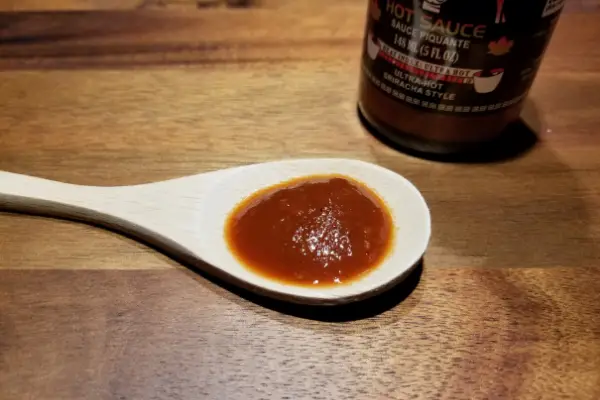 Smell
Smoky, sweet, and REALLY SPICY are the words I would use to describe how Stargazer smells.
Right off the bat, I could feel my nose hairs recoil in horror at the amount of heat in the aroma alone. Then all of a sudden I could smell ketchup, which is weird because there are no tomatoes in this hot sauce. Something tangy for sure. Maybe the Apple Cider Vinegar.
I also noticed the heat level smelled kind of concentrated as well, again likely the reaper powder.
The smell actually reminded me a lot of No Joke from Pepper North.
Taste
The first thing you'll taste when trying Stargazer is a bit of sweetness from the maple syrup. Right after that first hit of sweet comes the deep deep burn.
In terms of texture, you won't be disappointed. With the real bits of pepper seeds and pepper chunks, each bite comes with a burst of fresh flavour.
But for the most part, you're just going to burn your tongue off.
Heat Level
The heat level that comes from Stargazer is pretty intense. As stated above, I would rate it a 9 out of 10 on my heat scale. The label on the bottle also states a 9 out of 10 which is definitely accurate. There are hotter sauces, but this one is super hot.
I was only able to enjoy Stargazer in small doses. Little dabs on whatever dish I was having it with at the time. Even still, this hot sauce had me sweating pretty much instantly. We're talking forehead, cheeks, under the eyes, back of the head.
Everywhere.
On top of that, my mouth was on fire and my nose was running. It doesn't sound that glamourous, but on the right day, with the right meal, that type of heat can be exactly what you need.
I would say the heat level does feel a little bit like it comes from a concentrate and is not 100% fresh. Still, definitely enjoyable.
Flavour
I would use the same three words to describe the flavour of Stargazer: Smoky, Sweet, and Spicy.
Sweet and smoky at first and then smoky and very spicy towards the end.
I have to admit, I'm not crazy about sriracha sauces, so the flavour was nothing special for me. Also, this one was primarily just reaper powder flavoured once you make it past the maple syrup.
Conclusion: Overall Thoughts
You know what, originally, I was a little disappointed and thought that Stargazer was just a gimmick hot sauce.
After taste testing it a few times I changed my mind.
The fact that there are real bits of peppers and seeds makes it seem more natural and fresh. For example, when the sweetness kicks in, it doesn't just taste sweet, it tastes like maple syrup. When you bite into a pepper seed, it's not a fake heat, it's real heat coming from the pepper.
I tried Stargazer with plenty of different dishes, but where it really stood out was soup. The superheat level meant I only needed a couple of dabs of sauce to take my mulligatawny up a notch. BAM!
Make no mistake though, Stargazer is very spicy, even at this very moment, my tongue is burning from the last taste test. Enjoy!
Please remember that taste is subjective and everyone will experience hot sauce uniquely. These reviews contain my own thoughts and opinions. If you think you'll enjoy a hot sauce then you should definitely try it out.
Mike P
Mike is a hot sauce lover. He has never, and will never say no to hot wings. Mike loves a balance of flavour and heat; he prefers his food on the spicy side but also likes some sweetness too.

About Us