They say everything in life is relative, which is perhaps why I originally thought No Joke from Pepper North was in fact a joke. I had just taste-tested several super hot sauces and then tested out this mild hot sauce.
Thankfully, I decided to wait a little bit and try it out again. Am I ever glad I did that!
I found out that No Joke adds a nice burst of heat and flavour to your meal.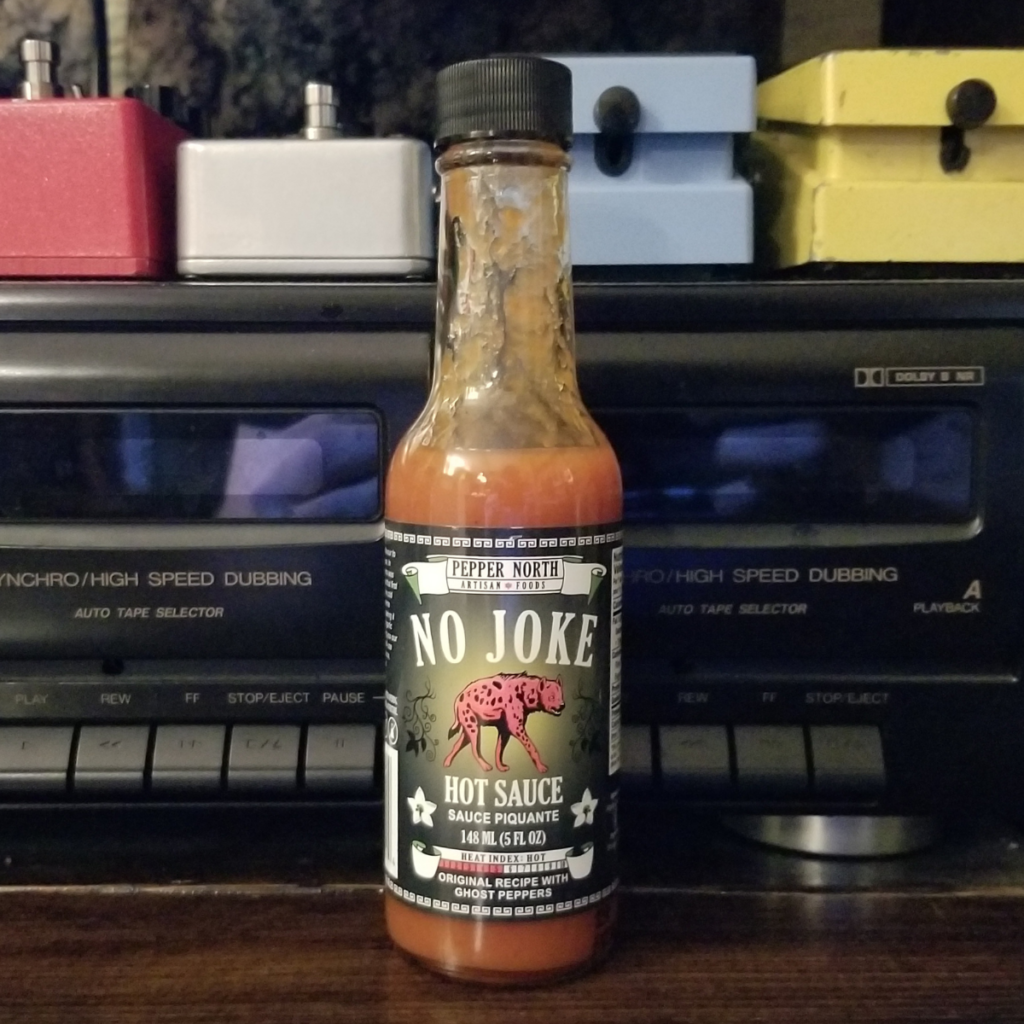 Introducing: Pepper North's No Joke Hot Sauce
No Joke is a medium heat hot sauce from Pepper North in Ontario. They make many awesome hot sauces all with different flavours and heat ranges.
This is a good hot sauce to keep around for everyone to enjoy. It has enough kick that it will satisfy hot heads and the heat is mild enough for weaker taste buds to enjoy.
No Joke is made with Ghost peppers and Red Bell peppers. The Ghost peppers provide the lingering heat levels and the Red Bell peppers along with Tomatoes provide a good base for the sauce.
To me, this tastes kind of like tomato soup with spicy peppers blended in. This alone makes it a great hot sauce for anything tomato-based like pizza or pasta.
You should be able to find No Joke from Pepper North in most large grocery chains. They also sell their hot sauces on their website.
We have also reviewed Momento De Muerte from Pepper North, one of my favourite hot sauces!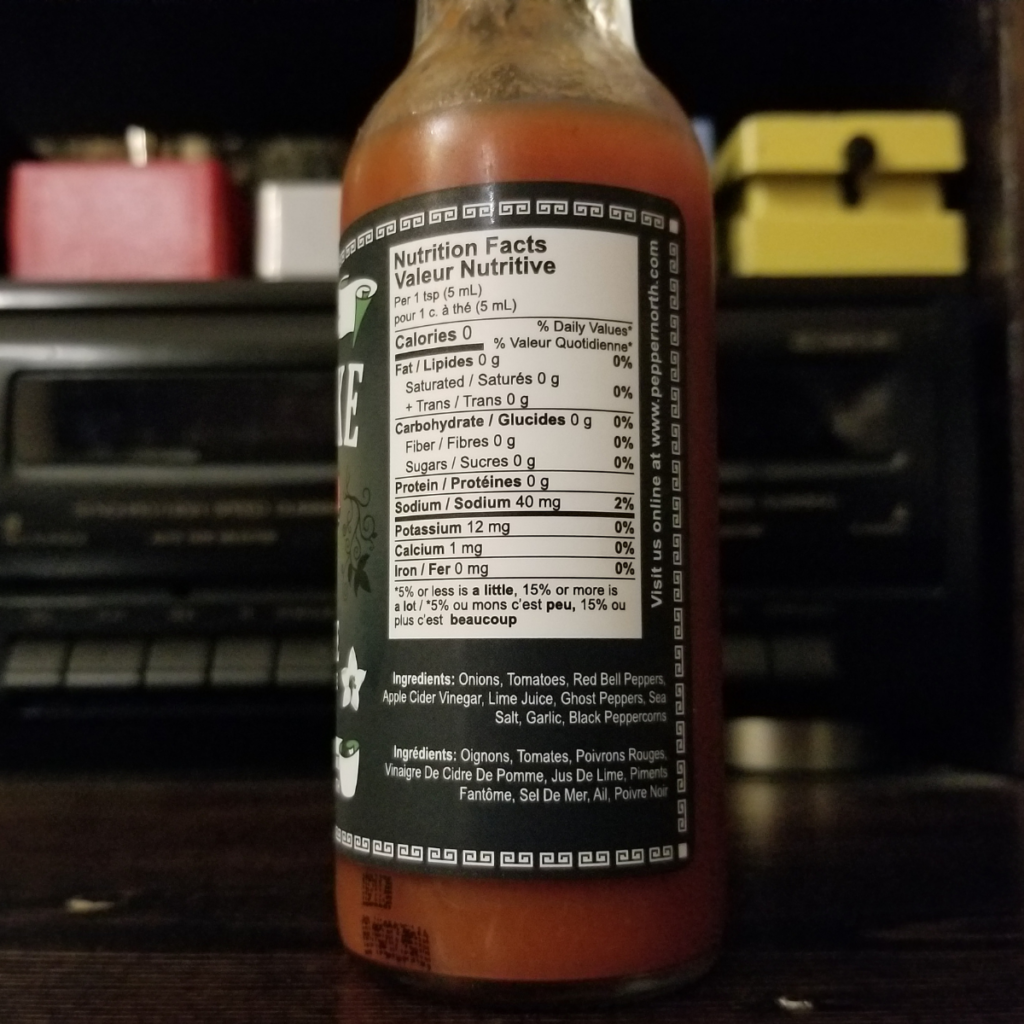 Manufacturer: Pepper North Artisan Foods
Made In: Ontario
Heat Rating: 5/10
Size: 148mL
Price Range: $9-$12
Buy from Pepper North


Ingredients: Onions, Tomatoes, Red Bell Peppers, Apple Cider Vinegar, Lime Juice, Ghost Peppers, Sea Salt, Garlic, Black Peppercorns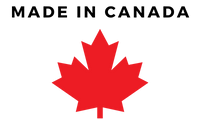 Appearance
No Joke is presented in a classic woozy bottle with a black cap and a label. Of course, there is a shrink wrap to help keep the bottle fresh as well.
The label features a Hyena who in ancient mythology is thought to have brought the warmth of the sun to the cold earth. Pepper North took inspiration from this and used Ghost peppers to bring the heat to the relatively tame Red Bell pepper and tomatoes.
Inside the bottle is a bright red/orange hot sauce that is thin and has bits of real ingredients visible. You can see bits of pepper, bits of peppers, and bits of tomato.
The hot sauce is thin and pours really well. No Joke is not watery and stays put wherever you pour it on your meal.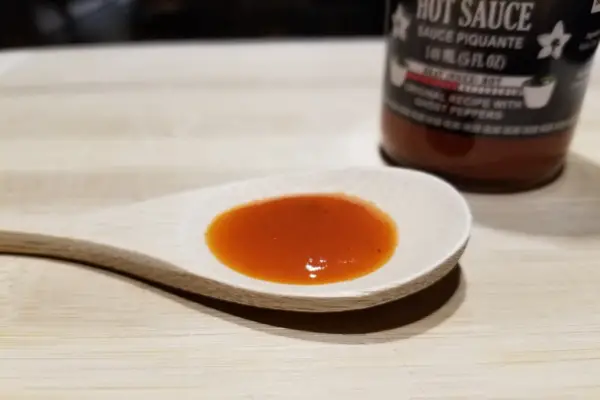 Smell
When first smelling No Joke, you can't really pick out any of the Ghost peppers. The smell is more tangy than sharp and almost nutty.
I think the tanginess I was smelling was from the Apple Cider Vinegar and maybe a bit from the onion. To me the smell was not as inviting as it could be, the smell of the tomatoes threw me off a little bit.
That being said, the smell of No Joke is mild and does not overpower the meal you enjoy with. I do like to sense some aroma when using hot sauce though.
Taste
Initially, you can taste the tomatoes in this hot sauce, quickly followed by the sharp heat of the ghost peppers.
There is not much to the taste of this hot sauce, it is very mild. Tomatoes are definitely a standout and you can kind of taste the onion.
The ingredients do blend well and complement each other but there is not much going on. To me, this sauce was purely meant to be subtle and to deliver a modest amount of heat to your meal.
Mission accomplished if this was the case.
Heat Level
Pepper North rates No Joke at a 5 out of 10 and I would agree with that heat rating. It is not a concentrated heat either, the heat is clearly from the fresh peppers used to make this sauce.
The burn from the Ghost peppers is fast-acting and sharp but it is not too much. The heat also lasts longer as you enjoy more of this hot sauce.
I did feel a little bit of sweat on my upper cheeks but my head and forehead were spared when taste-testing this sauce.
On my tongue, the heat was focused around the middle and I could feel the sting on the outside of my lips too.
Flavour
The best way to describe the flavour of No Joke is Tomato soup with ghost peppers.
Like a thinner, more vinegary ketchup with a spicy kick. Now that I think of it, I should have tried this on some fries, they would have went very well together.
I think Pepper North was going for a mild and enjoyable hot sauce that can be used in many situations. They definitely achieved that with No Joke.
Conclusion: Overall Thoughts
I don't know if I would buy this one again. I like my hot sauces a little spicier than this and am not much of a fan of tomatoes in my hot sauces.
Still, I could see a lot of people liking this hot sauce for its mild and versatile flavour. No Joke by Pepper North is a good hot sauce to keep around just in case you need to bring the heat down. It does go well with many different types of meals and is pretty common at most grocery stores.
Overall, No Joke was a good hot sauce, just not at the top of my list of favourites. As always, if you think you'll enjoy No Joke, give it a try, you won't be disappointed.
Please remember that taste is subjective and everyone will experience hot sauce uniquely. These reviews contain my own thoughts and opinions. If you think you'll enjoy a hot sauce then you should definitely try it out.
Mike P
Mike is a hot sauce lover. He has never, and will never say no to hot wings. Mike loves a balance of flavour and heat; he prefers his food on the spicy side but also likes some sweetness too.

About Us