If you're looking for a hot sauce with extreme heat and a unique flavour, Momento De Muerte from Pepper North might be right for you!
Carolina Reaper peppers and Habaneros peppers give this hot sauce an intense burn. Black cherries provide a great flavour to make Momento more than just a hot sauce.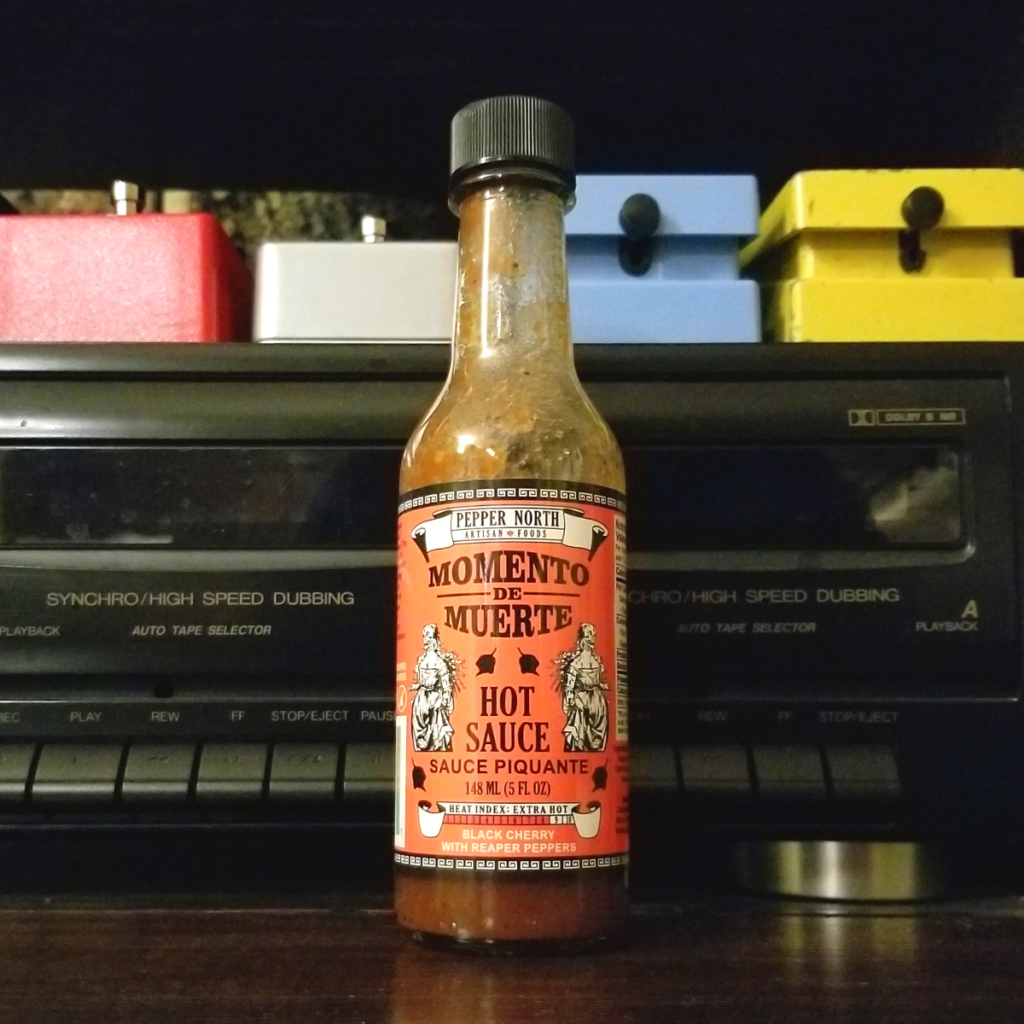 Introducing: Pepper North Momento De Muerte
I'm loving the hot sauces from Pepper North! Momento De Muerte is my favourite for sure. Which is no suprise as I love cherries and hot peppers so blending them together was a dream come true for me. The extreme heat comes from Habanero peppers and some Carolina Reaper peppers for an added sting of heat.
Momento De Muerte comes in a standard 148mL bottle and can be found for around $9 in many grocery stores in Ontario. You can also buy Pepper North's hot sauces direct from their online store. Pepper North makes their hot sauces in Oshawa, Ontario and uses locally sourced peppers and ingredients.
This sauce from Pepper North has one many awards for its awesome flavour and the enjoyable heat it brings to the table. Some notable awards are "Best Extra Hot Sauce" at the 10th Annual NYC Hot Pepper Awards and 3rd Place for Reaper Pepper Sauces at the 2019 Fiery Food Challenge.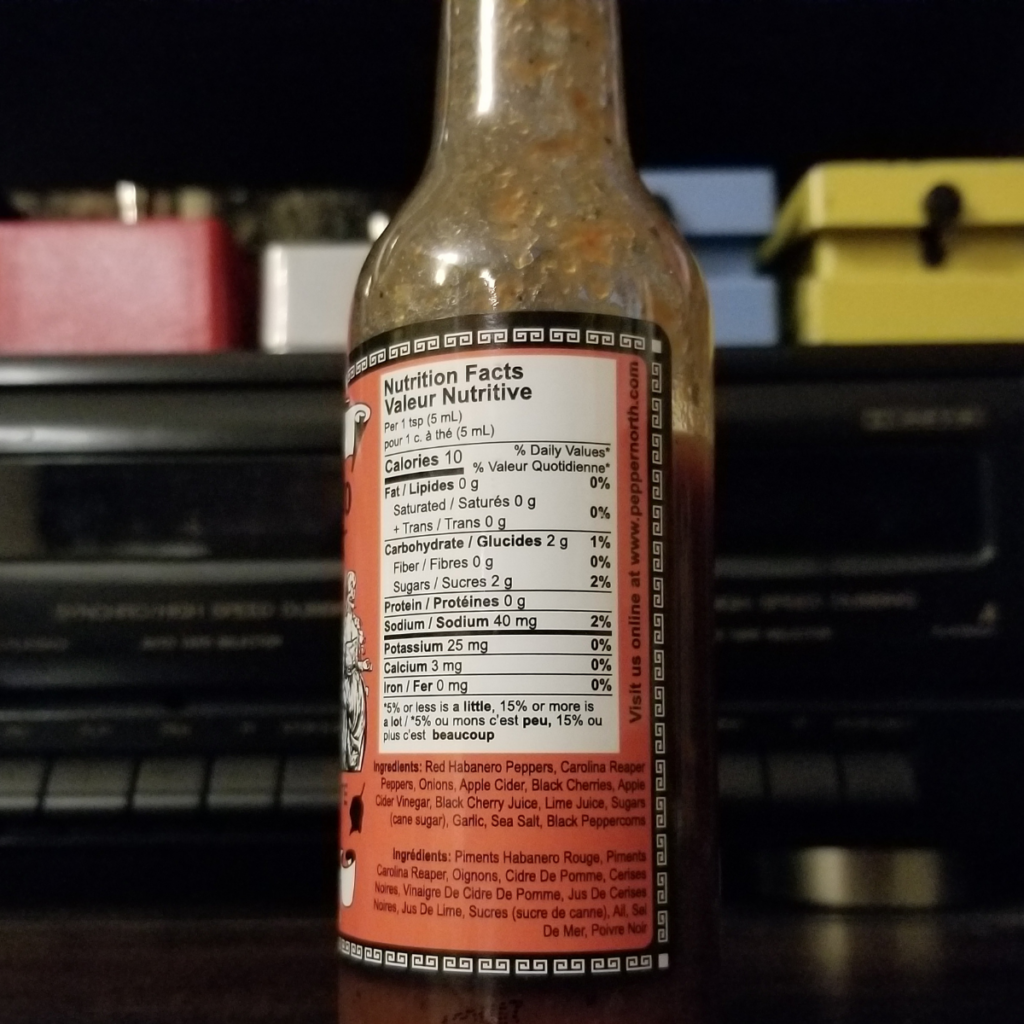 Manufacturer: Pepper North Artisan Foods
Made In: Ontario
Heat Rating: 8/10
Size: 148mL
Price Range: $9-$12
Buy from Pepper North

Ingredients: Real Habanero Peppers, Carolina Reaper Peppers, Onions, Apple Cider, Black Cherries, Apple Cider Vinegar, Black Cherry Juice, Lime Juice, Cane Sugar, Garlic, Sea Salt, Black Peppercorns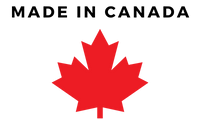 Appearance
The first place you might see a bottle of Momento De Muerte is on the grocery store shelf. As such, you'll notice the bottle looks similar to other hot sauces around it. This hot sauce comes in the classic 148mL woozy bottle with a label around the belly of the bottle.
The label artwork is an orange colour contains all the standard hot sauce info like heat level, ingredients, and so forth. On the left side of the label is a blurb that tells us where the name of the sauce comes from.
"The term momento mori originated in ancient Rome and has long served as a reminder of mortality urging people to live their lives to the fullest."
Inside the bottle is a brownish red hot sauce made with Black Cherries and Carolina Reaper Peppers. Red Habanero peppers contribute to the red hue of the sauce and the cherries and cherry juice contribute to the darker brown colour.
The hot sauce inside contains delicious bits of the ingredients like seeds and bits of pepper. The sauce itself is thin but not watery. Momento De Muerte is designed to flow well out of the bottle and to efficiently cover whatever your meal is.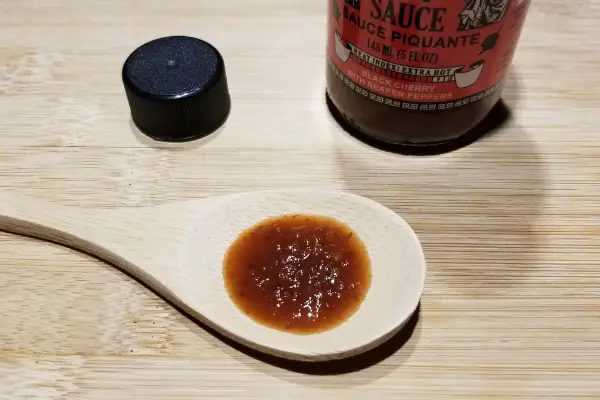 Smell
As a Reaper Pepper sauce, you would expect that the smell of this hot sauce would burn the inside of your nose. This is not the case! Momento De Muerte smells tangy and sweet with a very small hint of the peppery heat inside.
An intimate sniff reveals the Apple Cider and the tartness of the Black Cherries. Very much like a sweet and sour sauce from your favourite Asian restaurant.
Taste
One of my families go-to dishes at Chinese restaurants is chicken balls that come with a red sweet and sour sauce. Momento De Muerte reminds me of a less sweet and way spicier version of sweet and sour sauce. When I looked up a recipe for sweet and sour sauce I found many that included cherries or grenadine which is right in line with the ingredients list of Momento.
The bits of real ingredients make for an incredible mouth feel when enjoying this hot sauce. Each bite is a burst of real fresh flavour from the Garlic, Cherries, Peppers, and Onions.
Momento De Muerte starts off sweet and tart and finishes super spicy!
Heat Level
Intense.
One would expect a Reaper sauce to be super hot and this hot sauce definitely fits the bill. Once the heat kicks in it sticks with you for about 20 minutes or so.
Most of the burn is around the tip of your tongue and around the back of your throat. The heat was present on my lips and I was definitely trying to cool my mouth down while taste testing this one.
You will definitely sweat after enjoying some of this hot sauce. I could feel it in my upper cheeks, my forehead, and the top of my head under my hair. And the sweat just kept coming!
The rating on the bottle of Momento De Muerte claims a heat rating of 8 out of 10. I agree with this rating as it is really hot, but not deathly, overpowering heat that is unenjoyable.
You won't need a lot of sauce to feel the heat, but you should for sure use as much as you enjoy. The heat level isn't compounding on this one.
Flavour
Black Cherries, Apple Cider, and Carolina Reapers.
This sauce starts off tart and sweet, much like cranberries at a Thanksgiving dinner. It is tangy like a sweet and sour sauce but not overly sweet.
You won't notice the vinegar or the salt and Momento doesn't taste briney at all.
The fruity flavours of apples and cherries would make this a great sauce if you REALLY wanted to kick up a salad.
Conclusion: Overall Thoughts
I highly recommend giving Momento De Muerte a spot in your fridge or hot sauce shelf.
The blend of flavour and heat allows you to enjoy this hot sauce on almost any meal you wish.
I tried it on a salad and loved it, the fruit flavours mixed will with the veggies in the salad. Might not be as great with a Caesar salad or something with a creamy dressing but was great with a vinegrette.
On chicken wings this sauce was the BOMB! It was just like eaching really spicy chicken balls that came on a bone. Sweet, sour, and spicy!
Give this one a shot, you won't be dissappointed!
Please remember that taste is subjective and everyone will experience hot sauce uniquely. These reviews contain my own thoughts and opinions. If you think you'll enjoy a hot sauce then you should definitely try it out.
Mike P
Mike is a hot sauce lover. He has never, and will never say no to hot wings. Mike loves a balance of flavour and heat; he prefers his food on the spicy side but also likes some sweetness too.

About Us