Get ready to ignite your taste buds with Nuclear Bacchanal, the scorching hot sauce by Firecracker Pepper Sauce. Hailing from Toronto, Ontario, this Trinidadian-style sauce is a fiery blend of Scotch Bonnet peppers and Bhut Jolokia peppers.
The result?
An explosive flavor experience that leaves you craving more.
Prepare for a tantalizing tang and a memorable afterburn that will keep you coming back for more. I personally couldn't resist the temptation and found myself reaching for not one, but five bottles of this addictive hot sauce, each one disappearing within just two days.
Don't miss out on the chance to add some sizzle to your meals with Nuclear Bacchanal from Firecracker Pepper Sauce.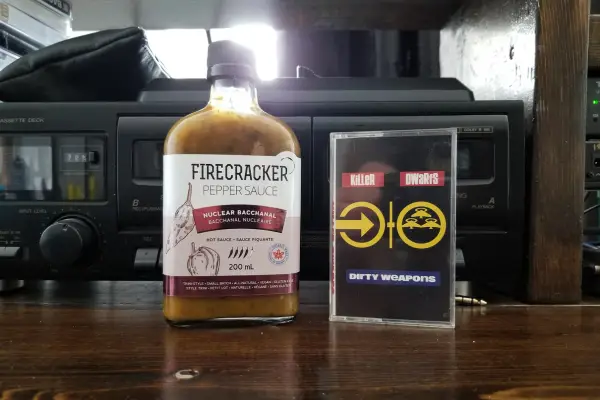 Introducing: Nuclear Bacchanal by Firecracker Pepper Sauce
Introducing Nuclear Bacchanal, a hot sauce that packs a punch while delivering a burst of vibrant flavors.
Made with a combination of fiery Scotch Bonnet peppers and Bhut Jolokia peppers, this sauce brings the heat to your palate.
Firecracker Pepper Sauce also adds a refreshing twist with the inclusion of zesty cilantro and tangy lime juice. On my personal heat scale, I rate it at about 7 out of 10, making it a spicy delight for those seeking a flavorful kick.
Crafted in Toronto, Ontario, by a husband and wife team at Firecracker Pepper Sauce, this hot sauce is a labor of love. They prioritize using fresh, all-natural ingredients, ensuring a premium quality product. Each batch is handcrafted in small quantities, resulting in exceptional taste and consistency. Not only that, Nuclear Bacchanal is gluten-free and vegan, catering to a wide range of dietary preferences.
Packaged in a unique, wider flask-shaped bottle, each containing 200mL, this hot sauce is as visually appealing as it is delicious. Priced at around $12 CAD, you can easily grab a bottle from their store, adding a thrilling flavor experience to your culinary adventures.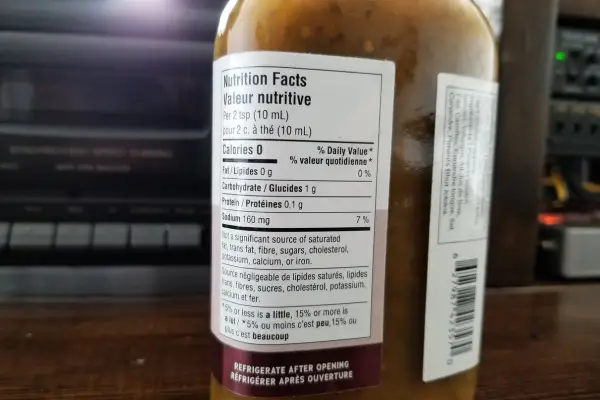 Manufacturer: Firecracker Pepper Sauce
Made In: Ontario
Heat Rating: 7/10
Size: 200mL
Price Range: $10-$15
Buy from Firecracker

Ingredients: Scotch Bonnet Peppers, Vinegar, Garlic, Lime Juice, Water, Carrots, Chadon Beni, Salt, Cilantro, Bhut Jolokia Peppers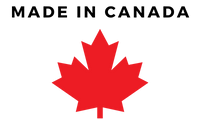 Appearance
Nuclear Bacchanal hot sauce arrives in a cool flask-shaped bottle, topped with a sleek black lid. Its label rocks metallic maroon ribbons that give it a touch of class. You can't miss the bold 4 out of 5 heat rating proudly displayed on the bottle.
When you crack it open, you're met with a mesmerizing dark mustard-colored sauce that catches your eye.
But here's the real kicker: floating inside are these big flavor bombs of ingredients. They bring both texture and mouthwatering bursts of taste to every bite.
Despite its thickness, this sauce pours out like a dream, no clogging here. And when you spread it on your food or use it as a dip, it glides like a charm, adding that tangy, fiery kick you crave.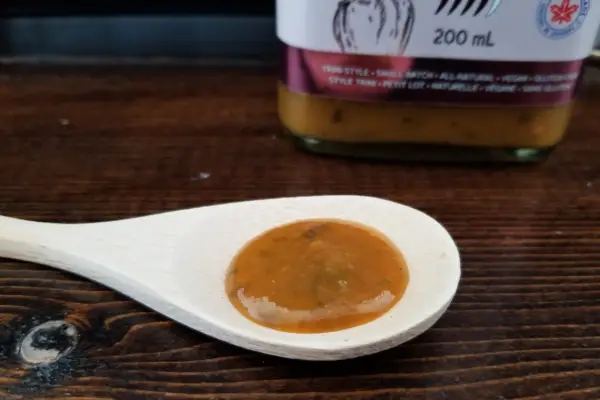 Smell
Prepare to have your senses tantalized as you take in the captivating scent of Nuclear Bacchanal hot sauce. As you open the bottle, an enticing blend of fresh cilantro and zesty lime wafts through the air, instantly awakening your taste buds.
But that's not all – a tropical heat lingers in the background, hinting at the fiery adventure that awaits. The aroma is tangy, with a delightful absence of overpowering sweetness.
It's an inviting scent that promises a mouthwatering and satisfying flavor experience. From the first whiff, you know you're in for a treat, as the irresistible fragrance of Nuclear Bacchanal beckons you to dive in and savor its delectable taste.
Taste and Flavour
Nuclear Bacchanal hot sauce brings a flavor party to your palate. When you dig in, the cilantro and garlic take the spotlight, giving this sauce a punchy kick alongside the pepper flavors. But hold on, the lime juice jumps in with a tangy twist that makes your taste buds dance.
And oh boy, those Scotch Bonnet peppers bring a sharp tropical burst that keeps you hooked.
The combination of ingredients in this sauce is pure magic, creating a hot sauce that tastes absolutely amazing. Now, let's talk texture – it's on point! Each big chunk of ingredients releases a burst of flavor that elevates every bite.
Heat Level
On my personal heat scale, I rate it at a solid 7 out of 10. The heat hits you like a sharp punch, reminiscent of the fiery intensity found in most Chinense peppers.
As I took my first bite, I immediately felt the burn on the tip of my tongue and a tingle on my lips. But that's just the beginning!
As I indulged in the hot sauce, I could feel a pleasant heat spreading, causing me to break a sweat on my cheeks, eyebrows, and even my hairline. The heat level was absolutely fantastic, and the best part? It lingered around for a while after I finished my last bite, leaving a warm, satisfying sensation.
Conclusion: Overall Thoughts
Nuclear Bacchanal has won me over with its incredible hot sauce prowess. There was something about this hot sauce, I paired it with every meal.
The flavors are out of this world, with prominent notes of cilantro, garlic, and the tangy kick of lime juice.
The heat level provided the perfect balance of intensity without overwhelming my taste buds. From the sharp heat of the Scotch Bonnet peppers to the delightful bits of ingredients that burst with flavor, this hot sauce truly knows how to make a statement.
Please remember that taste is subjective and everyone will experience hot sauce uniquely. These reviews contain my own thoughts and opinions. If you think you'll enjoy a hot sauce then you should definitely try it out.
Mike P
Mike is a hot sauce lover. He has never, and will never say no to hot wings. Mike loves a balance of flavour and heat; he prefers his food on the spicy side but also likes some sweetness too.

About Us