Smoke Show out of Montreal makes a really awesome Jalapeno hot sauce. They lightly smoke the jalapenos to boost the flavour of this sauce. The jalapenos also provide a mild but sharp heat.
This hot sauce tastes savoury, smoky, and just a little bit tangy. If you are into hot sauces that add flavour with a tiny bit of heat, this one from Smoke Show might be the sauce for you!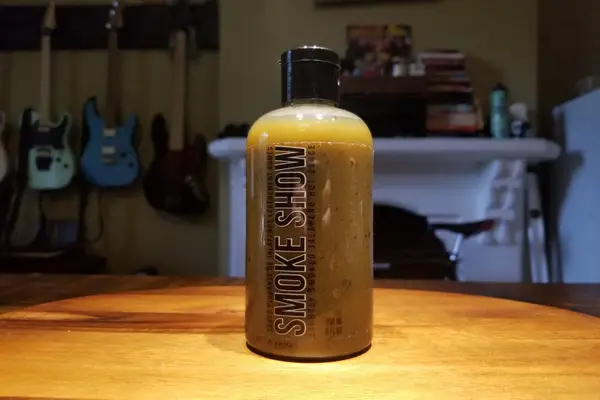 Introducing: Smoked Jalapeno Hot Sauce by Smoke Show
This smokey Jalapeno Hot Sauce from Smoke Show is a very mild but flavourful pepper sauce. If you want to add something tangy with a little bit of tingle, this hot sauce is for you.
This is actually the sauce that kicked off the Smoke Show business. Dave Rose and his brother Nick were smoking some ribs one afternoon when they added some jalapenos to the smoker. They blended these up into a sauce and realized they were onto something.
Now, you can find Smoke Show hot sauce in just about any city across Ontario and Quebec. Heck, even my small town has a few stores that sell it.
You can usually find a bottle from $10-$14, sometimes lower.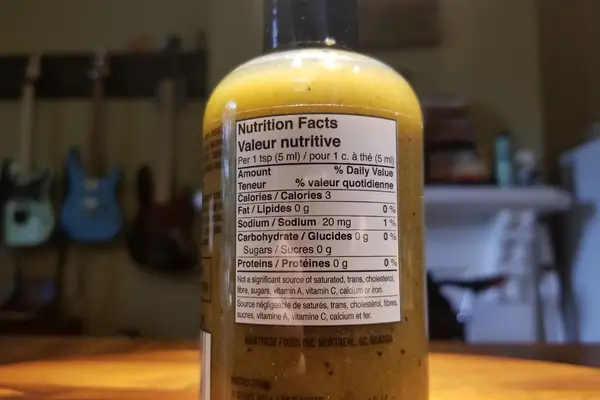 Manufacturer: Smoke Show
Made In: Quebec
Heat Rating: 1/10
Size: 250mL
Price Range: $10-$14
Buy from Smoke Show

Ingredients: Jalapeño Peppers, Water, Cider Vinegar, Maple Syrup, Concentrated Lemon Juice, Salt, Mustard Flour, Xanthan Gum, Potassium Sorbate, Sodium Benzoate, Onion Powder, Natural Smoke Flavour, Spice.
Contains: Mustard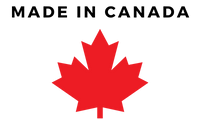 Appearance
Jalapeno Hot Sauce by Smoke Show comes in a 250mL plastic bottle with a flip-top lid for easy pouring. The label is clear which gives you a good look at the sauce.
The sauce inside is a peppery green sauce that flows very well and is pretty thin.
Floating around the sauce are little specks of ingredients like smoked jalapenos and spices.
Smell
This hot sauce smells interesting for sure. I could not really pick out the scent of the jalapeno peppers. The sauce did not really smell spicy at all.
What I could smell were the sweet ingredients in Jalapeno Hot Sauce. The maple syrup and the apple cider vinegar were quite present on the nose.
There was a little bit of a smoky scent which likely comes from the natural smoke flavour mixed into this sauce.
Taste
Jalapeno Hot Sauce tastes like a few things, roasted jalapenos, pickles, and a little bit of smoke.
The main ingredient is Jalapeno peppers, which explains the flavour of the peppers. The vinegar and salt help contribute to the pickle taste. Finally, there is liquid smoke which adds a smoky flavour.
This hot sauce uses apple cider vinegar, which I usually steer away from as it tends to be overpowering in the mix. However, Jalapeno Hot Sauce is blended well and I could not taste the ACV.
Overall, it tastes like a pickle-y, roasted pepper sauce.
Heat Level
There is almost no heat to this hot sauce by Smoke Show. If anything, there is a little tingle when you first taste the sauce but overall it is very, very mild.
I give Jalapeno Hot Sauce a 1 out of 10 on my personal heat scale.
As such, there was no sweating, no stinging, and no pain.
At least the flavour is pretty good.
Flavour
Jalapeno Hot Sauce by Smoke Show has a pretty good flavour overall, but nothing to write home about.
The flavour of this hot sauce is something like tangy roasted jalapenos. With a tiny tingle.
It is a little bit pickle-y as well which adds some flavour and sensation to your taste buds.
Conclusion: Overall Thoughts
Jalapeno Hot Sauce by Smoke Show was actually pretty good. While it wasn't spicy enough to sit near the top of my favourites list, it was pretty darn tasty.
I did like the smoky aroma this hot sauce added to my meals. The tanginess was a nice treat too.
It definitely didn't make my mouth burn, but sometimes hot sauce isn't just about the heat.
If you see this hot sauce, give it a shot, it's a great hot sauce for adding a bit of flavour to any meal.
Please remember that taste is subjective and everyone will experience hot sauce uniquely. These reviews contain my own thoughts and opinions. If you think you'll enjoy a hot sauce then you should definitely try it out.
Mike P
Mike is a hot sauce lover. He has never, and will never say no to hot wings. Mike loves a balance of flavour and heat; he prefers his food on the spicy side but also likes some sweetness too.

About Us