Dang, this sauce is hot! I mean holy, what a great way to add heat to a meal. Dawson's Original Hot is perfect if you're looking to add that real pepper heat to a meal you forgot to add peppers too (who forgets the peppers?).
Original Hot is a little on the pricy side but well worth it for the craft hot sauce flavour. Fruity habanero peppers are what really make this hot sauce pop. A hint of sweetness from the cane sugar adds some character and balances out the heat.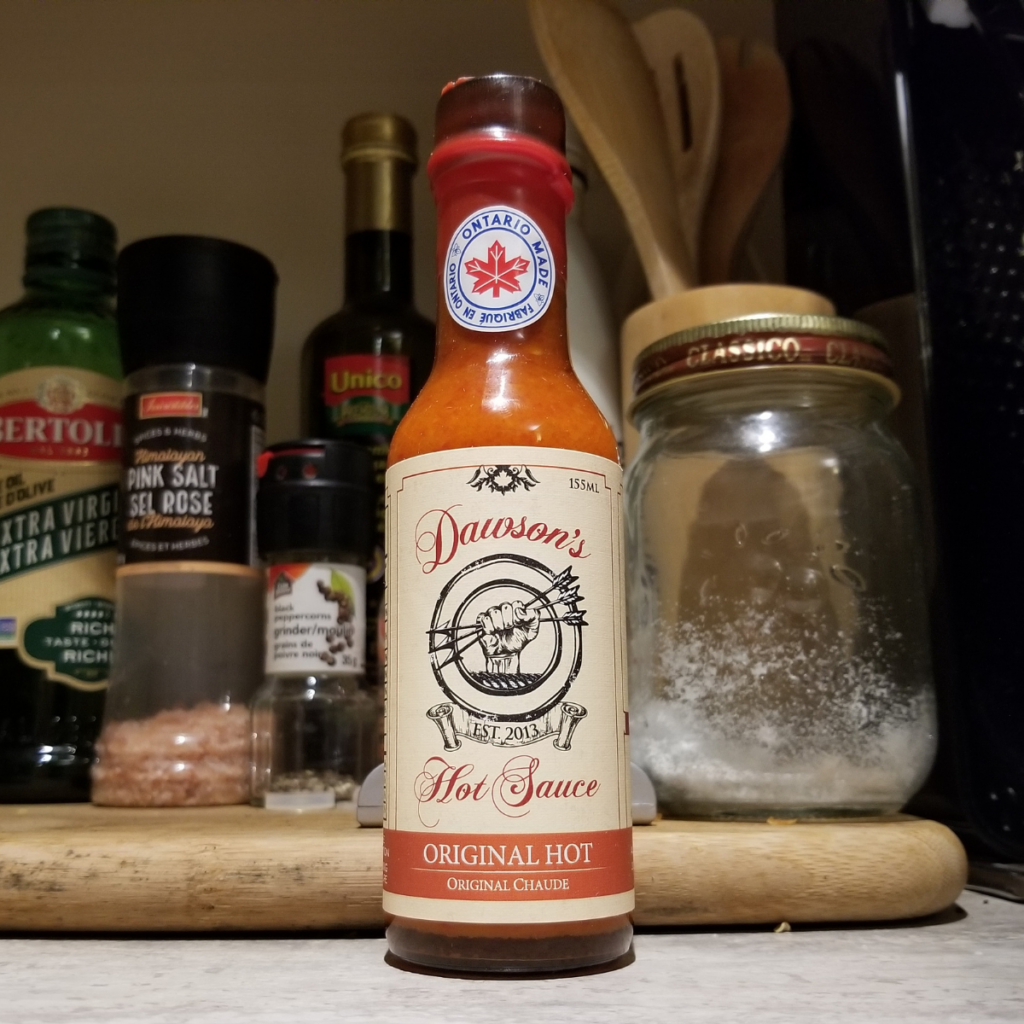 Introducing: Original Hot by Dawson's
If you're looking for a fresh and flavourful hot sauce made with Habaneros, Dawson's Original Hot sauce is the way to go. This craft hot sauce is prepared and packaged in Hamilton, Ontario, and comes in 155mL woozy bottles.
Original Hot Sauce is made using habanero peppers, cane sugar, vinegar, garlic, sea salt, and olive oil. An extremely flavourful hot sauce without artificial preservatives and flavor enhancers like most other hot sauces on the market. Dawson's Original Hot Sauce has a very unique taste that is equally tangy and spicy. With this mix of ingredients, you can expect a scent of fresh heat when opening up the bottle.
Considering this is actually a well-crafted delicious hot sauce, the $11 price tag on a bottle is pretty reasonable. You know you are getting a hot sauce made with premium ingredients and a hand-cooked touch.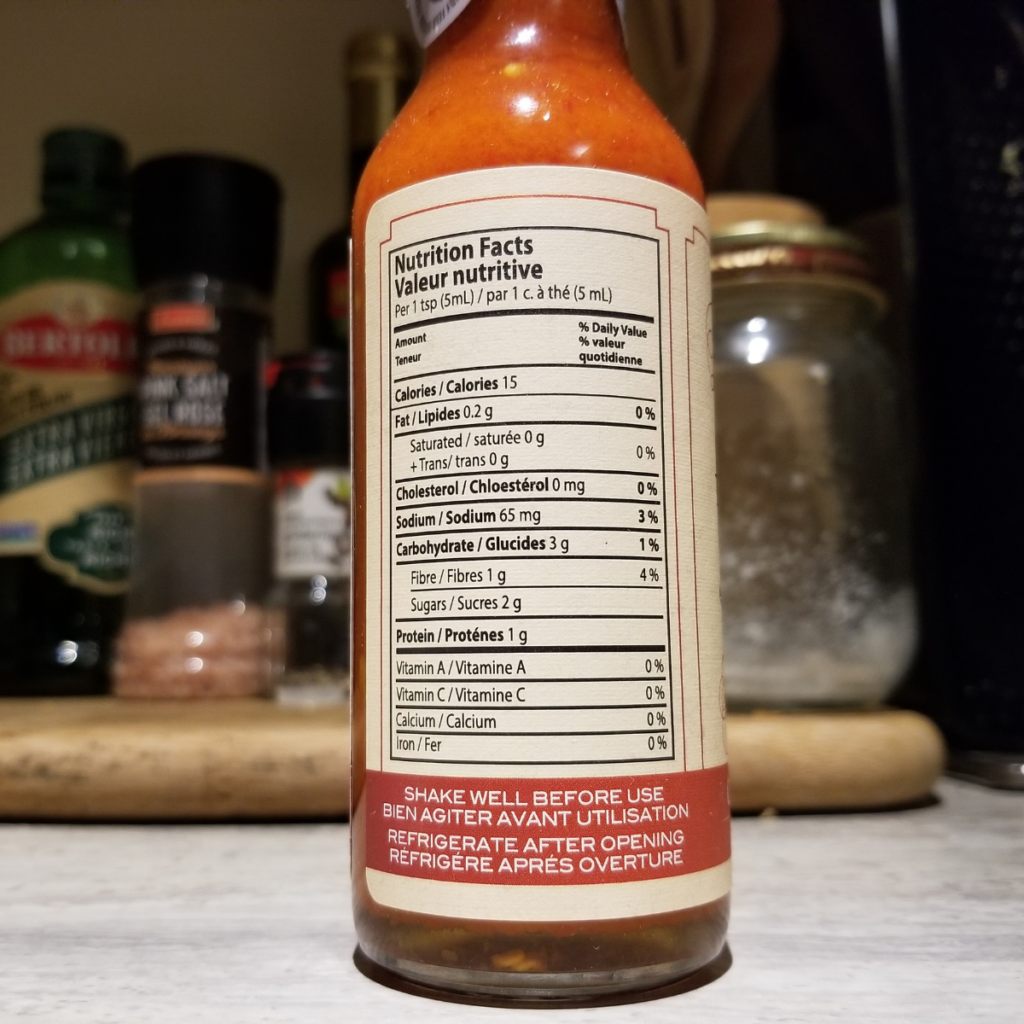 Manufacturer: Dawson's Hot Sauce
Made In: Ontario
Heat Rating: 8/10
Size: 155mL
Price Range: $11-$15
Buy on Dawson's Website

Ingredients: Habanero, Vinegar, Cane Sugar, Extra Virgin Olive Oil, Garlic, Sea Salt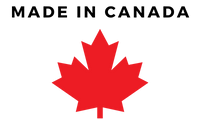 Appearance
Dawson's does a fantastic job when it comes to presentation. The bottle looks amazing, as does the hot sauce itself.
Like all of Dawson's hot sauces, Original hot has a wax seal to further seal in the freshness of the sauce. A craft-style label displays all the info you need to know and the hot sauce comes in a 155mL woozy bottle.
The sauce inside is a vibrant orange like you would expect from orange habaneros. You can see the chunks of pepper flesh along with some seeds. The overall consistency is like an apple sauce, there is good flow out of the bottle and spreads easily on your dish.
Everything about the looks of this hot sauce says it is a well-crafted sauce.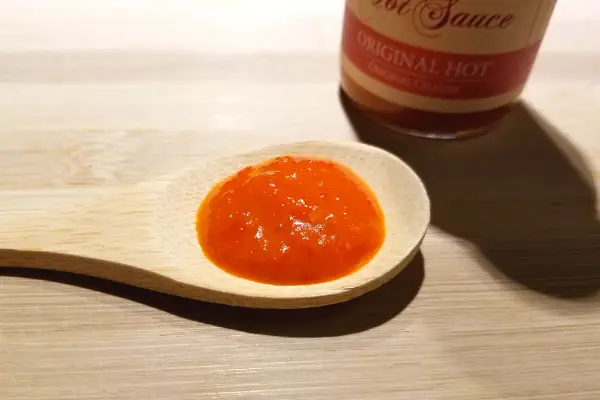 Smell
Naturally, the first thing I did when I opened the bottle was to see what it smelled like. This is often a good indicator of whether or not the sauce is based on concentrates or fresh peppers.
Upon my first smell, I could smell the habaneros and the vinegar, a little spicy and a little sweet. As I inhaled, the spiciness of the sauce was not too much, but I could definitely tell it was going to be spicy.
The scent of vinegar is not overpowering but is expected from a vinegar-based hot sauce.
I would say Dawson's Original Hot smells exactly the way a hot sauce should. The scent is inviting and makes you want to taste it right away. Thankfully I had some wings to try it out on!
Taste
This hot sauce starts off with a sweetness that is soon overcome by a sharp heat that surrounds your taste buds. The sweetness comes from the cane sugar and garlic and the heat is provided courtesy of spicy habanero peppers. Vinegar and salty flavours are present but not overpowering, they sit right where they should.
Heat Level
The rating on the side of the bottle says 8/10 and we agree with this. Habaneros are spicy, but not as spicy as reaper peppers or ghost peppers. Still, this sauce packs heat and spice that lingers on long after the sauce is consumed.
I immediately felt the heat in the back of my head and could feel sweat starting. Not long into dinner, I was blowing on my tongue and dripping sweat due to the amazing heat in this hot sauce. Original Hot has a real pepper heat, the kind you would experience after biting into a fresh pepper. There are clearly no extracts, concentrates, or other forms of heat in this sauce, it is all real habaneros.
The spiciness of the peppers surrounds your taste buds and sticks around long after your meal is done. Using a lot of this sauce will give you the full heat experience. Adding just a dab will keep your head cool but heat up the inside of your mouth.
Flavour
The first thing I could taste on the tip of my tongue was the sweetness of the cane sugar. Sweetness is was immediately followed by the fruity flavours of the habaneros and vinegar.
The ingredients work well together and make for an aromatic sauce with a tangy aftertaste. However, the habaneros are what make this hot sauce stand out from other hot sauces on the market. The habaneros are fresh and have great flavours, but do not overpower the flavour of everything else going on in this hot sauce.
Conclusion: Overall Thoughts
While not as spicy as reaper or ghost hot sauces, it is still plenty spicy for those looking for a kick from their hot sauce. The ingredients are very similar to a classic hot sauce from the Caribbean region. The hot sauce does have a fruity, tropical flavour due to the fruity habaneros peppers.
We tried this on pasta, pizza, wings, even salads and it worked great on all dishes. The simple ingredients list means it can pair with pretty much anything.
Overall, you should give this tasty sauce a try as it is full of real habanero heat and flavour. It will be sure to surprise and satisfy your adventurous taste buds and may just become your new favourite hot sauce.
Please remember that taste is subjective and everyone will experience hot sauce uniquely. These reviews contain my own thoughts and opinions. If you think you'll enjoy a hot sauce then you should definitely try it out.
Mike P
Mike is a hot sauce lover. He has never, and will never say no to hot wings. Mike loves a balance of flavour and heat; he prefers his food on the spicy side but also likes some sweetness too.

About Us