I was pretty stoked to find out Salem's Lott Scary Hot Sauce was made by a pretty well-known Canadian musician. Jeff Salem is a professional musician drummer and a pretty damn good hot sauce maker. Hallucinate the Heat is a good example of this.
This was the first time I tried Salem's Lott hot sauce so I went with something in the middle of their heat range. This is exactly where I would place Hallucinate The Heat. It reminds me of spicy ketchup crossed with a smoky barbeque sauce.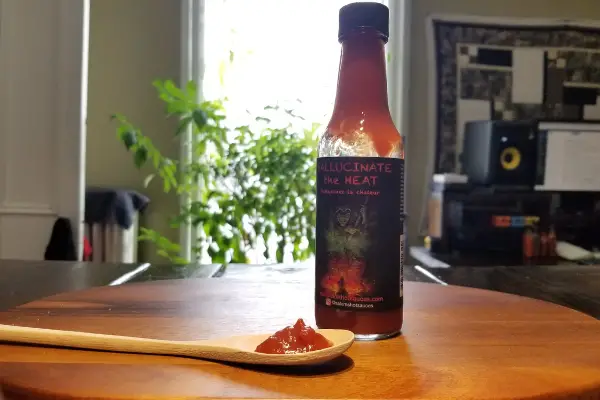 Introducing: Salem's Lott Hallucinate The Heat
Hallucinate the Heat made by Salem's Lott Hot Sauces is made in Ontario. It is a tomato-based hot sauce and uses habanero peppers to add mild heat. This is a good hot sauce for those who love spicy ketchup and good barbecue sauces.
Rootham's, a company near Guelph, Ontario, produces and bottles Hallucinate The Heat for Salem's Lott. My guess is Jeff chooses the recipe and Rootham's produces the product. 
EDIT: I had the pleasure of meeting Jeff at one of his concerts in November 2022, we started talking about his hot sauce and he told me he is actually the one who produces his sauces! Rootham's is the commercial kitchen he uses. If you ever get the chance, make sure you check out his band Epic Eagles!
Hallucinate The Heat comes in a standard 148mL bottle and usually costs $10-$12. 
This is a mild hot sauce that tastes a lot like ketchup. If you are into spicy ketchup (and who isn't?) this is a hot sauce for you.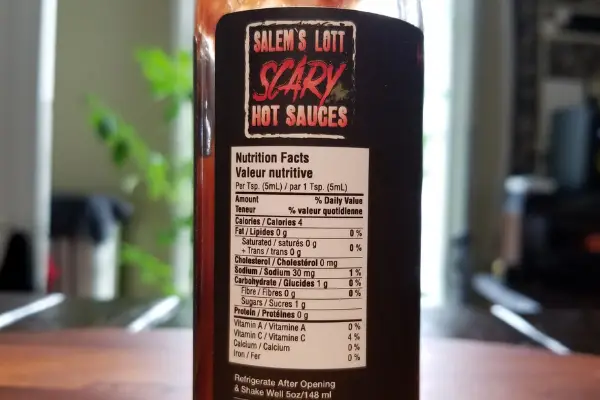 Manufacturer: Salem's Lott Scary Hot Sauce
Made In: Ontario
Heat Rating: 5/10
Size: 148mL
Price Range: $10-$12
Buy at Salem's Lott
Buy at Hot Sauce Unlimited

Ingredients: Tomatoes, White Vinegar, Smoked Habanero Peppers, Lime Juice, Water, Garlic, Pure Cane Sugar, Sea Salt, Pectin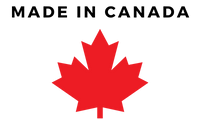 Appearance
What I really like about Salem's hot sauces are the graphics on the bottle. There are usually goblins, ghosts, or other "evil" characters adorning the label. 
Hallucinate The Heat comes in a woozy bottle with a black label and a black cap. It looks much like a hot sauce is expected to look. 
The hot sauce inside is a darker red colour, much like you would expect a tomato-based hot sauce to look. There are little bits of seeds and some other bits floating around this hot sauce as well that lend a bit of a crunch.
Where Hallucinate The Heat does differ is in the viscosity of the hot sauce. 
This is a thick sauce and is much better enjoyed as a dipper rather than a topper. It has the viscosity of ketchup. 
Seriously though, sometimes the sauce is hard to get out of the bottle. Because it is so thick, it tends to gum together at the top of the neck making it hard to pour smoothly.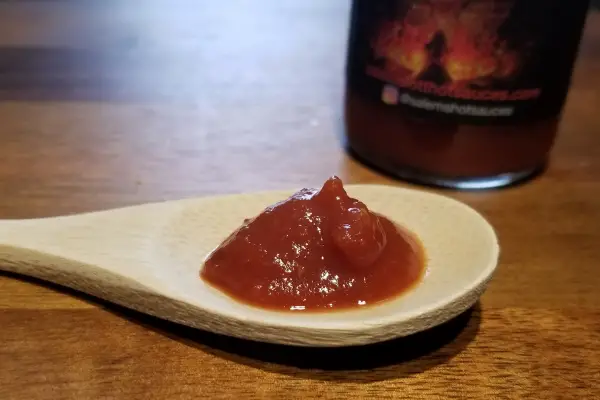 Smell
I hate to keep repeating myself, but Hallucinate The Heat smells a lot like BBQ sauce. There is a sweetness and a smokiness that stands out immediately. I was fully able to take a big whiff without recoiling at the heat level. This one smells sweet and smoky!
The tomatoes are what add the sweet smell and the smoked habaneros are the likely provider of the smoke smell.
Taste
The first thing you'll taste is the tomatoes and if it wasn't for the immediate heat I would have thought I was tasting tomato paste. 
As for the smoke/BBQ sauce part, that seems to be mostly in the aroma of Hallucinate The Heat. All I can taste is tomato and the heat from the habanero peppers.
Heat Level
Hallucinate The Heat is a mild hot sauce but the burn comes on quick!
I felt the spice from the habaneros immediately at the tip of my tongue with it eventually spreading to the rest of my tongue. 
I did sweat a very tiny bit on my brow. No sweat on the cheeks, no sweat on the top of the head. The heat level was as described at a 5 out of 10 and I would call that accurate.
Flavour
Spicy ketchup and BBQ sauce are the only things that come to mind when taste-testing Hallucinate The Heat. The tomato taste is very prominent and overpowers most of the other ingredients.
The only thing that does cut through the tomato is the heat of the habaneros. 
I did at one point get an exact Lays BBQ chip flavour, just for a brief second.
Conclusion: Overall Thoughts
My final thoughts on Hallucinate the Heat I are that it tastes a lot like ketchup which is no surprise given that the main ingredient is tomatoes.  As such, it was a great dipper for French fries, celery sticks, or a great topper for a sandwich. 
The heat in the level was pretty mild. I knew what I was after when I picked the mild hot sauce and this one stood up to the test. Hallucinate The Heat had some decent heat to it as well but also was not lacking in the flavour department.
The viscosity of the hot sauce meant it could be used differently than most hot sauces. To me, this sauce is best dipped rather than slathered. 
If you are into sweet smoky BBQ sauces and spicy ketchup, then Hallucinate The Heat by Salem's Lott Scary Hot Sauces might be for you.
Please remember that taste is subjective and everyone will experience hot sauce uniquely. These reviews contain my own thoughts and opinions. If you think you'll enjoy a hot sauce then you should definitely try it out.
Mike P
Mike is a hot sauce lover. He has never, and will never say no to hot wings. Mike loves a balance of flavour and heat; he prefers his food on the spicy side but also likes some sweetness too.

About Us