Back at it again in 2023 with a review for one of my favourite Canadian hot sauce makers. This is Pineapple Mango Habanero from Local Talent Hot Sauce.
I opened this bottle on New Year's Eve to share with a few friends over some wings. I think they made a good choice when choosing this sauce.
Pineapple Mango Habanero is a sweet, saucy, and spicy addition to any meal that needs a kick. With its colour as vibrant as the taste, this hot sauce is a knock-out for sure.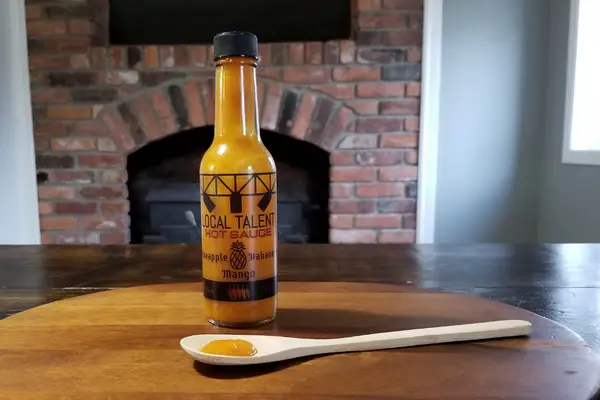 Introducing: Local Talent's Pineapple Mango Habanero
Pineapple and mango are popular ingredients among hot sauces these days. With all of the options available, Local Talent sure knows how to set itself apart from the competition.
I know I've already used the word vibrant to describe this sauce, but I'm going to use it again. This hot sauce is vibrant. Everything from the colour of the sauce to the flavour of the pineapple and mango just hits the right spot.
Pineapple Mango Habanero comes in a standard woozy bottle for $10 each. Local Talent makes fresh and tasty hot sauces, so get them while they're hot!
Manufacturer: Local Talent Hot Sauce
Made In: Ontario
Heat Rating: 6/10
Size: 150mL
Price Range: $10
Order Through Facebook
Ingredients: Habanero Peppers, Pineapples, Mangoes, Carrots, Tomatoes, Orange Bell Peppers, Yellow Bell Peppers, Onions, Oregano, Garlic, Vinegar, Kosher Salt, Vegetable Oil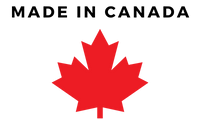 Appearance
I really like the look of the Local Talent hot sauces. The see-through label really showcases the sauce inside which is what this is all about anyways.
As mentioned already, Pineapple Mango Habanero comes in a standard 150mL woozy bottle with a black lid. This makes pouring super easy. Although this sauce is a little thicker than their others and some sauce tends to collect up around the neck of the bottle. Nothing a good shake won't solve!
The bright orange sauce inside looks wonderful and tasty all on its own. The colour is likely attributed to the vibrant colours of the Bell peppers, Habanero peppers, Pineapple and Mango.
Pineapple Mango Habanero is blended very well to a homogenous state. There are only a small few of visible ingredients floating around.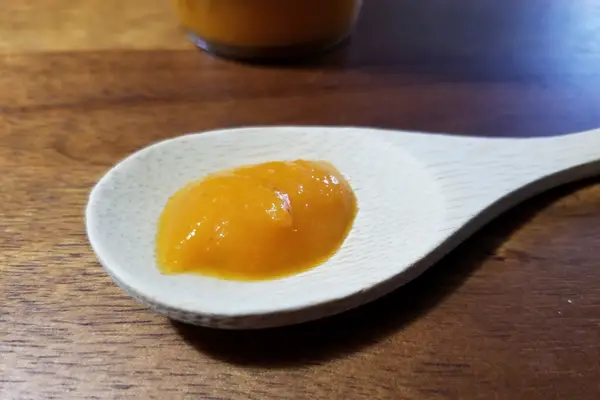 Smell
The scent of this hot sauce is where the remaining ingredients really shine. There is almost a smoky flavour lingering around the sweetness of the fruits.
A little bit of earthiness from the carrots also pokes through to the nose.
I could smell a little bit of heat but not too much, just enough to be reminded that their are peppers in the ingredients list.
Overall, Pineapple Mango Habanero smells very appetizing.
Flavour and Taste
Local Talent did an excellent job creating this hot sauce. With a fairly long and complex ingredient list, they were able to create a hot sauce with a delicious consistency.
The pineapple and mango blend comes across as cool and sweet. Almost like apple sauce but in a more tropical way. You can really feel the presence of both fruits.
The peppers, both hot and sweet, are what make this a pepper sauce. The sweet bell peppers add the aromas and tastes of peppers while also keeping the colour consistent. Habaneros are obviously responsible for the heat level.
Everything else is the glue that brings the flavours together.
Heat Level
Pineapple Mango Habanero is marketed at a 3 out of 5 heat level. I would agree with this statement and give it a 6 out of 10 on my heat scale.
This sauce has the signature heat of the habanero pepper. Sharp and sweaty and the full bloom of the heat is a little delayed.
I noticed the heat was mostly concentrated around the tongue, but also stung the lips.
While enjoying Pineapple Mango Habanero I was sweating on the forehead, cheeks, and a little bit at the hairline. Not too much but there was definitely no avoiding it with Habaneros.
Conclusion: Overall Thoughts
Pineapple Mango Habanero was a wonderful companion to the New Year's Eve munchies. I would say it was the most popular out of the three sauces we tried that night.
Out of all of the pineapple or mango-based hot sauces I've tried, this one is my favourite.
The first bite is cool and sweet which adds a burst of flavour to your meal. Then, once all of the flavours have had a chance to introduce themselves, the heat from the Habaneros arrives to tingle your taste buds further.
If you're into tropical or fruity hot sauces, then Pineapple Mango Habanero from Local Talent is a surefire way to go.
Please remember that taste is subjective and everyone will experience hot sauce uniquely. These reviews contain my own thoughts and opinions. If you think you'll enjoy a hot sauce then you should definitely try it out.
Mike P
Mike is a hot sauce lover. He has never, and will never say no to hot wings. Mike loves a balance of flavour and heat; he prefers his food on the spicy side but also likes some sweetness too.

About Us