Spice of Life's Made From Scotch is a vibrantly fresh and spicy hot sauce. Made with Scotch Bonnets, Cucumber and spices, this hot sauce will leave you sweating but also tastes great.
Made From Scotch is made with real fresh and local ingredients and one look at the hot sauce reveals that. You can see chunks of peppers, cucumbers and onions floating around. All of the tropical flavour bursts out of the fresh ingredients when enjoying Made From Scotch.
Try this one if you love hot sauces that focus on the flavours of the hot peppers.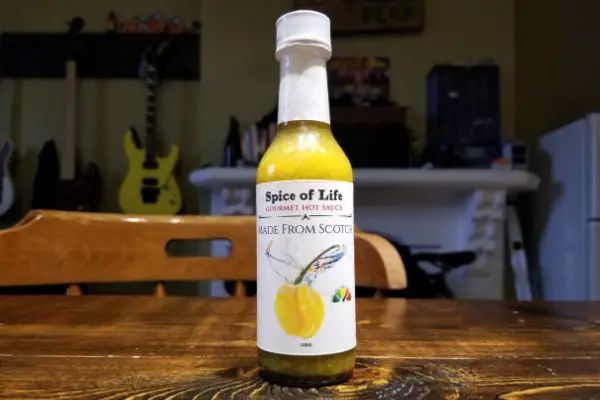 Introducing: Spice of Life's Made From Scotch
One of my new favourite hot sauces comes from Spice of Life Gourmet Hot Sauces. Made From Scotch is made right here in Ontario with fresh local ingredients.
This hot sauce is made with one of my favourite peppers, the Scotch Bonnet. These types of peppers come from the Caribbean area and have a tropical flavour. This is probably why Spice of Life describes Made From Scotch as "Jamaica in a bottle".
There is a lot of heat in a bottle of Made From Scotch but not soo much that it is overpowering. You can find a bottle online for anywhere between $9 and $11 dollars.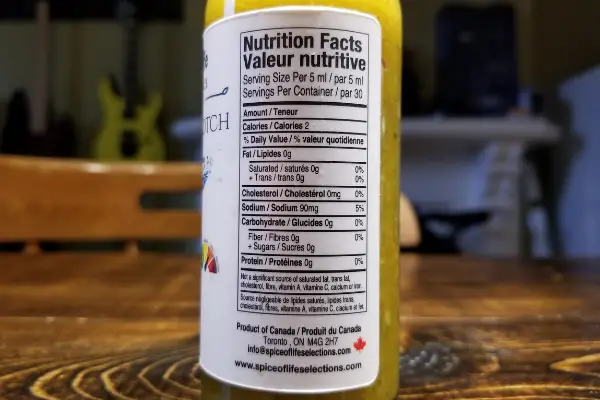 Manufacturer: Spice of Life
Made In: Ontario
Heat Rating: 7/10
Size: 148mL
Price Range: $9-$11
Buy on Spice of Life's Website
Spice of Life on Etsy
Ingredients: Scotch Bonnet Peppers, Vinegar, Onions, Cucumbers, Bell Peppers, Spices Kosher Salt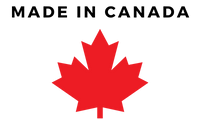 Appearance
Upon first glance I thought, this looks like it will be a very fresh tasting and mild hot sauce. I was half right.
The bottle is a classic 148mL woozy bottle with a clean looking white label with an image of a Scotch Bonnet pepper. On the label is all of the classic information. Where it was made, the ingredients, a bit of company info.
The heat rating on the bottle is an applaud-o-meter style rating with 5 panels and an arrow. Made From Scotch is placed in the Orange High Heat panel.
The hot sauce inside has a greenish-yellow colour with some bits of red coloured peppers in the mix. You can see real chunks of Scotch Bonnet peppers as well as the cucumber and onion. Another pleasant surprise is the appearance of some pepper seeds which means more heat!
In between the chunks is the liquid that holds it all together. When poured out you can see a clear separation between the vinegar/brine and the ingredients. The brine is merely there to guide the Scotch Bonnets and Cucumber directly to your taste buds.
Made From Scotch is a very fluid hot sauce, I was impressed that the bottle was virtually clean when I poured the last drop. No bits of ingredients stuck to the sides, no dry sauce caked on anywhere. Very impressive.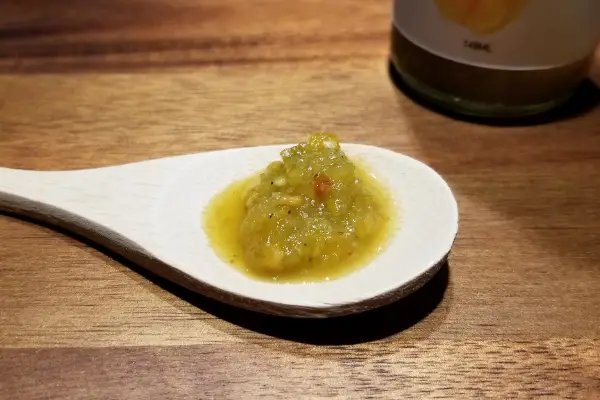 Smell
Made From Scotch has the aroma of a very spicy relish, there is definitely a pickle vibe when taking a sniff. I would say the pickle smell stands out the most and underneath is the hint of super spicy Scotch Bonnet peppers.
If you smell closely, you can smell a bit of sweet onion in the mix as well.
Once you apply some of this hot sauce to a meal the liquid separates from the cucumber and peppers and the aroma of the peppers stands out much more.
Taste
The first thing I tasted with this hot sauce was pickles. I've said it before and I'll say it a few more times during this post.
One thing I really liked about this hot sauce from Spice of Life was how the neutral taste of the Cucumber allowed the tropical aromas and taste of the Scotch Bonnets to shine. There was a pickle taste but as soon as you crunch down on the chunks of pepper and cucumber you know you just bit into something spicy.
The texture of Made From Scotch is very similar to relish. The bits of ingredients are crunchy and fresh. There are bits of seeds in the hot sauce to add heat and crunch.
The perfect ratio of taste and heat.
Heat Level
I give this one a 7 out of 10 on the heat scale.
Scotch Bonnets are pretty spicy and they for sure give this hot sauce a kick.
The heat does not linger around too long and is not so much that it will ruin the meal. You'll notice a sting on the tip of your tongue and the roof of your mouth. The heat from Made From Scotch is sharp and instantly makes you sweat.
I first started sweating under my eyes, then came the forehead, and finally the top of my head. A new one for me was my chin. This hot sauce made the bottom of my chin sweat just a little bit. I've never had this happen to me before.
Since this hot sauce is made with real fresh Scotch Bonnet peppers, the heat is also real and fresh. There are 100% no concentrates or spicy powders used in Made From Scotch. The heat is completely from the Scotch Bonnet peppers.
I did end up using a lot of this hot sauce to get the heat I desired from my meal. I usually have a sandwich for lunch and each day I used about 1/8th or 1/6th of the bottle.
Flavour
Made From Scotch tastes like pickles jarred with Scotch Bonnet peppers and then blended into a chunky sauce.
This is no surprise as the main ingredients are Scotch Bonnets, Vinegar, and Cucumbers. That is pretty much what pickles are made of.
Very similar to the taste of pickled hot peppers, but with the added freshness of cucumber.
Conclusion: Overall Thoughts
I liked Spice of Life's Made from Scotch, it is a very simple yet vibrantly flavoured hot sauce.
My favourite part was the burst of flavour that comes after biting down on the real chunks of ingredients. Not to mention Made From Scotch is also made with one of my favourite peppers, the Scotch Bonnet.
I did find the range of this sauce to be a little limited. The pickle flavour did not pair well with every meal.
On sandwiches, Made From Scotch was amazing. A little dab before every bite was just enough to keep the heat going and to add a nice touch of flavour. This hot sauce was also great with a garden salad. The real bits of ingredients paired well with the fresh veggies in the salad.
On wings, Made From Scotch was not all that great. Maybe there are some people who like pickles and wings but I don't. I love pickles, and I love wings. But something about combining them does not strike a chord with me.
I think this would go really well with some Jerk Chicken and I'm kind of bummed that I wasn't able to try the pair. The tang and the tropical flavours of both would gel well together.
Overall, I'm happy with Spice of Life's Made From Scotch and would 100% buy it again. I just need to make some room in my cupboard for more bottles.
Please remember that taste is subjective and everyone will experience hot sauce uniquely. These reviews contain my own thoughts and opinions. If you think you'll enjoy a hot sauce then you should definitely try it out.
Mike P
Mike is a hot sauce lover. He has never, and will never say no to hot wings. Mike loves a balance of flavour and heat; he prefers his food on the spicy side but also likes some sweetness too.

About Us