Well, we finally have it here in Canada, THC infused hot sauce. Since Canada legalized cannabis in 2018, we have seen a plethora of new cannabis products. I knew someone would infuse hot sauce, it was just a matter of time.
Heartbeat Hot Sauce and Bogarts Kitchen have teamed up to create a legal THC hot sauce for Canada's cannabis market. So far there are two flavours: Red Habanero and Pineapple Habanero. Both staples of the Heartbeat Hot Sauce collection.
Here is what they taste like!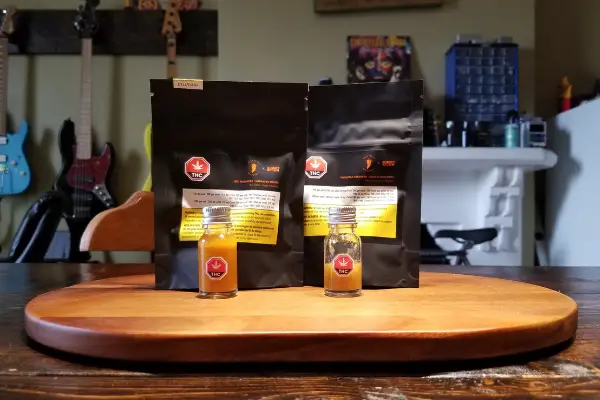 Introducing: Heartbeat Hot Sauce & Bogarts Kitchen
These two THC hot sauces are made by Heartbeat Hot Sauce & Bogarts Kitchen. Both of these are classic Heartbeat recipes infused with cannabis with the help of the Bogarts team. Each of the bottles comes with 10mg of THC and 0mg of CBD.
Heartbeats is a well-known hot sauce maker from Thunder Bay, Ontario. They make many different types of hot sauce and have lent their recipes to this endeavour. Bogarts Kitchen is a cannabis edibles producer with other snacks such as pretzel bites.
Red Habanero and Pineapple Habanero come in tiny 10mL bottles which is just enough for a meal or two. Depending on the province you live in, a bottle of THC hot sauce will cost $12-$15. Both hot sauces are made in small batches with no preservatives.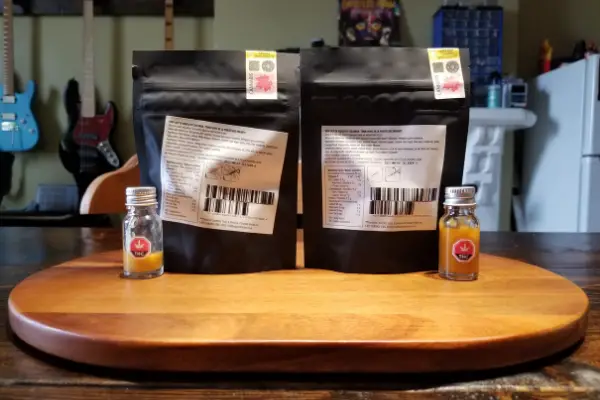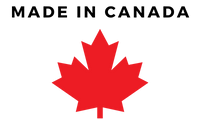 Red Habanero THC Hot Sauce
This is the original hot sauce from Heartbeat Hot Sauce, made with red habanero peppers, bell peppers, and onions. Red Habanero comes in a small 10mL bottle and includes 10mg of THC per bottle, the max legally allowed in Canada.
Made In: Ontario
Heat Rating: 5/10
Size: 10mL
Price Range: $12-$15

Red Habanero Ingredients: Bell Peppers, Onions, Distilled Vinegar, Habaneros, Organic Cane Sugar, Garlic, Lime Juice, Sea Salt, Canola Oil, Caprylic/capric triglycerides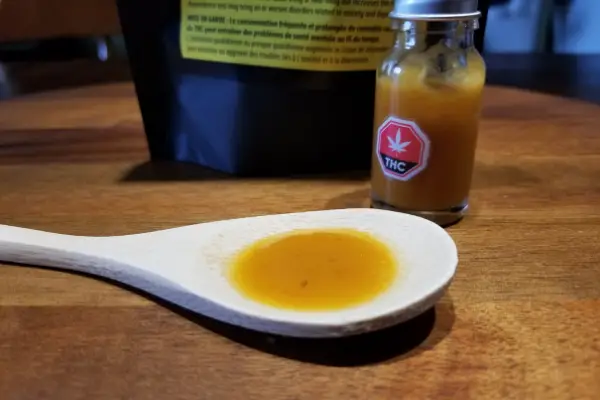 The small bottle this THC hot sauce comes in is made of glass and has a silver lid. There is a big THC warning label glued to the side. Red Habanero hot sauce is red and finely blended to a homogenous mixture. Thin but not watery and easily spreadable.
It smells like fruity habaneros and savoury onion. I could definitely smell some heat as well.
The taste was great, Red Habanero tasted spicy and sweet, a little garlicky as well. Pretty simple but not bad.
In terms of heat, Red Habanero was about a 5 out of 10 on my heat scale. This one was hotter than the Pineapple Habanero but not by much. The heat did linger a bit but there was no sweating from this hot sauce.
Overall the taste and heat level were pretty enjoyable.
Pineapple Habanero THC Hot Sauce
Pineapple Habanero is a THC Hot Sauce made with pineapple and habanero peppers. This one has a sweet, almost candied taste with a mild heat level. The 10mg of THC in the bottle is just enough to split between two meals, or if you are really adventurous, a personal serving.
Made In: Ontario
Heat Rating: 3/10
Size: 10mL
Price Range: $12-$15

Pineapple Habanero Ingredients: Pineapple, bell pepper, onion, distilled vinegar, habanero pepper, organic cane sugar, lime juice, canola oil, garlic, Caprylic/capric triglycerides, kosher salt.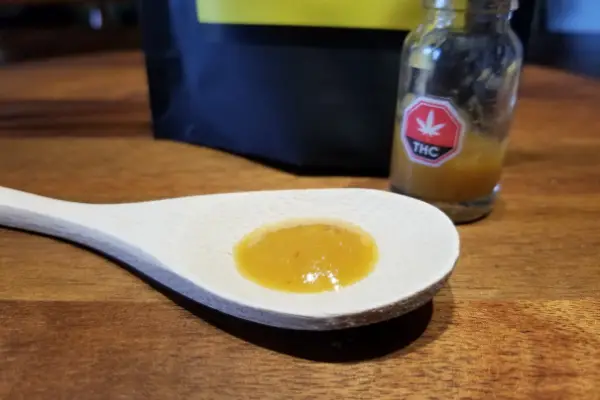 This sweet infused hot sauce is yellow/orange thanks to the pineapple and colour of the peppers. It is pretty thin but not watery and pours easily on just about anything. The bottle is tiny and glass with a silver lid.
After opening the bottle, the aroma of the pineapple and garlic began wafting through the air. A good way to describe the smell of Pineapple Habanero is to compare it to grilled pineapple.
Just like the scent, pineapple is the star of the show in the taste profile of this hot sauce. Immediately I could taste the sweet pineapple. Following the sweet the savoury and the heat.
The heat was pretty mild but sharp. About a 3 out of 10 on my personal heat scale. There was not enough to make me sweat but the heat did linger on the tongue for a while.
Conclusion: Overall Thoughts
I enjoyed both of these hot sauces and I'm excited to try the non-infused versions from Heartbeat. I found the effects of the THC to be pretty strong when enjoying the whole bottle. To me this is a bit of a bummer because I like a lot of hot sauce with my meals.
The taste of both sauces was great but these THC hot sauces were expensive. They cost about the same as a 150mL bottle but there is only 10mL in these bottles. That probably has something to do with the cannabis regulations in Canada.
I don't think I would buy these again, only because the hot sauce dosage is too small. Fun to try though!
Please remember that taste is subjective and everyone will experience hot sauce uniquely. These reviews contain my own thoughts and opinions. If you think you'll enjoy a hot sauce then you should definitely try it out.
Mike P
Mike is a hot sauce lover. He has never, and will never say no to hot wings. Mike loves a balance of flavour and heat; he prefers his food on the spicy side but also likes some sweetness too.

About Us