Les Sauces SMM Projet XXX is a flavourful sauce that packs a medium-sized heat. Made with a unique blend of fresh peppers and grilled tomato, this sauce will leave your taste buds satisfied.
It is a great choice for those who like the heat without the burn. With its complex flavour profile, this craft hot sauce from Quebec is also a great addition to any meal.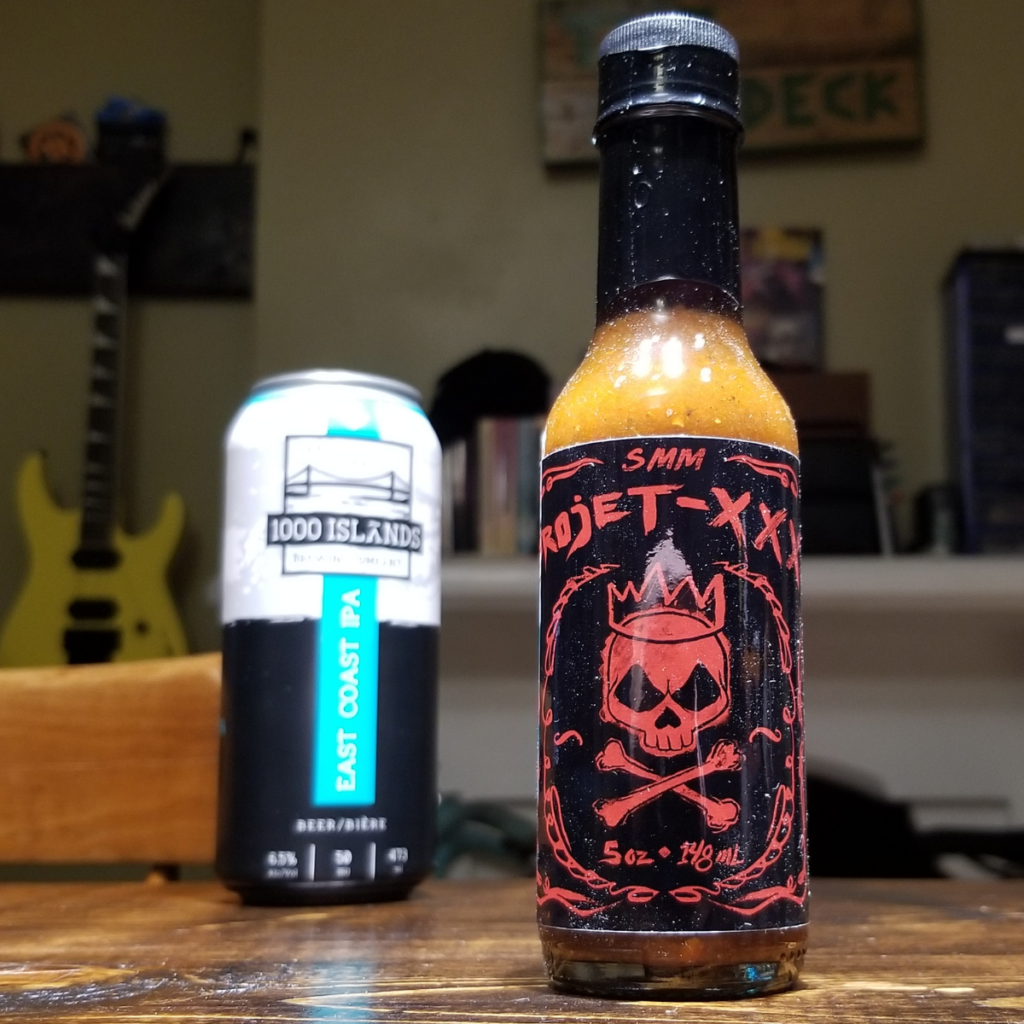 Introducing: Les Sauces SMM Projet XXX Hot Sauce
Projet XXX hot sauce is the perfect companion for your next meal. With a bold, complex flavour and plenty of spice to keep you coming back again and again – this hot sauce has it all!
Fire-grilled tomatoes are just one ingredient of many including black garlic, red curry paste, and balsamic vinegar. With such a wide and unique variety of ingredients, it's no wonder I loved this sauce so much.
This sauce really surprised me. I looked at the bottle and expected the hot sauce inside to be really spicy with a pepper-focused flavour.
Boy was I wrong.
Instead, Projet XXX is a savoury hot sauce that not only kicks up the heat but the flavour as well.
Ham sandwich? BOOM! Add some spice and heat.
Chicken wings? BOOM! Now they're Hot Curry wings.
This was a great hot sauce to bring to work too for lunchtime Cubano sandwiches. A couple of drops before each bite was enough heat to be enjoyable but not to sweat through my hat.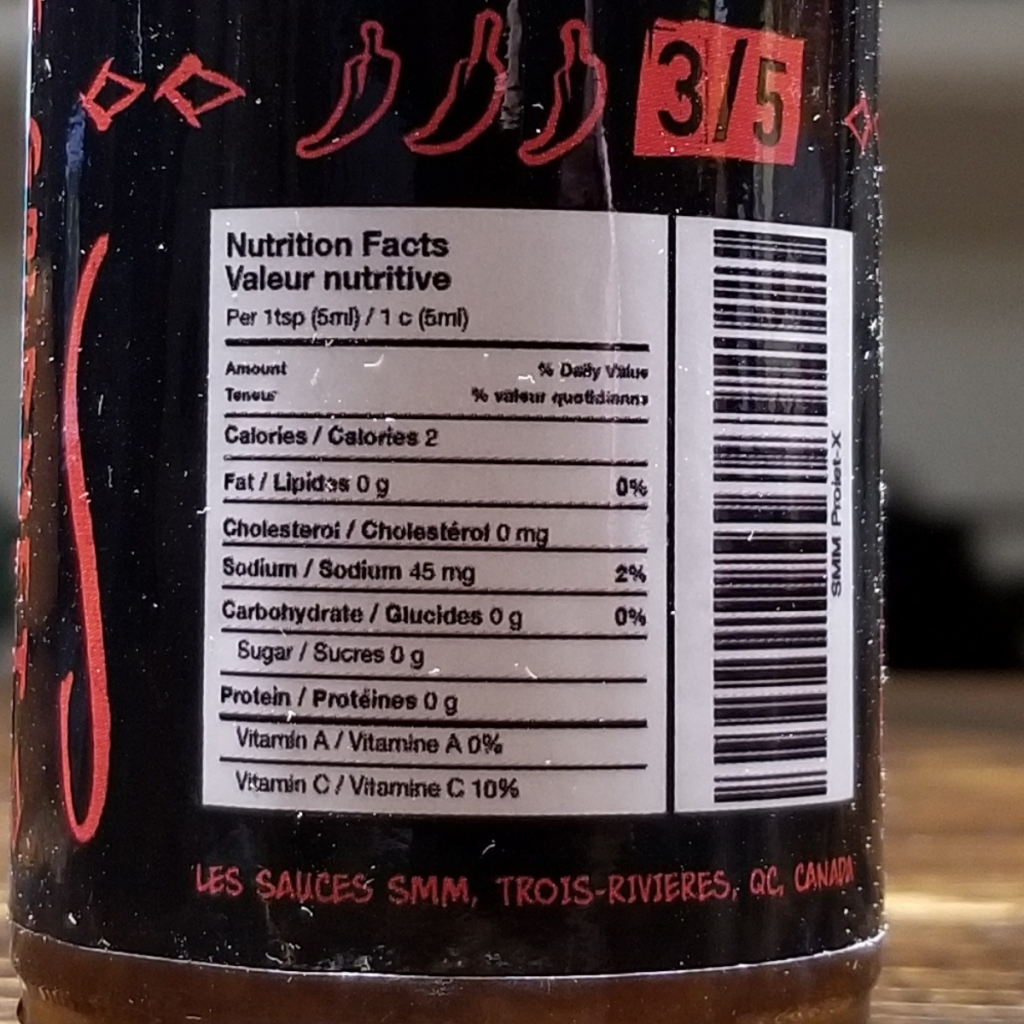 Manufacturer: Les Sauces SMM
Made In: Quebec
Heat Rating: 4/10
Size: 148mL
Price Range: $10-$15
Buy on Chilly Chili's

Ingredients: Red Pepper, Grilled Tomato, Dried Tomato, Black Garlic, BMM chili, Jalapeño, Chili Pepper, BBM Pepper Powder, Port Wine, French Shallots, Garlic, Red Curry Paste, Spices, Lemon Juice, Lime Juice, Vinegar, Balsamic Vinegar, Red Wine Vinegar, Worcestershire Sauce, Soy Sauce, Salt, Brown Sugar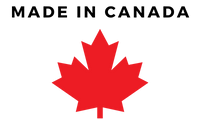 Appearance
Not only does this sauce smell good, but it also looks just as amazing! Kudos to the team at Les Sauces SMM for this one.
Projet XXX comes in a standard 148mL woozy bottle with a black cap. The label is black and red with a skull and crossbones graphic on the front. The ingredients and sauce info are written in English and French (Les Sauces SMM is from Quebec). The label also shows a heat rating of 3 out of 5 peppers.
The succulent sauce inside the bottle is a reddish-brown colour with visible chunks of tasty Jalapeño peppers and red peppers. The red colour comes from the unique addition of curry paste, a very awesome touch if you ask me. The colour is not as bright as Dawson's Original Hot but the consistency of the sauce is similar.
Projet XXX flows easily from the bottle as well, it may be chunky but it is perfect for pouring and spreading. The actual substance of the sauce is pretty fluid but not so fluid that it will drip or dissipate quickly on your wings.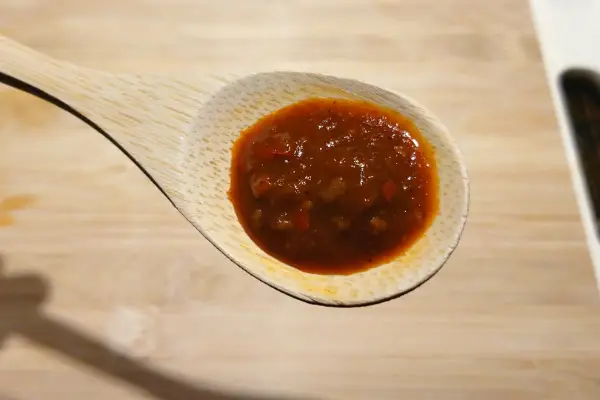 Smell
I think the smell is my favourite part about this hot sauce. I love the way curry paste smells and was so surprised and excited when I opened this bottle and took a whiff.
Curry is the standout aroma for sure! I mean, curry rises above in just about every dish you add it to.
Underneath the amazing aroma of curry are subtle hints of Worcestershire sauce and tomatoes. They blend very well to create a sauce that faithfully matches the aroma with the flavour of the sauce. Once you smell this one, you know what it will taste like.
Projet XXX smells tangy, flavourful, the one thing you can't pick up by smell is the heat level.
Taste
Projet XXX is a masterpiece when it comes to flavour. It would definitely be quite a challenge making so many ingredients taste good but Les Sauces made it happen.
The curry paste is an exotic touch that makes the flavour of Projet XXX a standout favourite. When first tasting the sauce a burst of flavours surprises your taste buds. There is a little bit of tang, a little bit of sweet and plenty of spice.
I would say because of the mild heat, both the heat and the flavour hit at the same time. As the spiciness trails off you are greeted with notes of the remaining ingredients.
Heat Level
On the side of the bottle, you'll see that Les Sauces SMM rated their Projet XXX at a 3 out of 5 heat level. I would say this is more like a 2 out of 5 heat level sauce. The main star of the heat is the Jalapeno pepper which is a pretty mild pepper with a Scoville rating of around 8,000.
The heat was most noticeable around the tip of my tongue and the roof of my mouth. It is pretty mild and only sticks around for about 5 mins max depending on how much you have. I could easily finish half a bottle of this on a burrito.
There was very little sweating if any at all and I didn't feel any pain from the hot sauce, just a subtle burn.
If you're looking for a burn your face of scorcher sauce, this is not for you. Nevertheless, Projet XXX is incredible.
Flavour
Flavour country baby!
Projet XXX is full of rich vibrant ingredients that all contribute to the flavour profile in their own way. There is a sweetness from the grilled tomatoes, a tanginess from the Worchestershire sauce and vinegar, and a zesty note from the curry spices.
The range of flavours in this sauce is similar to BBQ sauces. In fact, I would love to see this as a slightly thicker BBQ sauce in a bigger bottle. I feel like it would go great on grilled chicken or lamb.
It kind of tastes like gourmet ketchup with a little less emphasis on the tomato flavour. Very well-balanced and not overly salty or briny. You won't notice the lemon or lime juice, even the black garlic is subtle. That could just be my inexperienced palate showing itself though…
Conclusion: Overall Thoughts
Overall, would definitely buy this sauce over and over again once I finish the crazy amount I have in the cupboard right now.
I would keep a bottle at work and one at home. Projet XXX enhances any meal, lunch, dinner, and I could even see this being good on eggs in the morning!
While taste testing I tried it on wings, fries, sandwiches, and pasta. Didn't go so great with pasta, I don't think the pesto paired well with the curry flavours. But that is just my taste buds opinion.
On wings, it was a welcomed injection of spice to sit under the heat of the wing sauce. Projet XXX would have made a great dipping sauce for fries had I been that smart at the time. I usually put a bit of sauce on before each bite when I have a sandwich. This hot sauce for sure kicked up my regular lunch with a burst of vibrant spice and mild heat.
This would also be a great sauce for dipping fresh veggies!
If you are really into flavour sauces pick up a bottle of Projet XXX, you won't be disappointed. Even if you like really spicy sauces, pick up a bottle of this to have on your off nights.
Enjoy!
Please remember that taste is subjective and everyone will experience hot sauce uniquely. These reviews contain my own thoughts and opinions. If you think you'll enjoy a hot sauce then you should definitely try it out.
Mike P
Mike is a hot sauce lover. He has never, and will never say no to hot wings. Mike loves a balance of flavour and heat; he prefers his food on the spicy side but also likes some sweetness too.

About Us