A simple yet delicious Habanero hot sauce from Marie Sharp's in Belize. This hot sauce is a great example of the type of hot sauce you should always keep in your fridge.
It is hot but not too hot so you don't need to worry about stinging the tongues of your fellow diners.
In terms of flavour, this one is pretty neutral which makes it a good all-around hot sauce. You can taste the carrots which are used as a base but the flavour blends well with most meals.
The habaneros used for heat are fruity and flavourful as well as spicy.
If you can find this one at your local grocery store it is well worth a try!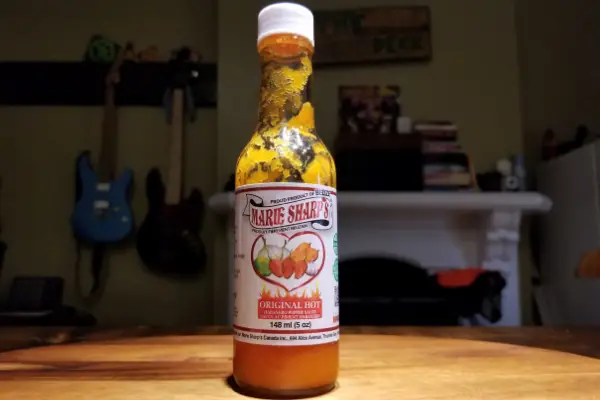 Introducing: Marie Sharp's Original Hot Habanero
I had heard a lot about Marie Sharp's through some of the Hot Sauce groups I've joined. Many of the members loved it and had good things to say. So I was excited when I found a couple of bottles at my local grocery store.
Normally I have a bias towards grocery store hot sauces here in Canada. Many of them just don't cut it in terms of heat and flavour but there are a few exceptions.
Marie Sharp's Original Hot Habanero sauce is an example of one of these exceptions.
This hot sauce is made in Belize and is an award-winning, world-famous hot sauce. According to the bottle at least 🙂
It's made with carrots, red habaneros, onions, garlic, and a few other common hot sauce ingredients.
What sets this hot sauce apart is how vibrant and fresh it tastes. It is rare to find a commercially packaged and imported hot sauce that tastes this fresh.
Original Hot comes in a standard bottle and goes for $8-$9 depending on where you find it. Some stores may charge more.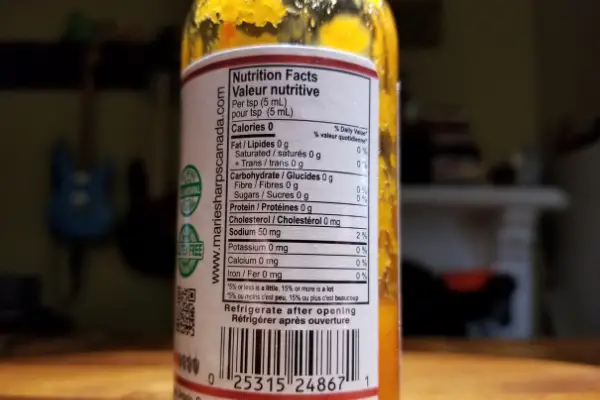 Manufacturer: Marie Sharp's
Made In: Belize
Heat Rating: 6/10
Size: 148mL
Price Range: $8-$9
Buy at Marie Sharp's Canada

Ingredients: Carrots, Red Habanero, Vinegar, Onions, Salt, Lime Juice, Garlic
Appearance
Original Hot Habanero blends right in on the grocery store hot sauce shelf. It comes in a standard 148mL woozy bottle and the label sports the Marie Sharp's logo upfront and center.
Inside the bottle is a bright orange chunky hot sauce that flows nicely. This bottle even has a reducer at the top of the spout and the sauce flows well through the reduced hole size.
Floating around are bits of carrot, pepper, and onions. You can even find a few crunchy seeds as well.
This hot sauce has bottle appeal and looks tasty as well.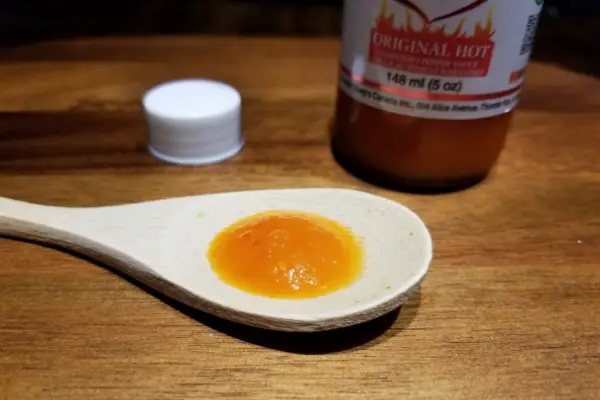 Smell
Right away I could smell the tanginess of the onion and the earthiness of the carrot. Original Hot smelled fresh and appetizing.
While I could smell the heat from the habaneros, it wasn't overpowering and was subdued by the onion and carrot.
It does smell a little acidic and tangy.
Taste
Like the smell, right away I could taste the carrot which makes sense as it is the most plentiful ingredient. I would not call this a carrot hot sauce though as it was a short-lived taste.
Boom! Right after the initial carrot taste came the fresh and vibrant flavour of the Habanero Peppers. One of my favourite flavours!
This hot sauce is tangy, fresh, and really tastes a lot like habanero peppers.
Heat Level
The habaneros are definitely very hot but not so hot that you'll be running around looking for water.
I would give this hot sauce a 6 out of 10 on my personal heat scale.
Original Hot definitely made me sweat. Quite a bit too!
I was sweating on my cheeks, all throughout my hairline and even under my chin.
The heat lingered around for a while too. Right on the tip of my tongue, I could feel the heat pretty well through my full meal.
Each bite seemed to increase the heat level as well. Perfect for those who like a workout during their meal.
Flavour
Original Hot by Marie Sharp's has a flavour you will remember. The simple ingredients list really allows for the flavour of the Red Habanero Peppers to shine.
At the first bite, my taste buds came alive with flavour.
Instantly I could taste the fruity floral sensation of the habanero peppers. The tropical flavour bloomed in my mouth, making way for the moderate spice to come.
There is a perfect amount of tang which makes this hot sauce a great condiment. Great for wings, great for dips, great for almost anything.
Conclusion: Overall Thoughts
I loved this hot sauce, I'm so glad I found it at my local grocery store.
It tastes fresh, vibrant, tangy, and spicy all at the same time.
I will definitely be buying a bottle of Marie Sharp's Original Hot sauce whenever I make some room on the hot sauce shelf. This one goes great with just about anything!
Please remember that taste is subjective and everyone will experience hot sauce uniquely. These reviews contain my own thoughts and opinions. If you think you'll enjoy a hot sauce then you should definitely try it out.
Mike P
Mike is a hot sauce lover. He has never, and will never say no to hot wings. Mike loves a balance of flavour and heat; he prefers his food on the spicy side but also likes some sweetness too.

About Us