Get ready to spice up your taste buds, folks! Today, we're reviewing Elle Pique Elle, the hot sauce from Britannia Mills that will add some serious zing to your meals.
With a name that means "Hell Pickle," you know this sauce means business.
Made with jalapenos, cucumbers, vinegar, salt, spices, and maple sugar, this sauce has a unique flavor that's both spicy and crunchy. It's not too hot, so even those with sensitive palates can enjoy it. Plus, it's the perfect condiment for hot dogs, sausages, and burgers.
So, whether you're a seasoned hot sauce veteran or just looking to add some excitement to your meals, keep reading for our review of Elle Pique Elle hot sauce!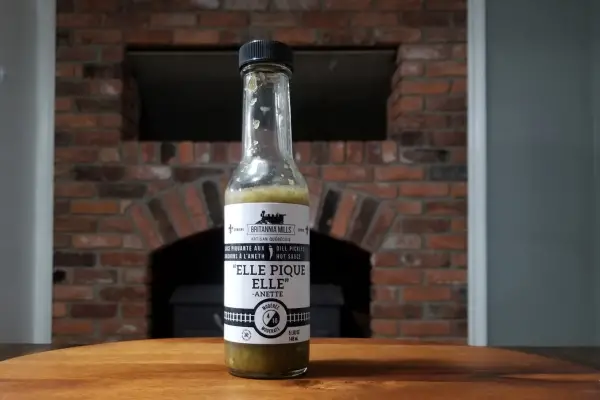 Introducing: Elle Pique Elle (Hell Pickle) by Britannia Mills
Elle Pique Elle is a hot sauce made in Quebec by Britannia Mills, and let me tell you, it's something special.
The folks at Britannia Mills grow most of the ingredients for the sauce on their own farm in St. Dominique. This makes for a truly fresh and delicious flavor. The sauce itself is made with jalapenos, cucumbers, vinegar, salt, spices, and maple sugar, which gives it a tangy flavor with a touch of sweetness.
It's packaged in a unique woozy bottle with a wider mouth. Which makes it easy to pour onto your favorite foods. It's priced between $12 and $16 CAD. Which might seem a bit steep, but I promise you it's worth every penny.
Whether you're grilling up hot dogs, sausages, or burgers, Elle Pique Elle is the perfect addition to any barbecue or cookout. So, if you're looking to take your taste buds on a wild ride, give Elle Pique Elle a try!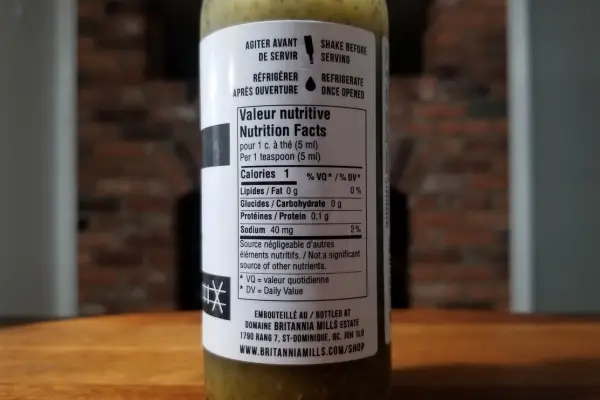 Manufacturer: Britannia Mills
Made In: Quebec
Heat Rating: 3/10
Size: 148mL
Price Range: $12-$16
Buy from Britannia Mills

Ingredients: Jalapeno peppers, cucumbers, vinegar, salt, spices, maple sugar, calcium chloride, citric acid, natural garlic oil, natural dill oil.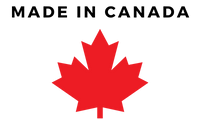 Appearance
Let's talk about the bottle, baby!
Elle Pique Elle hot sauce comes in a cute little 148mL woozy bottle with a wider mouth, making it super easy to pour out the relish-like goodness.
The label is black and white with trains and tracks, and it's got the Britannia Mills logo front and center. All the important info like ingredients and nutritional facts are printed on the back. So you can rest easy knowing what you're getting into.
The sauce itself is a vibrant green color and looks like a party in a bottle. You can see all kinds of chunks of goodness like jalapenos, cucumbers, and seeds. It's like a fiesta for your eyes! All in all, the appearance of Elle Pique Elle hot sauce is just as fun as the taste!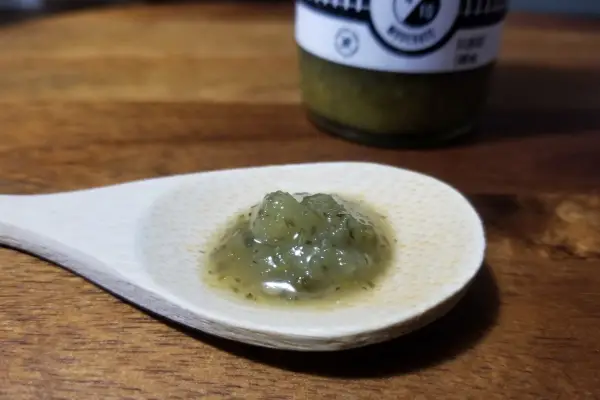 Smell
The aroma of Elle Pique Elle hot sauce is nothing short of delightful. It's no surprise that this sauce smells like relish – after all, it's made with cucumbers, jalapenos, and spices.
What is surprising is how well the tangy scent of the sauce comes through. With just a hint of sweetness from the maple sugar. As soon as you open the bottle, you'll be hit with the scent of garlic and dill oils. Adding to the overall deliciousness of the sauce.
I was shocked to hear that this sauce was made with cucumbers and not pickles, because it smells just like a deliciously briny pickle.
The aroma of Elle Pique Elle hot sauce is inviting and mouthwatering. It's sure to make your taste buds dance with joy.
Taste and Flavour
The first thing that hits my taste buds is a delicious mix of jalapenos and tangy dill flavors.
It's like a flavor explosion in my mouth! And the texture of the sauce is something else entirely. I can taste and feel the chunks of cucumber, the crunchy seeds, and the flesh of the jalapenos.
The cucumbers provide a neutral base that supports the flavors of the peppers. While the maple sugar provides just a tiny bit of sweetness that rounds out the flavor profile.
It's like a spicy relish in sauce form, which I think is exactly what Britannia Mills was going for.
All in all, the taste of Elle Pique Elle hot sauce is incredible. It's tangy, spicy, crunchy, and just the right amount of sweet.
Heat Level
When it comes to heat, Elle Pique Elle hot sauce is definitely on the milder side. Personally, I would give it a 3 out of 10. The label on the bottle rates this at a 4 out of 10.
If you're familiar with the heat of jalapenos, you'll recognize the sharp, warm heat that comes along with them.
For me, the heat was felt mainly on my lips and just a bit on the tip of my tongue. The heat level was pretty consistent the whole way through. Eating more of the sauce didn't increase the heat level, it just maintained it.
I didn't really break a sweat while enjoying this sauce. Although I did feel a bit of sweat on my forehead and a little on my cheeks, but nothing major.
Conclusion: Overall Thoughts
Elle Pique Elle hot sauce by Britannia Mills offers a unique and flavourful experience. With a relish-like texture, tangy and slightly sweet taste, this sauce is a great addition to any dish.
The use of fresh ingredients grown on their farm adds to the overall quality of the sauce. If you're a fan of relish or jalapenos, this sauce is definitely worth a try.
Please remember that taste is subjective and everyone will experience hot sauce uniquely. These reviews contain my own thoughts and opinions. If you think you'll enjoy a hot sauce then you should definitely try it out.
Mike P
Mike is a hot sauce lover. He has never, and will never say no to hot wings. Mike loves a balance of flavour and heat; he prefers his food on the spicy side but also likes some sweetness too.

About Us