Ghost Pepper and Molasses hot sauce by Kultivar & Co would be great on BBQ ribs. The molasses is sweet and earthy and the ghost peppers provide just enough heat to make it enjoyable.
The uniquely shaped and clear bottle showcases the chunky and ingredient-rich hot sauce contained inside.
Floating around the hot sauce you can see bits of blended coffee, cayenne peppers, and dates.
This offering from Kultivar definitely has what it takes to fall into the craft hot sauce category.
What a surprising find!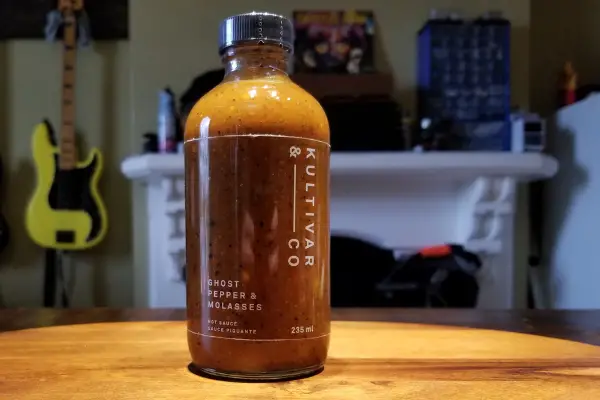 Introducing: Kultivar & Co's Ghost Pepper and Molasses Hot Sauce
Ghost Pepper and Molasses by Kultivar & Co is an incredibly savoury hot sauce. When I say incredibly savoury, I mean it literally.
While it is definitely not as spicy as I hoped it would be, this hot sauce has as much flavour as anyone could ask for.
Each ingredient is carefully balanced to create a unique hot sauce experience.
Kultivar & Co make their craft hot sauces in Toronto and their produce is grown in Georgetown, Ontario. This information is a nice touch to their label which gives this hot sauce a local feel.
Ghost Pepper and Molasses is said to have a rich and earthy flavour which describes this hot sauce perfectly. The molasses in my opinion provides both earthiness and richness to the texture of the hot sauce. The coffee provides an even more earthy taste to this hot sauce.
While a bottle of Kultivar hot sauce will cost you a bit more than most hot sauces, you do get more in each bottle.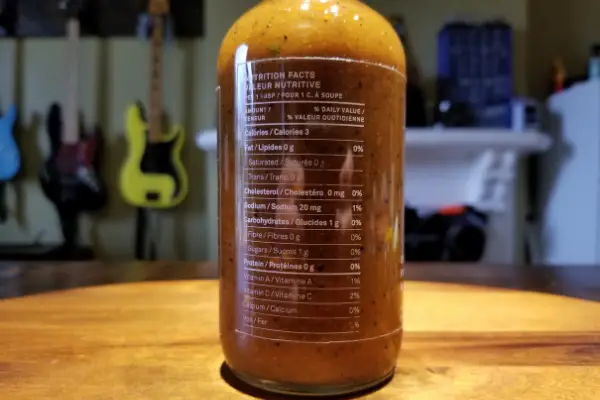 Manufacturer: Kultivar & Co
Made In: Ontario
Heat Rating: 2/10
Size: 235mL
Price Range: $15-$18
Buy At Kultivar & Co

Ingredients: Cayenne Peppers, Ghost Peppers, Dates, Molasses, Coffee, Turmeric, Tomatoes, Water, Vinegar, Lime Juice, Xantham Gum, Spices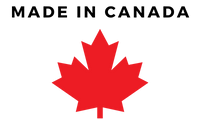 Appearance
Kultivar clearly takes pride in their hot sauces and showcases them in an all-clear bottle. The bottle is clear and the label is clear to help show the delicious sauce inside.
The bottle itself comes in a 235mL size which is plenty. The apothecary-style bottle allows the sauce to flow smoothly and since there is no neck there is no clogging of the bottle.
Inside is a rich brown hot sauce with little flakes of ingredients like coffee and secret spices. Apparently, the coffee used is Grizzly Claw by Kicking Horse Coffee.
I couldn't wait to try this one based on the look of the sauce alone. Ghost Pepper and Molasses hot sauce definitely has bottle appeal.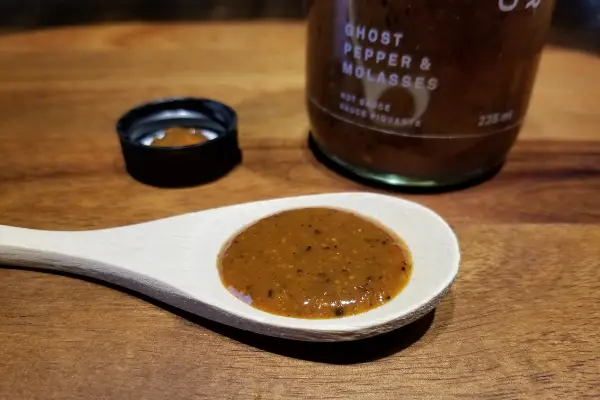 Smell
This hot sauce smells like a great BBQ sauce. Rich, earthy, and smoky.
I could smell a little bit of the peppers but there was no actual spicy smell. The scent was incredibly inviting and I couldn't wait to try this one.
It for sure smells appetizing.
Taste
The texture of Ghost Pepper and Molasses is amazing. Not too chunky, not too thin, just right.
The crunchiness of the coffee and the seeds pair so well with the rich BBQ flavour.
On to the taste, the first element I tasted was the richness of the molasses with a little bit of sweet and smoky.
I could not really taste the peppers other than the texture of their skins blended. This hot sauce was all flavour upfront and followed by a little bit of heat.
The aftertaste was spicy and tangy.
Heat Level
The heat level on Kultivar & Co's Ghost Pepper and Molasses hot sauce is very mild. I rated this one at a 2 out of 10.
The ghost peppers provide a sharp heat that does not linger around too much. I could taste the heat on the top of my tongue and a little bit on my lips.
There was no sweating and no compounding of heat while enjoying this hot sauce with my meal. It was simply pleasant.
Flavour
As I mentioned above, the flavour of this hot sauce is rich, smoky, and savoury. Ghost Pepper and Molasses tastes just like a great BBQ sauce for ribs.
This is a flavour first hot sauce for those that like mild heat with a carefully crafted flavour profile.
The earthiness of the dates and turmeric adds to the savoury flavour of this hot sauce.
This one is best enjoyed with meats on the grill.
Conclusion: Overall Thoughts
This is another one of those hot sauces that I love but at the same time may not use often. I like a lot of heat, usually around a 7 on my heat scale is perfect. Ghost pepper and Molasses sits a little too low on that heat scale to be a staple in my hot sauce cupboard.
That being said. The flavour of this hot sauce is something I will always enjoy. Whenever I'm craving BBQ, this is the flavour I have on my mind. I can't wait to slather this on some ribs this summer along with something a little spicier.
If you're a fan of BBQ and grilled meats, definitely give this one a try. It will be great on ribs, chicken, steak, anything from the grill really.
Please remember that taste is subjective and everyone will experience hot sauce uniquely. These reviews contain my own thoughts and opinions. If you think you'll enjoy a hot sauce then you should definitely try it out.
Mike P
Mike is a hot sauce lover. He has never, and will never say no to hot wings. Mike loves a balance of flavour and heat; he prefers his food on the spicy side but also likes some sweetness too.

About Us