If you're a hot sauce enthusiast, you're in for a treat. Today, we're taking a look at Serrano Dill. A unique and flavorful sauce from To Hi Guys, a company based in Barrie, Ontario.
Made with fresh Serrano peppers and dill herbs, this sauce boasts a distinct aroma reminiscent of a pickle. It's not too spicy, but definitely packs a punch.
So, if you're looking for a sauce that's both flavorful and spicy, read on to find out more about Serrano Dill.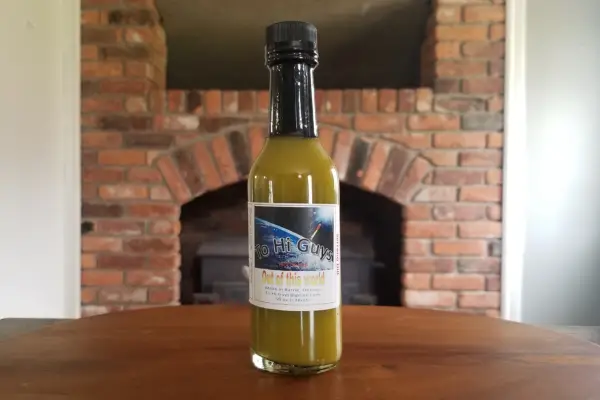 Introducing: Serrano Dill by To Hi Guys Hot Sauce
Calling all hot sauce aficionados! You've got to check out Serrano Dill by To Hi Guys Hot Sauce – it's the real "dill".
This sauce is all about simplicity and flavor, with a perfect blend of spicy Serrano peppers and deliciously fresh dill. The result is a sauce that's spicy but not too overpowering. With a subtle tanginess that will leave your taste buds begging for more.
And the best part? It's made with locally sourced, fresh ingredients in Barrie, Ontario, so you can feel good about what you're putting in your body. Plus, the 148mL woozy bottle is perfect for pouring and storing. It's also priced affordably at just $10 a bottle (or 5 for $45) on their Facebook page.
So, if you're looking for a hot sauce that's both delicious and unique, you've got to give Serrano Dill a try. Your taste buds will thank you.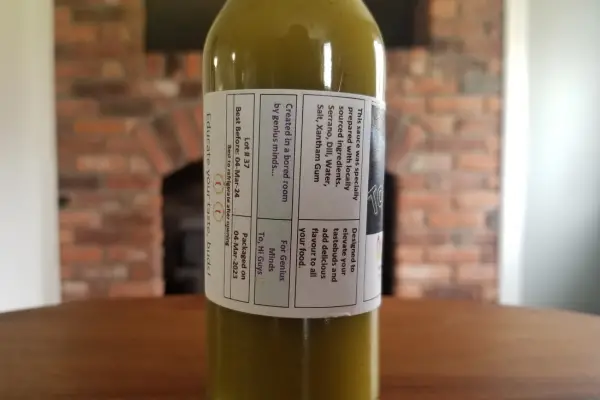 Manufacturer: To Hi Guys
Made In: Ontario
Heat Rating: 5/10
Size: 148mL
Price Range: $10
Buy from To Hi Guys

Ingredients: Serrano Peppers, Dill, Water, Salt, Xanthan Gum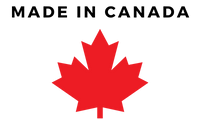 Appearance
Let's talk about the appearance of Serrano Dill.
This hot sauce comes in a classic 148mL woozy bottle with a black cap, making it easy to pour.
The label is simple and elegant, featuring the To Hi Guys logo, the sauce name, and the ingredients list.
When you pour out the sauce, you'll notice that it's a beautiful jalapeno green color. Along with a thin and well-pouring consistency that makes application a breeze.
The sauce is homogenous and well-blended, with no large bits of ingredients floating around, so you know you're getting pure sauce with every pour. And the best part? The bottle doesn't get clogged, so you can easily pour out as much or as little sauce as you need.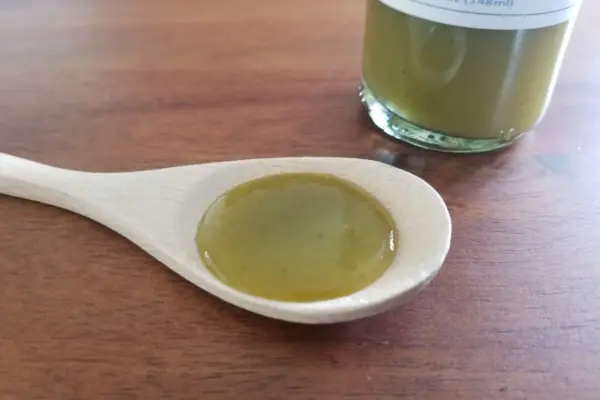 Smell
As soon as you open the bottle, you'll notice the unique and delightful aroma of Serrano Dill. The scent of dill and peppers immediately hits your nose, and you'll find that this hot sauce literally smells like a pickle.
The combination of fresh and aromatic dill herbs and spicy serrano peppers is what really stands out in this sauce's aroma. The scent is not too overpowering, but still enough to get your mouth watering and make you excited to taste what's inside the bottle.
So if you're a fan of pickles or simply love the smell of fresh herbs and peppers, Serrano Dill is a hot sauce that you won't want to miss.
Taste and Flavour
When it comes to the taste of Serrano Dill, the first thing that hits your taste buds is the delicious flavor of Serrano peppers. You can taste the fleshy goodness of the peppers, which provide a moderate level of heat without being too spicy.
After the initial pepper flavor, the fresh dill herbs kick in. Giving the sauce a pleasant and herbaceous taste that sets it apart from other hot sauces. The two main ingredients in this sauce – serrano peppers and dill – are definitely the stars of the flavor profile.
The salt is also present in the sauce, but it's not overpowering and sits just right in the overall flavor.
The texture is smooth and consistent, with no crunchy bits to interrupt the flavor experience. Overall, Serrano Dill is a hot sauce that really tastes like a pickle. Making it a perfect condiment to add to your deli sandwiches or any dish that could use a little bit of pickle-flavored heat.
Heat Level
In terms of heat, Serrano Dill falls on the milder side of the hot sauce spectrum. I would rate it at a 5 out of 10 in terms of spiciness.
The serrano peppers used in the sauce provide a modest amount of heat that is sharp like a jalapeno, but a little spicier. The heat warms your insides when enjoying. I could feel it on the roof of my mouth and a little on my lips.
I even broke out into a little bit of sweat just above my eyebrow. However, the heat doesn't compound as you consume more of the sauce. It remains pretty consistent throughout the tasting experience.
So, if you're a fan of milder hot sauces that still offer a bit of kick, Serrano Dill might be the perfect choice for you.
Conclusion: Overall Thoughts
In summary, Serrano Dill by To Hi Guys Hot Sauce is a unique and delicious hot sauce that delivers a burst of flavour with a modest amount of heat.
Made with fresh, locally sourced ingredients, this sauce has a fresh pickle-like aroma and a perfect balance of pepper and herb flavours.
At $10 a bottle or 5 for $45, it's a versatile and reasonably priced option for hot sauce enthusiasts looking for a flavourful kick.
Please remember that taste is subjective and everyone will experience hot sauce uniquely. These reviews contain my own thoughts and opinions. If you think you'll enjoy a hot sauce then you should definitely try it out.
Mike P
Mike is a hot sauce lover. He has never, and will never say no to hot wings. Mike loves a balance of flavour and heat; he prefers his food on the spicy side but also likes some sweetness too.

About Us