Today I will be reviewing the Hurt Berry Farm Fruition Lo-Con Harvest hot sauce. This chef-owned farm in Port Perry, Ontario has been growing peppers and making hot sauces since 2018. Owners Drew and Steve are former chefs who love all things spicy.
Hurt Berry Farms sources ingredients with local growers and producers in mind. Whether grown on their own farm or sourced from fellow Ontario farms, you are sure to find fresh local ingredients in any of their hot sauces.
Fruition is a limited edition craft hot sauce made with Scorpion, 7 Pot, and Fatalii peppers. There are a few special ingredients as well, but more on that later!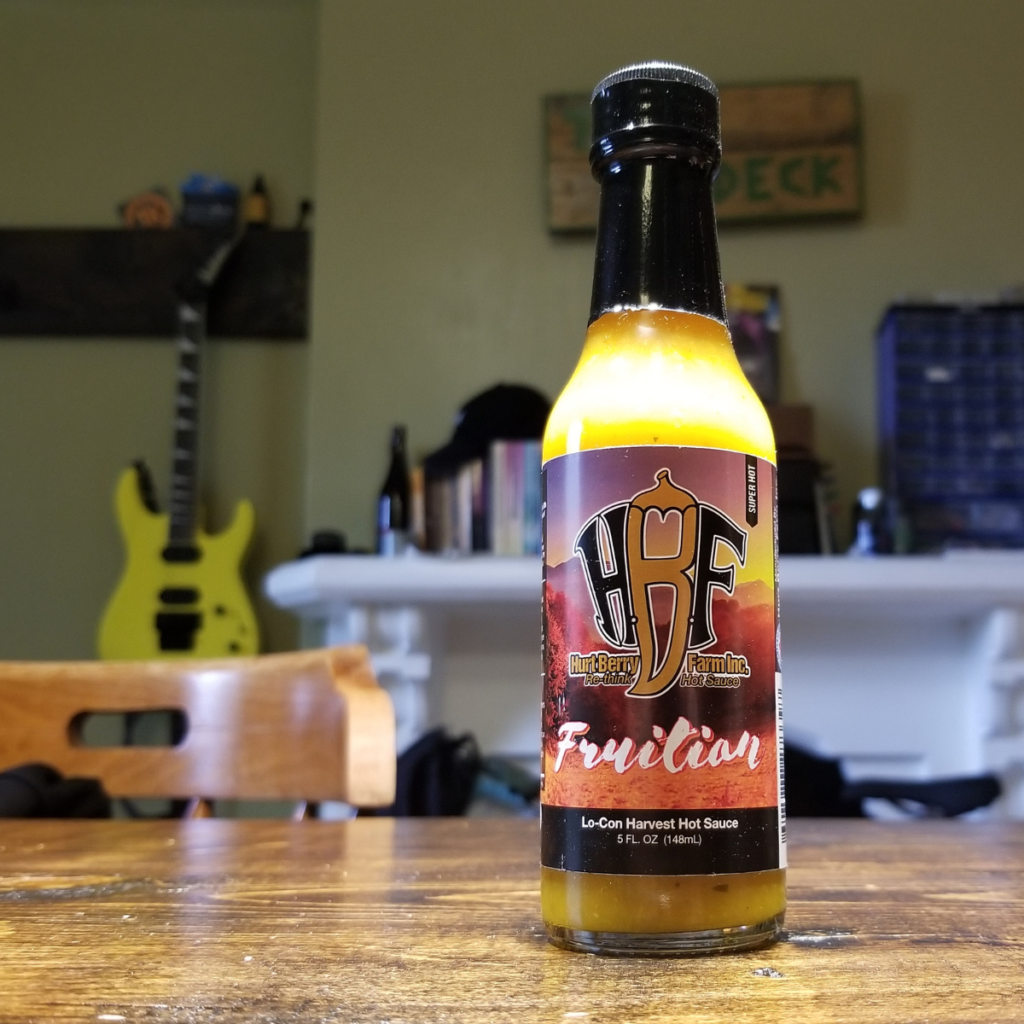 Introducing: Hurt Berry Farm Fruition Lo-Con Harvest Hot Sauce
Wow! Like really WOW! Fruition truly brought all of my spicy desires to fruition.
This Canadian craft hot sauce packs a mega-wallop!
I'm still feeling the effects of this wicked hot sauce an hour after I tested it. Fruition is definitely not for the faint-hearted. It's also best to enjoy this hot sauce in small quantities as it can quickly take over a dish and turn it into pure fire.
If you're looking for an insanely-hot hot sauce with a tangy-sweet zip then look no further.
There are also some interesting ingredients found in this one. Ontario popcorn, maple syrup, and roasted Hubbard squash are rare finds in hot sauces. The popcorn is a little hard to pinpoint but the squash and maple syrup are present in the sweet notes of this hot sauce.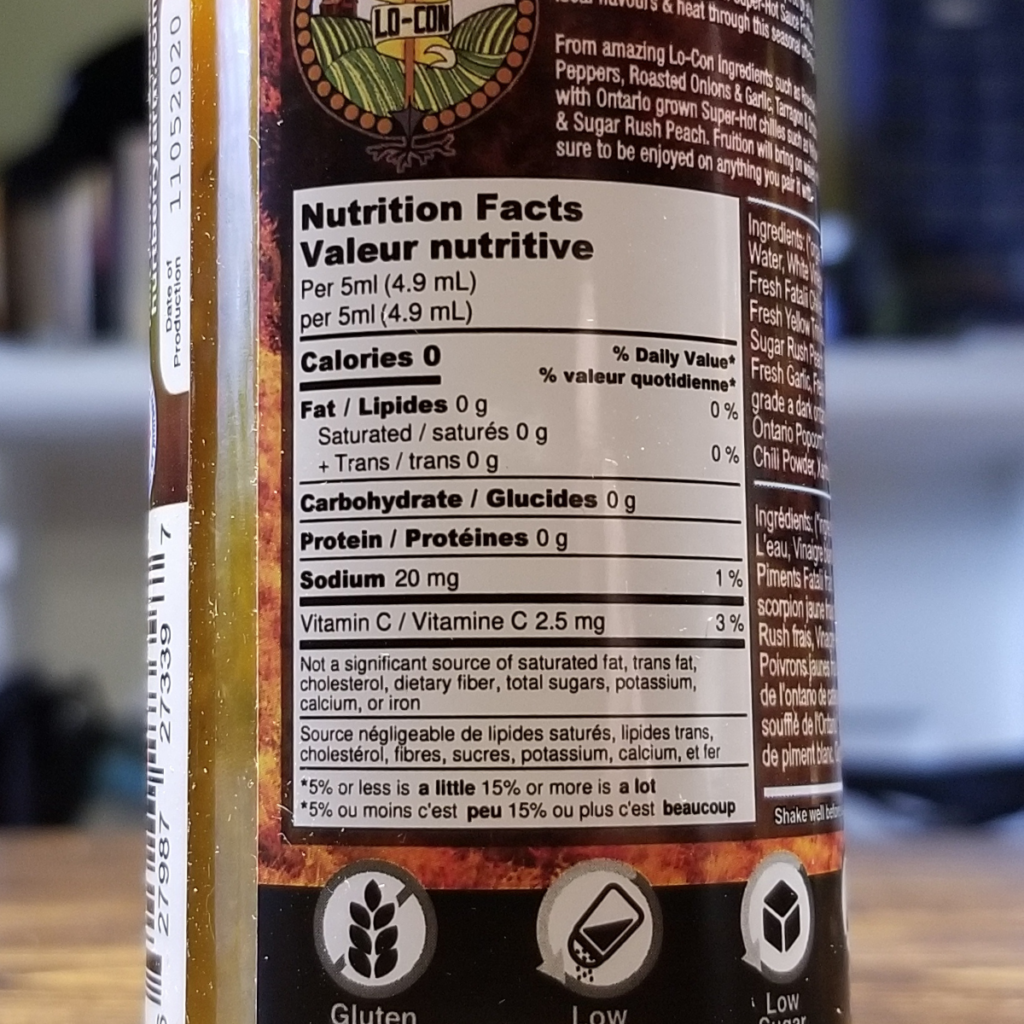 Manufacturer: Hurt Berry Farms
Made In: Ontario
Heat Rating: 9/10
Size: 148mL
Price Range: $13-$16
Buy at Hurt Berry Farms

Ingredients: Water, White Vinegar, Roasted Hubbard Squash, Fatalii Chilies, Yellow 7 Pot Chilies, Yellow Trinidad Scorpion Chilies, Sugar Rush Peach Chilies, Apple Cider Vinegar, Garlic, Yellow Peppers, Ontario Maple Syrup, Onions, Ontario Popcorn, Kosher Salt, Tarragon, White Chili Powder, Xantham Gum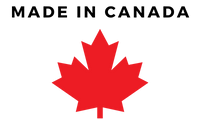 Appearance
Fruition is a very thin yellow sauce, the flow factor on this one is very high. When I added some to a sandwich the hot sauce started dripping out of the other side.
There are visible chunks of the many ingredients and the high water/vinegar content ensures that the flavour of these ingredients is spread throughout your dish. You'll also notice this sauce settling a little bit, best to give it a shake before applying.
The bottle is a standard woozy bottle with 148mL of delicious hot sauce inside. The label has a big Hurt Berry Farms logo on it with the name of the sauce below the logo. You'll also find nutritional info and a blurb about the sauce on the side of the label.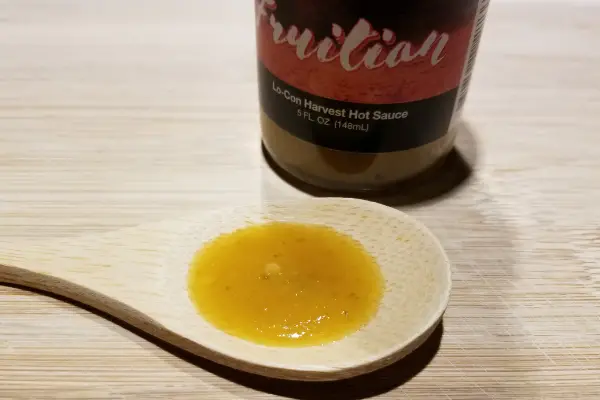 Smell
The predominant smell of this sauce is vinegar, it is not overpowering but it is the first thing I smelled. Right after the vinegar was the scent of the roasted squash.
Overall Fruition smells tangy, sweet, and vinegary. There is a slight scent of the heat from the peppers but it is more noticeable after tasting. The smell is definitely appetizing and unique as well.
Taste
Fruition begins with the sweet overtones of the maple syrup and the Hubbard squash. Not far after comes the intense heat from the variety of peppers found in this hot sauce.
The unique ingredients of this hot sauce definitely stand out. Although I couldn't really taste the popcorn flavour, the Hubbard squash was definitely notable.
This is a pretty neutral hot sauce that could pair well with most meals. A little bit of sweetness mixed with a lot of heat can go a long way.
Heat Level
The label on a bottle of Fruition states that it is a "super hot" sauce. I would have to agree with this statement!
It is a very sharp heat that tends to linger around long after you're done eating. This totally makes sense considering the heat is provided by Scorpion, 7 Pot, and Fatalii peppers. Scorpion peppers are usually around 2 million Scoville and 7 Pots are around 1.5 million Scoville heat units. Thus a spicy mixture for a hot sauce.
After about 5 minutes of enjoying this sauce, I was definitely sweating and trying to cool my tongue down. I loved it! My tongue continued to burn for at least 20 minutes. Once the burn subsided, the after-effects of the intense heat remained around for a while.
You can really feel the heat on the tip of your tongue and in the back of your throat. You'll also likely sweat unless you're a mega-champ with hot sauce. For me, the sweat was in the forehead and at the back of the head behind the ears.
The heat is definitely naturally sourced and does not come from a concentrate. Hurt Berry's mantra of local and fresh confirms this. The heat is the real heat from the hot peppers.
Flavour
This is a pepper forward sauce with fruity and floral notes. The Ontario-grown Fatalii Chilies have a citrus tone and the Trinidad Scorpions provide a fruity and floral note.
Roasted Garlic, Bell Peppers, and Hubbard Squash provide a flavourful base that helps showcase the flavour of the peppers.
The hint of popcorn flavour provides a bit more sweetness and comes from a popcorn purée prepared by the team at Hurt Berry Farms.
The heat really takes over this sauce, but the sweet and tangy roasted really make this sauce more than just a heat injection for your meals.
Conclusion: Overall Thoughts
This sauce gets a GIANT thumbs up from me! Given that it is a limited edition, it might be hard to find again, but if I do see it I'll definitely pick up another bottle.
I tried this on a salad, sandwich, wings, and pretty much everything I ate while the bottle still contained sauce. It even tasted great just sampling it from the spoon.
Overall, this is a very well-rounded craft hot sauce, lots of heat, and a fruity and floral flavour. If you can find a bottle, give this one a shot. It is sure to burn your tongue and fire up your tastebuds.
Please remember that taste is subjective and everyone will experience hot sauce uniquely. These reviews contain my own thoughts and opinions. If you think you'll enjoy a hot sauce then you should definitely try it out.
Mike P
Mike is a hot sauce lover. He has never, and will never say no to hot wings. Mike loves a balance of flavour and heat; he prefers his food on the spicy side but also likes some sweetness too.

About Us