If you're a fan of hot sauce, you've likely heard of Hot Ones, the web series that challenges celebrities to eat progressively spicier wings while answering interview questions. One of the sauces featured in Season 17 was Cedar Smoked Garlic from Dawson's Hot Sauce.
This sauce has gained a reputation for its unique smoky flavor and manageable heat, making it a popular choice among hot sauce enthusiasts. In this review, we'll take a closer look at what makes Cedar Smoked Garlic stand out and whether it lives up to the hype.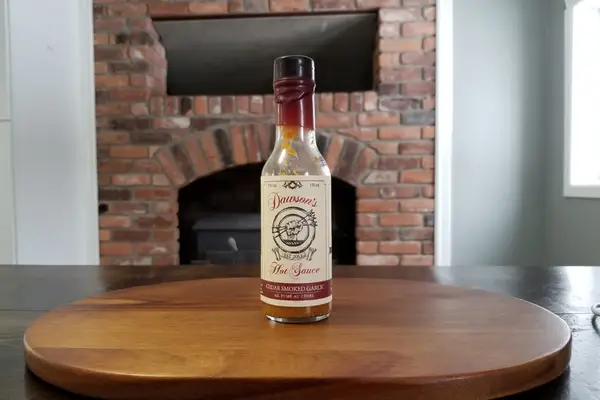 Introducing: Cedar Smoked Garlic by Dawson's Hot Sauce
Have you ever tasted a hot sauce that's so good, you just can't stop pouring it on everything? Well, let me introduce you to Cedar Smoked Garlic by Dawson's Hot Sauce, a Canadian-made hot sauce that will rock your taste buds!
Made with white wine vinegar, habanero, garlic, onion, extra virgin olive oil, sea salt, and sumac, this sauce has a smoky flavor and a nice kick that'll leave you wanting more.
It comes in a standard 155mL woozy hot sauce bottle, perfect for drizzling on your favorite foods. And the best part? It's made by a family-run business in Hamilton, Ontario, that's passionate about creating delicious, locally sourced small-batch sauces.
So, get ready to add a new favorite hot sauce to your collection – Cedar Smoked Garlic is here to spice up your life!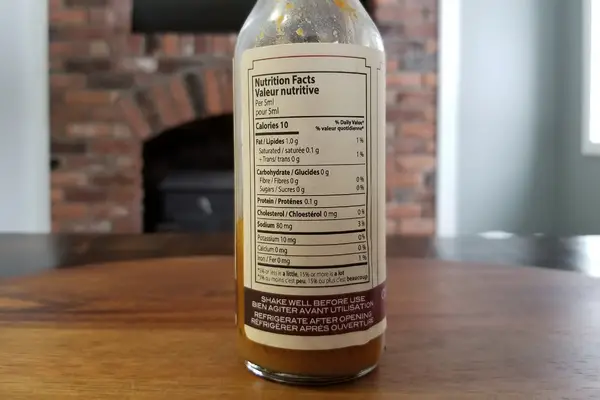 Manufacturer: Dawson's Hot Sauce
Made In: Ontario
Heat Rating: 6/10
Size: 155mL
Price Range: $12-$15
Buy from Dawson's Hot Sauce

Ingredients: White wine vinegar, Habanero, Garlic, Onion, Extra virgin olive oil, Sea salt, Sumac.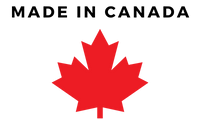 Appearance
Cedar Smoked Garlic comes in a standard 155mL woozy bottle with a wax-sealed cap.
The label has a parchment-style design with the Dawson's logo and features the sauce name, a heat rating, and nutritional information.
The hot sauce inside the bottle is a beautiful pumpkin orange color, with speckles of garlic and onion visible throughout.
The sauce is thin enough to pour, but thick enough to dollop on your meal. Plus, the bottle top doesn't get clogged, so the sauce runs smoothly from the bottle.
Overall, the appearance of Cedar Smoked Garlic is both attractive and functional, making it a great addition to any hot sauce collection.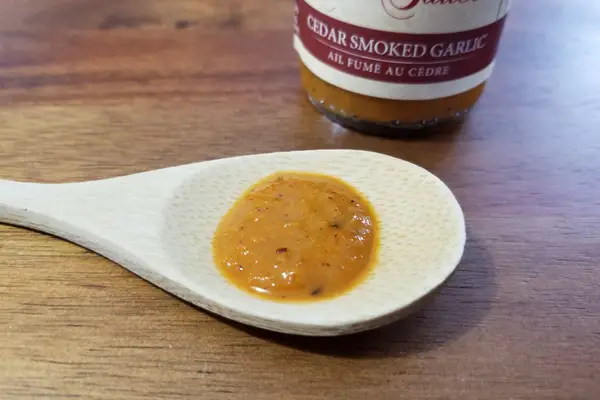 Smell
One of the first things you'll notice about Cedar Smoked Garlic is its delightful aroma.
The sauce has a strong garlic scent, with notes of warm cedar that add an earthy touch. It also has a slightly tangy smell, which comes from the white wine vinegar used in the recipe.
What's surprising, however, is that the sauce doesn't smell particularly spicy, despite its habanero content.
Instead, this sauce has a sweet and tangy aroma that's both pleasant and intriguing.
Overall, the aroma of Cedar Smoked Garlic is a great precursor to the delicious flavors that await you.
Taste and Flavour
The taste of this hot sauce is both sweet and tangy, with a pronounced garlic flavor. While there's no real cedar taste to the sauce, the cedar aroma adds an earthy dimension that complements the tangy sweetness perfectly.
Unlike some hot sauces that rely heavily on salt or acidity, Cedar Smoked Garlic is mostly flavor-forward, with a well-balanced taste.
The habaneros add a slight kick of heat, but the overall flavor is more about the sweet and tangy notes.
You'll also notice the subtle taste of white wine vinegar, which adds a mild tanginess to the sauce.
Additionally, the little bits of dried onion and garlic provide a pleasant crunchiness that rounds out the overall flavor experience.
Heat Level
Dawson's Hot Sauce describes Cedar Smoked Garlic as a 5 out of 10 on the heat scale, but I'd give it a solid 6 out of 10.
The heat is sharp and immediate, with a sting that lingers on the tongue for quite some time. While the burn is primarily focused on the tongue and lips, it's not overpowering and adds a pleasant kick to the sauce.
As I continued to eat, I could feel my cheeks starting to sweat a little, followed by a warming sensation on my hairline.
What I appreciated about this hot sauce was that the more I ate, the more intense the heat became, purely from the heat lingering around.
Conclusion: Overall Thoughts
Cedar Smoked Garlic by Dawson's Hot Sauce is a flavourful and well-balanced sauce that combines sweet and tangy notes with a strong garlic flavour.
Overall, Cedar Smoked Garlic is a delicious sauce that will add depth and flavour to any dish. Highly recommended for anyone who enjoys a flavourful hot sauce with a decent level of heat.
Please remember that taste is subjective and everyone will experience hot sauce uniquely. These reviews contain my own thoughts and opinions. If you think you'll enjoy a hot sauce then you should definitely try it out.
Mike P
Mike is a hot sauce lover. He has never, and will never say no to hot wings. Mike loves a balance of flavour and heat; he prefers his food on the spicy side but also likes some sweetness too.

About Us