Melinda's Hot Sauce has been a common element in my spicy journey through life. When I was younger, Melinda's was the first hot sauce at the grocery store that wasn't Frank's or Tabasco. Naturally, I was really excited when I found out they made a Scorpion Pepper Sauce.
It has that classic Melinda's flavour but with the sharp sting of the scorpion pepper. You definitely won't be disappointed if you love incredibly hot sauces that don't make you keel over and convulse.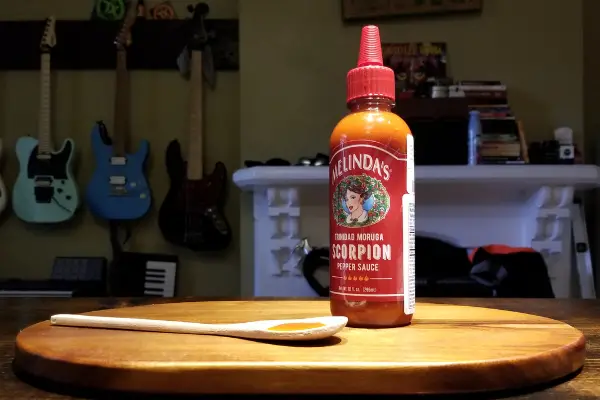 Introducing: Melinda's Trinidad Moruga Scorpion Pepper Sauce
I want to start this off by saying, I love this hot sauce!
It's tangy, and a little sweet, and the scorpion peppers have such a unique flavour.
Melinda's Scorpion Pepper Sauce is made in the USA and is quite hard to find in Canada. At least in the small town I live in.
I was lucky enough to find a few bottles at my local Winners store. They had about 5 bottles on the shelf and I picked one up to try the Scorpion Pepper version of one of my favourite hot sauces.
After trying this hot sauce I drove back to the store to pick up the remaining bottles but there was only one left!
Anyway, enough about me. Melinda's Scorpion Pepper sauce is a tangy, and flavourful hot sauce. The taste of the scorpion peppers is front and center and mixes well with the floral habanero peppers.
You can usually find this hot sauce on Amazon or any of the Canadian hot sauce retailers. At the time of posting they are all currently sold out. Which really says something about this hot sauce.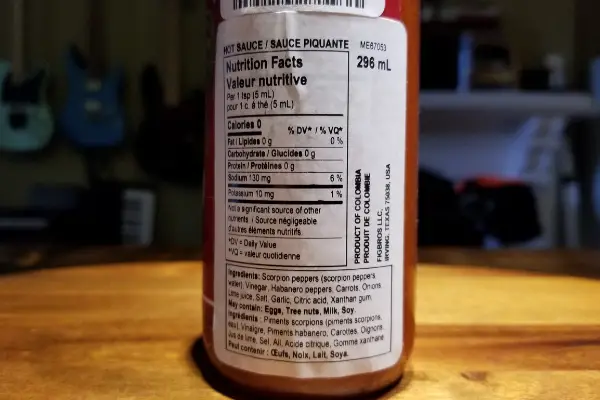 Manufacturer: Melinda's Hot Sauce
Made In: USA
Heat Rating: 8/10
Size: 296mL
Price Range: $6-$16
Buy At Chilly Chiles

Ingredients: Scorpion Peppers and water, Vinegar, Habanero Peppers, Carrots, Onions, Lime Juice, Salt, Garlic, Citric Acid, Xantham Gum
Appearance
I'll start off by saying that you can find this hot sauce in any of Melinda's bottle sizes. I have the 10oz (296mL) squeeze bottle but I have seen it in a regular 148mL woozy bottle.
The squeeze bottle was really handy and great for drizzling scorpion pepper sauce all over my meals.
If you're familiar with Melinda's then you know what the label looks like. It is instantly recognizable.
Inside the bottle is a beautiful red sauce that almost looks like ketchup, if ketchup had bits of seeds and peppers blended in. The sauce flows really well and is blended fine enough to be funnelled through the squeeze top.
As I mentioned, floating around the sauce are little bits of peppers, seeds, and garlic. These bits add to the texture and sensation of this hot sauce.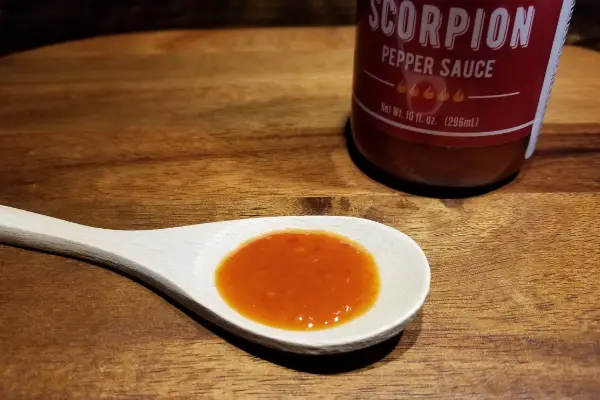 Smell
Like most of Melinda's hot sauces, you can really smell the brine used to create the hot sauce. With little hints of the habanero and scorpion peppers under a wave of heat.
This hot sauce smells like it tastes very hot! Once the scent of the scorpion peppers hit your nose you will instantly want to try this hot sauce.
Taste
You can really taste the salt/vinegar brine. That is what gives this hot sauce a really tangy bite.
Right after the brine comes the flavour of the scorpion peppers. If I'm not mistaken, the scorpion peppers are fermented which pulls out their flavours even more.
Once you make it through the quick flavour of the peppers, your mouth is overtaken by the intense heat of the scorpion peppers.
Heat Level
Very hot! Scorpion peppers are very hot, coming in at 1,200,000 SHU. Melinda's Scorpion Pepper Sauce definitely matches that heat rating.
I have this hot sauce a 9 out of 10 on my heat scale. It was one notch below full uncontrollable sweating and convulsing.
This is right at the peak of my enjoyment level for hot sauces. If the flavour was not so great I might move this into the unenjoyable category based on the heat. But it tastes too good to do that.
Every time I enjoy this scorpion sauce, I sweat on my cheeks and a lot around the top of my head. The sweating also lasts for quite some time, much like the heat on the tongue.
The heat from the peppers coats the entire top of my tongue and lingered for about 5-10 minutes. Even still, I managed to have this sauce on every bite. It is just that good.
Flavour
Once you taste it, your tongue starts to sizzle with flavour.
It reminds me of this fizzy candy they used to have when I was a kid.
Most of Melinda's hot sauces are pepper forward and basically just the brine, carrot, and the peppers used in the sauce. This makes it perfect for lovers of pepper flavour. Every one of Melinda's hot sauces I have tried puts the star pepper in the forefront of the flavour profile.
Scorpion peppers are also incredibly tasty. There is just something about them. They do wonders for my tongue but terrible things for my gut. But still, it's great!
Conclusion: Overall Thoughts
I'm all in on Melinda's Scorpion Pepper Sauce.
I will pick up a bottle of this anytime I see it at a store. It goes great with mostly cooked or grilled foods but can also mix well with a more green meal.
The flavour of the brine and the peppers really tastes amazing and energizes my palette. I had this sauce with wings, definitely my favourite way to enjoy it. It was also great with sandwiches, every bite was tangy and sharp.
If you love really hot sauces that are tolerable, get this hot sauce. It is great.
Full disclosure, this is not a hot sauce I would eat in public. You will sweat so much you'll need a shower.
Please remember that taste is subjective and everyone will experience hot sauce uniquely. These reviews contain my own thoughts and opinions. If you think you'll enjoy a hot sauce then you should definitely try it out.
Mike P
Mike is a hot sauce lover. He has never, and will never say no to hot wings. Mike loves a balance of flavour and heat; he prefers his food on the spicy side but also likes some sweetness too.

About Us