Straight from Texas is Yellowbird Habanero Condiment, a super tasty, straight-to-the-point hot sauce. If you're into a spicy sauce with a simple flavour, this one is for you.
This hot sauce truly is a condiment and the squeeze bottle helps slather it on everything. I was enjoying this habanero sauce on sausages, pizza, fries (especially awesome), and even salads and veggies.
Inside the bottle, you'll find a sweet and savoury sauce with real habanero heat.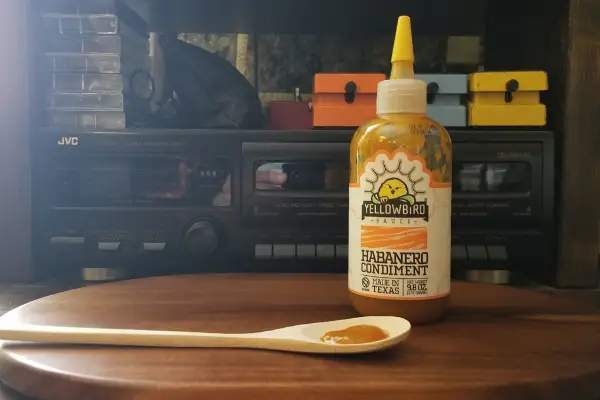 Introducing: Yellowbird Habanero Condiment
Yellowbird is a hot sauce company based in Austin, Texas. They make a whole bunch of different hot sauces using the many types of peppers they grow. They have a sriracha sauce, a plum reaper sauce, and some simple hot sauces like Habanero Condiment.
This hot sauce is made with, you guessed it, habanero peppers. It has the exact heat level you would expect from a habanero pepper.
Habanero Condiment also goes on just about any meal. The flavour is very simple and slightly sweet.
Yellowbird hot sauces are sometimes hard to find in Canada but can be ordered from Yellowbird directly. Sometimes, you can find it on Amazon but it can be a little overpriced due to demand.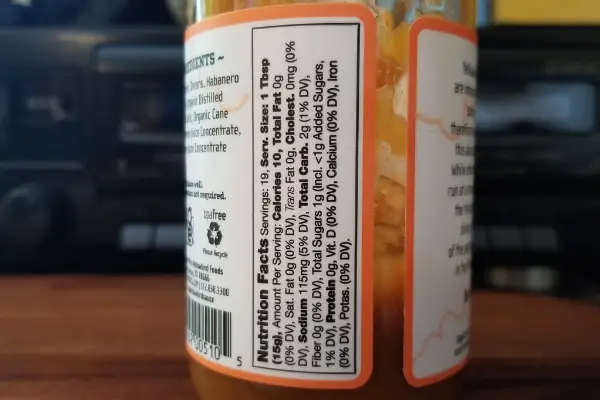 Manufacturer:Yellowbird
Made In: Texas
Heat Rating: 7/10
Size: 278mL
Price Range: $12-$15
Buy at Yellowbird
Buy at Hot Sauce Unlimited

Ingredients: Organic Carrots, Onions, Habanero Peppers, Organic Distilled Vinegar, Garlic, Organic Cane Sugar, Tangerine Juice Concentrate, Salt, Lime Juice Concentrate
Appearance
Yellowbird Habanero comes in a 278mL plastic squeeze bottle with a nozzle and lid. The nozzle at the top is exceptionally useful for doling out the perfect amount of hot sauce. For me, that is about as much as the nozzle can handle.
The bottle is short and a little stubby and has a white label with graphics and info. The label wraps around almost the entire bottle and has the nutritional info, the Yellowbird logo, and a blurb about the company.
What is most important however is the yellow/brown hot sauce inside the bottle. The hot sauce is pretty thin and pours easily. In terms of consistency, Yellowbird Habanero is pretty homogenous and the ingredients appear very well blended.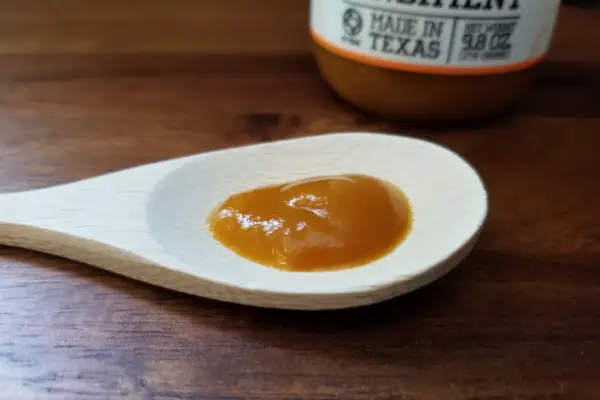 Smell
This hot sauce manages to hide its heat level very well. For the most part, I can smell garlic and carrot, which makes sense as they are two of the main ingredients. They do a very good job of covering up the intense heat of the habanero.
Yellowbird Habanero smells very appealing, adding tang and zip to the aroma of any meal.
Taste
Mmmmmmm, this hot sauce was one of my favourite sauces to keep at my desk. It goes so well on just about anything so having it on my desk was an easy heat solution.
The first introduction to the tastebuds is sweet and creamy, likely from the carrot and cane sugar. Next comes the savoury garlic to help transition to the fruity heat of the habaneros.
I really enjoyed the texture of this hot sauce, it was again, pretty homogenous. Sometimes the seeds and other bits of ingredients can be off-putting to some people, so this is also a great people pleasure sauce for the table.
Yellowbird nailed it with Habanero Condiment. I was really hoping this sauce would taste exactly as it did. I was pleasantly surprised.
Heat Level
The heat level on this hot sauce is about a 7 out of 10. Almost immediately I could feel the sting of the habaneros on my tongue. The heat radiated from the tip of my tongue all the way around the inside of my mouth.
The sweats came on pretty quick as well, starting in my cheeks and then moving up to my forehead and brow. After many bites, my whole head was sweating. I was in heat heaven.
This was not a concentrated heat, it wasn't overpowering at all, the heat was manageable. I could tell that the spicy came from real habaneros.
Honestly, I just tasted some more of this hot sauce and my cheeks are dripping with sweat.
Flavour
The three things that come to mind when tasting Yellowbird Habanero Condiment are Habanero, Garlic, and Carrot. All three ingredients come together to create something that is sweet, savoury, and really spicy.
The simple flavour makes this hot sauce incredibly versatile and I was able to enjoy it with many meals.
Freshness also comes to mind when tasting Yellowbird Habanero, the ingredients are real and mostly organic.
Conclusion: Overall Thoughts
I really enjoyed Yellowbird Habanero Condiment, it went well with just about anything. My favourite meal pairing was chorizo sausage, the spiciness of the habaneros added extra heat.
The bonus of the packaging is the larger size, meaning it lasts longer than most bottles of hot sauce. Mine has lasted about a month on my desk.
If you really like habaneros and their level of heat, you will like this hot sauce. It tastes like habanero and makes me feel like I just ate a habanero. You will love it!
Please remember that taste is subjective and everyone will experience hot sauce uniquely. These reviews contain my own thoughts and opinions. If you think you'll enjoy a hot sauce then you should definitely try it out.
Mike P
Mike is a hot sauce lover. He has never, and will never say no to hot wings. Mike loves a balance of flavour and heat; he prefers his food on the spicy side but also likes some sweetness too.

About Us