Garlic Jalapeño is one of 3 hot sauces made in Canada by Supernova. This was my first time having this sauce and I have to say I did enjoy it. If you are looking for heat, I would look elsewhere, this is a flavour sauce!
As you would guess by the name, garlic is the showstopper flavour in the Garlic Jalapeño sauce. Combined with the vinegar and it almost tastes like a pickle. This makes it great for foods like sandwiches or burgers.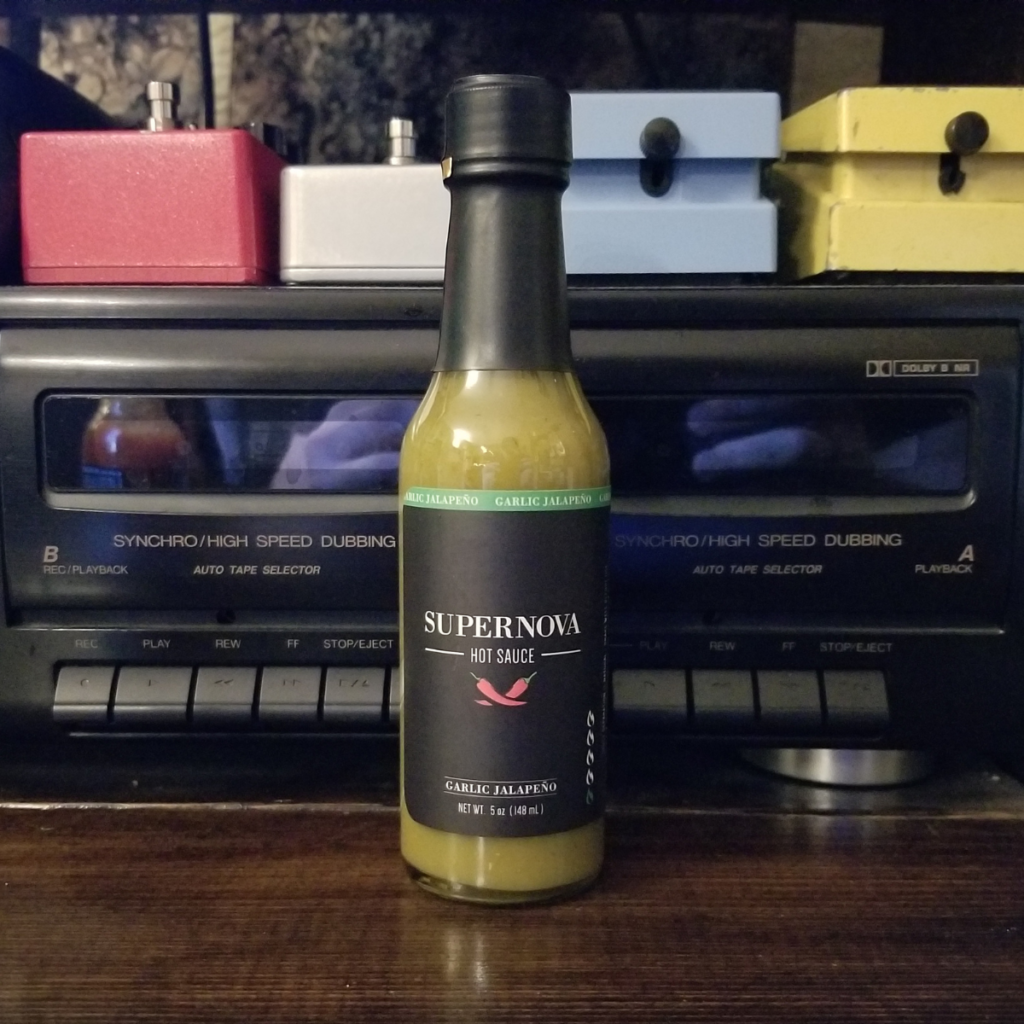 Introducing: Supernova Garlic Jalapeño
A flavourful garlic-centric hot sauce from Supernova, Garlic Jalapeño comes in a standard 148mL woozy bottle. It is made and bottled in Canada using Jalapeños, Green Thai chili peppers, and apples. The heat level on this hot sauce is pretty low but what it lacks in heat it makes up for with flavour. Goes great with sandwiches, pasta, and pizza.
This hot sauce uses no artificial flavouring or colourings.
A bottle of Supernova's Garlic Jalapeño sauce usually costs about $8-$10 dollars. You can find a bottle at most grocery stores in Ontario or at one of the online Canadian hot sauce retailers.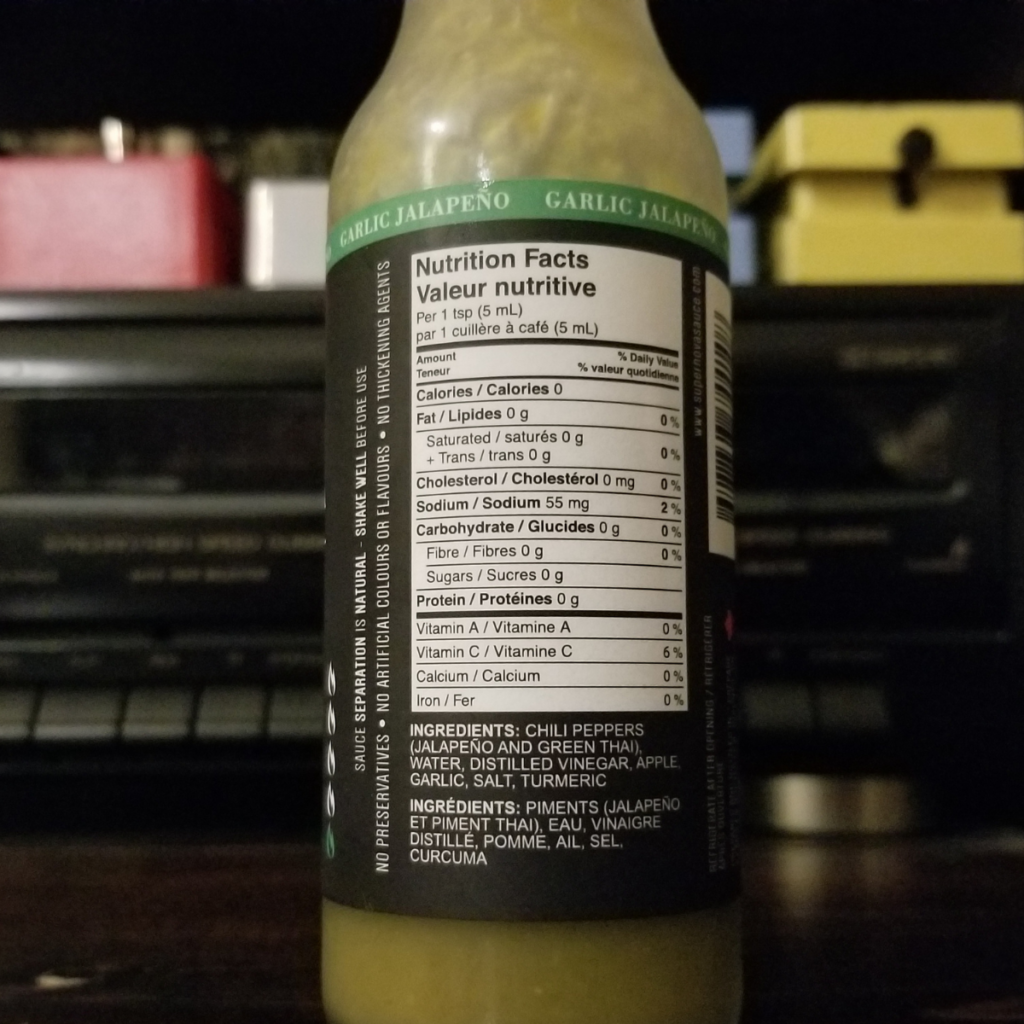 Manufacturer: Supernova
Made In: Ontario
Heat Rating: 3 out of 10
Size: 148mL
Price Range: $8-$10
Buy on Hot Sauce Unlimited

Ingredients: Chili Peppers, (Jalapeño and Green Thai), Water, Distilled Vinegar, Apple, Garlic, Salt, Turmeric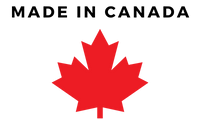 Appearance
The sauce has a pourable consistency and comes out of the bottle easily. It's green because it contains Jalapeños and green Thai chilles, which are perfect for spice without being overpowering in heat! They've also added a tiny bit of turmeric to add to the flavour and colour of the sauce.
While the color of the sauce is pretty consistent, you can see bits of the ingredients floating around. This is also reflected in the texture of the sauce while tasting.
Outside of the bottle is a sleek and sophisticated black label sporting the companies logo. A heat shrink around the lid guarantees that the sauce stays fresh.
My one complaint with this hot sauce, and all of Supernova's sauces is that it comes with a tiny plastic spout. The spout makes it difficult to apply the sauce. I usually remove the spout, it is removed pretty easily using your fingers.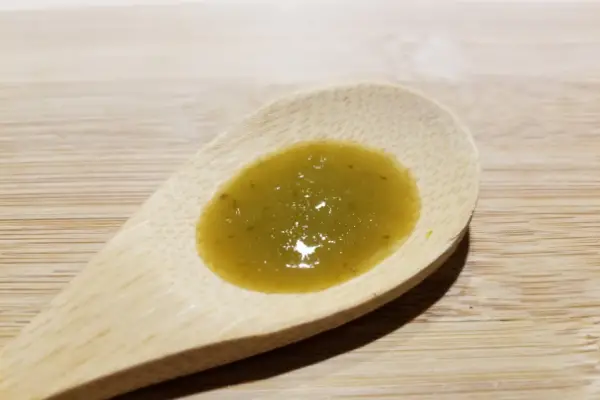 Smell
This is a very aromatic sauce. I used to have it sitting on my desk but I had to move it to the fridge because I kept smelling garlic. Not in a bad way, I just didn't want to smell garlic while working all day.
It is actually pretty difficult to smell the peppers under the aroma of the sweet garlic. As we all know, garlic overpowers everything it cooks with. This can be kind of a bummer for those of us who prefer the scent of peppers in a hot sauce.
Nevertheless, this sauce still managed to compliment almost everything I tried it on.
Taste
The first flavour that came to mind while tasting this hot sauce was dill pickles. Probably because garlic and vinegar are 2 of the ingredients in the Garlic Jalapeño sauce.
It definitely has some heat in the flavour, but not so much that it is overpowering. This sauce is clearly meant for a flavour injection rather than a burn your taste buds experience.
Heat Level
Overall, I would rate the heat level of this sauce at a 3/10. The heat is definitly there since Supernova uses Green Thai and Jalapeños to make this sauce.
The sharp burn of the Green Thai's is what stands out more to me. Once the initial heat has toned down the Jalapeños take over for some afterburn. You can tell the heat comes from peppers as it is more of a fresh heat. No concentrated or extract flavour is present in this sauce.
After awhile, you can start to feel the heat in your forehead, and then in your cheeks and the back of the head.
Since the heat is not overpowering, it is ok to use this sauce in quantities more than a drop. I used about a 5th of the bottle on my first tasting.
Flavour
The flavour profile revolves around the taste of sweet garlic. The slight sweetness may come from the apples listed in the ingredients. Although, there was no clear taste of apples in the sauce. It is still more tangy than it is sweet.
A taste of salt or brine is also slightly present, adding further to the welcomed taste of dill pickles.
As mentioned above, the sauce has a slight chunky texture, like a thinned-out apple sauce.
Overall Thoughts
Supernova's Garlic Jalapeño hot sauce is a flavourful blend of garlic and Thai chilis with just enough heat to make your taste buds sing. While it tasted awesome, too much garlic in hot sauce is not my preference.
This hot sauce is priced well at around $8 and can easily be found in grocery stores or online. It is a great addition to have in your fridge if you're looking to expand the flavourings in your heat collection. Just don't rely on it when you really want to pack in the heat.
If you liked this sauce from Supernova, give their Original Hot a try, it is made with Scotch Bonnet peppers and Pineapple!
Please remember that taste is subjective and everyone will experience hot sauce uniquely. These reviews contain my own thoughts and opinions. If you think you'll enjoy a hot sauce then you should definitely try it out.
Mike P
Mike is a hot sauce lover. He has never, and will never say no to hot wings. Mike loves a balance of flavour and heat; he prefers his food on the spicy side but also likes some sweetness too.

About Us