Growing your own is a great way to explore the many varieties of hot peppers that exist. Step one of exploring different hot pepper types is to order some seeds. In this article, we are going to look at the best places to buy hot pepper seeds online in Canada.
In total, we found about 35 online retailers of hot pepper seeds located within Canada. I'm sure there are plenty more so if you are one or know of one, shoot me an email and I'll have them added – thehotsauceguyca@gmail.com.
My criteria for choosing these websites included the following:
Ability to order online with shipping (ecommerce)
A good variety of hot pepper types
Ships from Canada\
Pretty simple criteria which is why we found so many.
Anyways, let's continue with the list. Below you will find a review of our top 10 picks which is followed by a list of all 35 retailers. You'll find links as well as average prices and their location within Canada.
Let's take a look at the best places to buy hot pepper seeds online in Canada.
1. Atlantic Pepper Seeds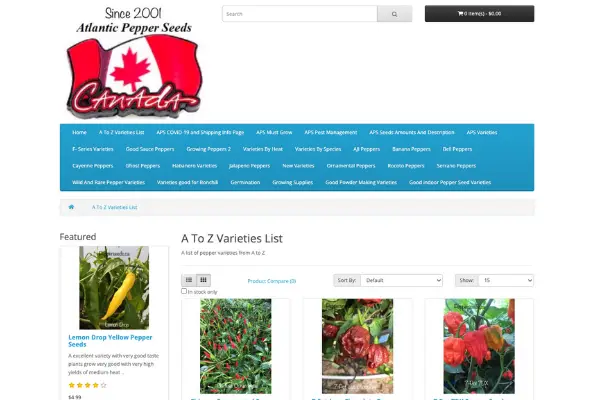 Located in New Brunswick, Atlantic Pepper Seeds has by far the largest collection of hot pepper seeds in Canada. In my opinion, this is the best place to buy hot pepper seeds in Canada.
The website is well organized by types of peppers, heat levels, and indoor/outdoor plants. Photos are available for most species, there are a few more uncommon species that do not have photos.
APS also creates some of their own varieties of peppers and sells the seeds through their website.
The checkout process is simple and the shipping is pretty cheap with options for express post or letter mail.
2. Solana Seeds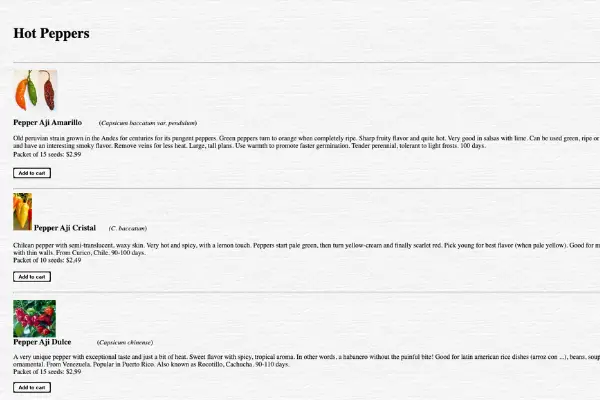 Solana Seeds is a hot pepper seed supplier that ships from Quebec and have a fairly large variety of hot peppers. They have a good mix of pepper types like Shishito, Rocoto, and many super-hot varieties.
While the website certainly leaves something to be desired, ordering and checkout are just as simple as any other eCommerce website. You can either add items to a PayPal cart or you can fill out an order form and mail it to them. The average cost of a packet of seeds is $2.99 which puts Solana at one of the cheapest online seed retailers.
Their list of hot pepper seeds is not filterable but is not so extensive that it takes forever to browse through. Each type of hot pepper seed has an image which makes it super easy to quickly scroll through to find the pepper you are looking for.
3. Lucifers House Of Heat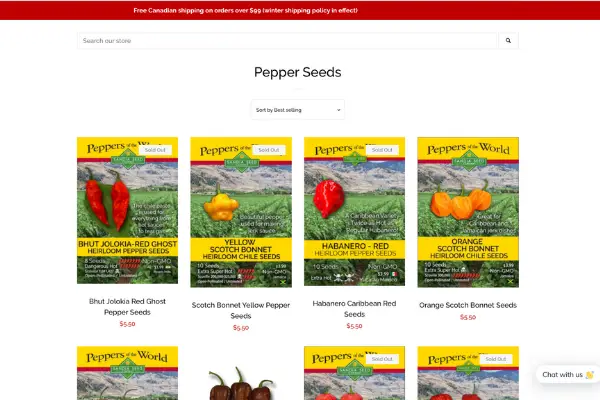 While Lucifer's specializes more in hot sauce retail, they do have quite a large variety of hot pepper seeds. The average cost per pack isn't too bad either at $5.50.
All of their hot pepper seeds are from the Sandia Seed Company and they have many unique varieties of super-hot peppers. You definitely won't find these ones at the grocery store.
The purchase process is incredibly easy, just like any other eCommerce website. Shipping is also pretty quick but also pretty pricey at $15, it is best to order some amazing Canadian hot sauces as well to get a better shipping value.
4. Pepper North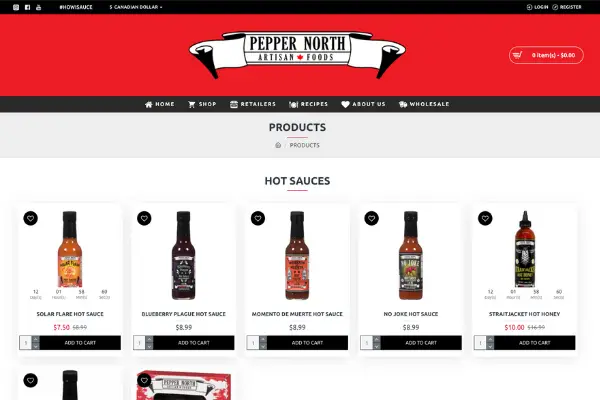 Pepper North is a Canadian hot sauce producer based in Ontario. In addition to making some awesome hot sauces, they also sell hot pepper seeds.
On sale on their website are many unique types of super-hot pepper varieties. They have Trinidad Scorpion, Ghost Peppers varieties, and man 7-Pot varieties.
Their packets are a little on the expensive side and they only come with about 10 seeds in each pack. This makes the cost per seed a little higher but the price might be worth it knowing you are getting quality seeds. Many of the varieties they sell are hard to find on other pepper seed websites as well.
5. Pepper Merchant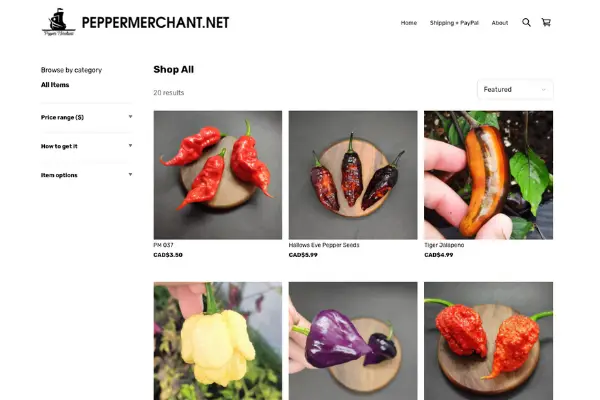 Pepper Merchant has a ton of cool hot pepper seeds, including the Rezha Macedonian variety which looks really cool with horizontal striping along the skin.
Packets of their hot pepper seeds go for around $4.99 and you get around 10 seeds per pack. They only sell by packet but of course, you can buy multiple if they are available.
Their website is easy to use, simply choose the seeds you want, add them to your cart, and checkout. Pepper Merchant ships from Ontario and shipping is super cheap.
6. Stokes Seeds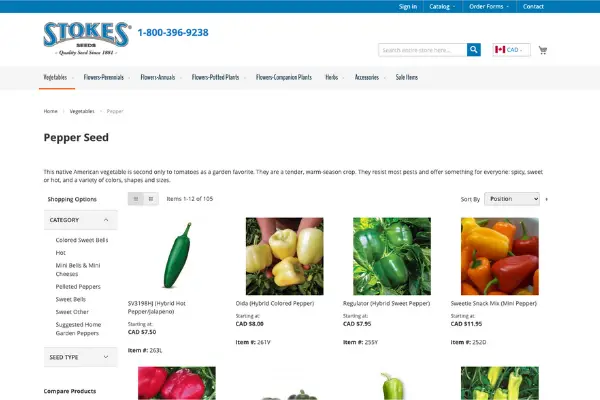 Stokes Seeds is based out of Ontario and has a wide variety of pepper types available. They do have a few super-hot varieties but it seems that most of the hot pepper types they have are milder.
Seed packs at Stokes Seeds range from $3 to $8 and on average each packet comes with 25 seeds. You can also buy seeds by the thousands for many of the varieties they have.
Stokes ships from Ontario and the cost of shipping is pretty low. If your looking for some of the more common mild pepper types, Stokes might be a good choice for you.
7. Seed2Go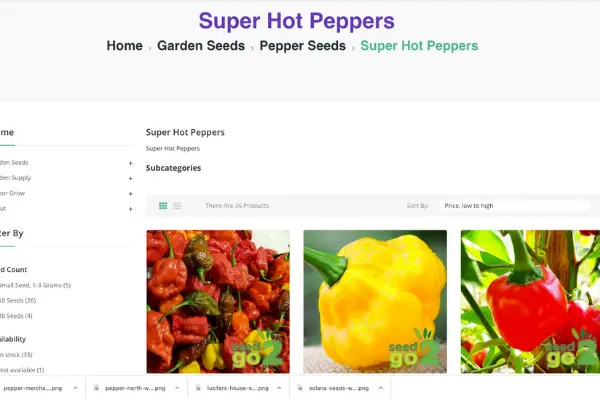 Seed2Go has a decent variety of fairly common hot pepper types like Habanero, Scotch Bonnet, and Jalapenos. They also have some interesting varieties like Purple Cayenne and the Tombstone Ghost Pepper.
On average each packet comes with about 10 seeds and the common types of peppers are around $4 a packet. Checkout is just as easy as the other sites, add to cart and make a payment and your seeds are on the way.
Seed2Go ships out of Ontario and shipping is free if you order over $70 worth of seeds. Otherwise, shipping is usually under $10 depending on how much you order.
8. Richters
Richters is another Ontario-based hot pepper seed supplier that sells by the packet and in bulk. They don't have much variety but they do have some good ones like Bishops Crown and Chile De Arbol peppers.
At the moment I'm unsure of how many seeds come in a packet but the average cost is $5.25. As mentioned already, you can also buy in bulk by the gram.
The checkout process looks a little different but is the same as any other eCommerce website. Shipping was really cheap as well at $6.
9. The Incredible Seed Co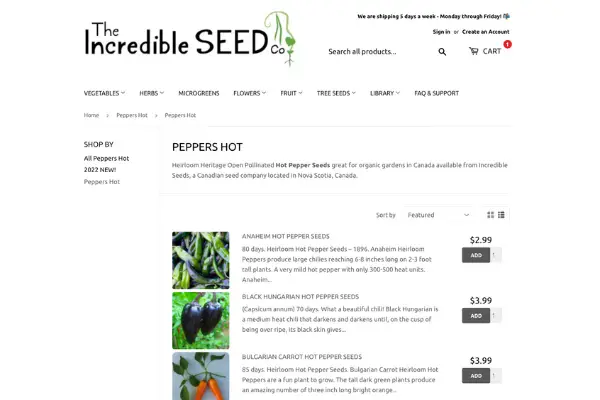 Based out of Nova Scotia, The Incredible Seed Co has a modest variety of hot pepper seeds. They have mostly common types of peppers like Serrano and Tobasco peppers.
Their price per packet is pretty reasonable between $3 and $5 and each packet comes with around 20 seeds.
Like all the other sites, checkout is really easy, add to cart, checkout, make payment, and wait for your seeds to arrive.
10. Les Semences Du Batteux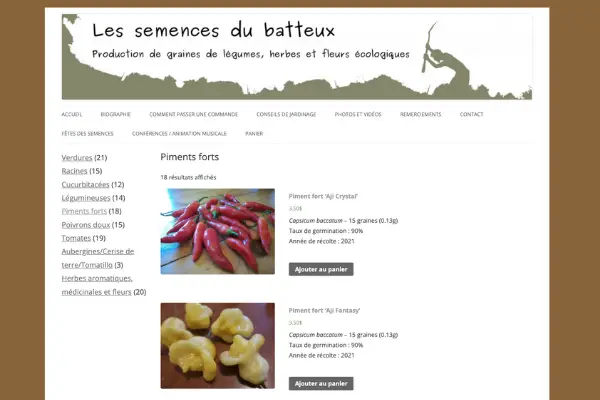 Les Semences Du Batteux is an organic hot pepper seed supplier based in Quebec. They have a couple of different Aji types of peppers like the Aji Fantasy and the colourful Buena Mulato peppers.
They sell their hot pepper seeds by packet and each packet comes with about 10-20 seeds. The price of a packet is reasonable as well at $3.50 for most types of peppers.
Ordering from Les Semences Du Batteux is just as easy as any other eCommerce site as well. Lettermail shipping is cheap and probably makes the most sense for peppers.
List Of Hot Pepper Seed Suppliers In Canada
Below is the full list of best places to buy hot pepper seeds in Canada
A quick description of the columns in the list above:
Avg Cost Per Pack: This is the average cost of a packet of seeds at the retailers website.
Avg Seeds Per Pack: This is the average number of seeds found in a packet.
Variety Rating: Because the count of different hot pepper types may change on a website, we gave them a score based on how many they had in stock during our search.
5 = 1001+ different varieties
4 = between 201-1000 different varieties
3 = between 101-200 different varieties
2 = between 51-100 different varieties
1 = between 0-50 different varieties
Buy In Bulk?: This column notes whether or not the hot pepper seed supplier sells in a packet or in bulk.
Province: The province the supplier ships from
Mike P
Mike is a hot sauce lover. He has never, and will never say no to hot wings. Mike loves a balance of flavour and heat; he prefers his food on the spicy side but also likes some sweetness too.

About Us