Black Garlic Hottie is a tasty hot sauce made by Salt + Mustard. This hot sauce Is made with black garlic and habanero peppers and has a tangy taste with a mild spice level. I've never heard of this company before but so far I'm impressed with their hot sauce and I hope to try more soon.
If you're a fan of black garlic or balsamic vinegar, chances are you'll love this one.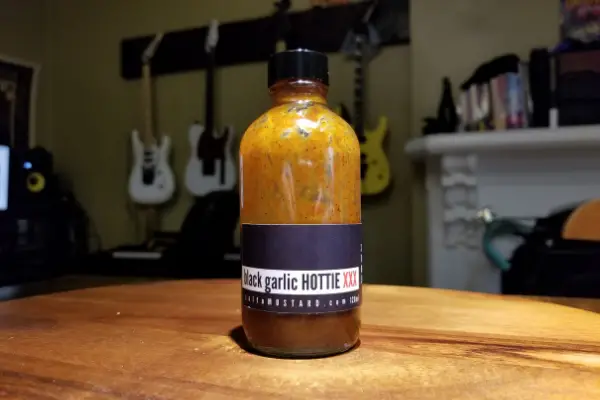 Introducing: Black Garlic Hottie by Salt + Mustard
Salt + Mustard is a company in Ontario run by head chef Olga. They make small batch artisanal foods made with nature's finest ingredients.
While their niches of choice are infused salts and fine mustards, they do make some hot sauces. I decided to order their Black Garlic Hottie hot sauce which is made with black garlic, mustard seed, and habaneros. 
This award-winning hot sauce is what I would consider a craft hot sauce. It is made with real fresh ingredients with no preservatives and the packaging is just as unique as the ingredients.
I wanted to try something new and I have been on a black garlic kick lately so I decided to try this one and I picked up my bottle from Hot Sauce Unlimited. This hot sauce had bottle appeal so I decided to try it right away.
Here Is what I thought of Black Garlic Hottie by Salt + Mustard.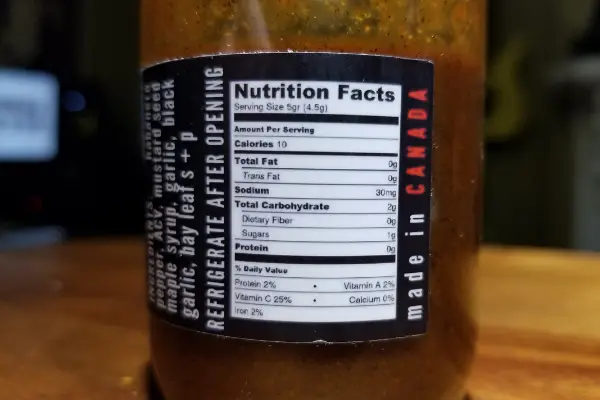 Manufacturer: Salt + Mustard
Made In: Ontario
Heat Rating: 4/10
Size: 120mL
Price Range: $12-$14
Buy from Salt +Mustard
Buy at Hot Sauce Unlimited

Ingredients: Habanero Pepper, Apple Cider Vinegar, Mustard Seed, Maple Syrup, Garlic, Black Garlic, Bay Leaf, Salt, Pepper.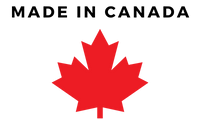 Appearance
Right away you can tell this hot sauce is different, it comes in a short stubby 120 ml apothecary bottle with a label that just screams farmers market.
The hot sauce inside is really thin yet homogeneous and does not settle. It is similar to the consistency of a Louisiana hot sauce like Tabasco sauce.
The colour is brown like a good barbecue sauce and while mostly consistent there are very tiny bits of what I assume are black garlic.
The only downside of this hot sauce is that it tends to drip down the side of the bottle after pouring. I believe it has something to do with how thin the sauce is in the shape of the bottle (it's science).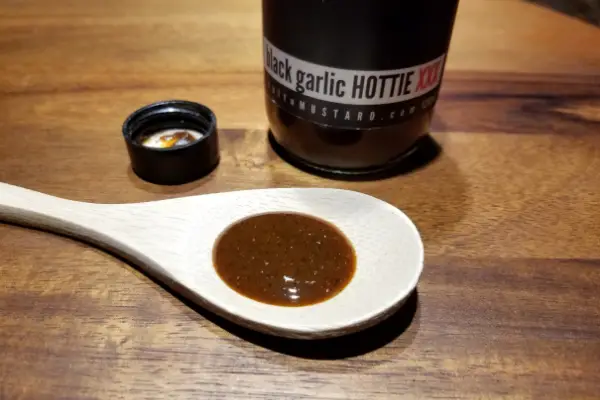 Smell
The first thing I spell when taking a whiff is likely black garlic but to me, it smells more like balsamic vinegar or salad dressing. Black Garlic Hottie smells very tangy and vinegary, much like how a bottle of balsamic smells when you open it.
The hot sauce does smell a little bit spicy but overall smells pretty inviting.
To sum it up in three words, I would say it smells creamy, tangy and slightly spicy. 
I've noticed after leaving this bottle out of my desk for a while that it begins to smell a little smokier with age.
Taste
Honestly, this tastes just like balsamic vinaigrette.
Black Garlic Hottie reminds me of dipping bread and oil and balsamic vinegar which is a classic tradition in my family. Black garlic is such a unique flavour that jives so well with habaneros and apple cider vinegar.
Unfortunately, that is really all I can taste is the black garlic and the vinegar. But as a spicy-loving Italian, that is just fine for me.
I also get a hint of the floral taste of the Habaneros used to provide the burn for this hot sauce. Just a hint though, they are barely there and probably just for heat.
I think the mustard seeds are responsible for the creamy taste and texture.
Heat Level
In terms of heat, Black Garlic Hottie is pretty mild but that is not surprising. Salt + Mustard strikes me as a company that is more focused on taste and flavour rather than trying to burn off your taste buds.
I have to admit this is much welcome after taste-testing several super hot sauces.
My guess would be that this was made with only a few Habaneros just to add that spicy kick. This would also explain the lack of the floral and fruity habanero taste.
I Would say this hot sauce has a heat rating of about 4 out of 10.
The little bit of heat does stick around for a little bit and stings the entire mouth. There was not much sweating while I was enjoying this hot sauce. The heat level was pretty tolerable.
Flavour
I said it above, the flavour that stands out to me is balsamic vinaigrette. There's just no doubt about it that's what this tastes like to me. This hot sauce is very vinegary and has the tanginess of a vinaigrette salad dressing. That is definitely not a bad thing.
I think a lot of the Tang comes from apple cider vinegar and is balanced by maple syrup. Which makes it taste even more like a spicy salad dressing. I would be interested to test this out as a stand-alone dressing for a spinach/field green salad.
Conclusion: Overall Thoughts
If I could make one complaint, it would be that this hot sauce is a little too heavy on the tang. Whether that is from the vinegar or the black garlic to me it is a little overpowering. Because of this, I found Black Garlic Hottie pretty limited in the meals it can be enjoyed with.
I did not enjoy this hot sauce on a sandwich or on chicken. what I did enjoy it with pizza, salad, and pasta. Pretty much any food that would benefit from a nice vinaigrette.
Black Garlic Hottie is also a really good hot sauce for vegetables and fresh meals like Buddha Bowls or a salad.
If your diet includes a lot of fresh veggies and greens, Salt + Mustard might have just what you need to take it up a notch.
Please remember that taste is subjective and everyone will experience hot sauce uniquely. These reviews contain my own thoughts and opinions. If you think you'll enjoy a hot sauce then you should definitely try it out.
Mike P
Mike is a hot sauce lover. He has never, and will never say no to hot wings. Mike loves a balance of flavour and heat; he prefers his food on the spicy side but also likes some sweetness too.

About Us