Being a fan, I had to try Steve-O's Hot Sauce For Your Butthole. I've seen Steve-O do some pretty wild stuff on TV so my guess was his hot sauce was going to be HOT!
Hot Sauce For Your Butthole is the less intense brother of Steve-O's Butthole Destroyer Hot Sauce. Even still, this hot sauce was still pretty spicy and a good versatile condiment.
The main stars of this hot sauce are Habaneros and Naga Jolokia peppers. On the Scoville scale, Naga Jolokia peppers are around 850,000 SHU.
I'm expecting Steve-O's hot sauce to be quite hot…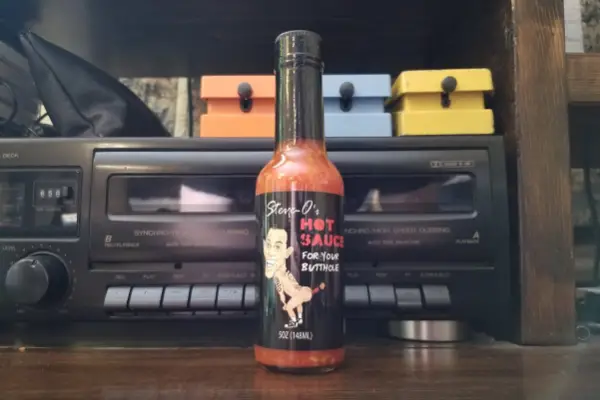 This post contains affiliate links to products. I may receive a commission for purchases made through these links.

-Thanks!
Introducing: Steve-O's Hot Sauce For Your Butthole
Well, here it is, I've been waiting to try this one for a while and I finally ordered a bottle with my most recent Amazon order. Steve-O's very own, Hot Sauce For Your Butthole.
With Steve-O's reputation, I knew this was going to be spicy.
The question I had was: Does Steve-O's Hot Sauce For Your Butthole taste good?
Yes, it does. The garlic and habanero flavours jive so well together without either overpowering each other. We'll get more into the flavour below.
I'll admit, I was a little worried when I saw Xanthan Gum as an ingredient. I thought maybe it would make the hot sauce taste a little "store-bought". Thank goodness I was wrong, while it may not be a fresh craft hot sauce, Hot Sauce For Your Butthole is a great all-around hot sauce.
Like most hot sauces, this one comes in a 148mL woozy bottle and looks as a hot sauce should. You should be able to find a bottle for between $12 and $18 CAD, depending on where you look.
If you're looking for something with much more heat, try Steve-Os ultrahot sauce Butthole Destroyer. It is made with Scorpion, Carolina Reaper, and Ghost Peppers. I could feel my chest burn just saying that.
I'm not sure where this stuff is made but the bottle say distributed in Texas.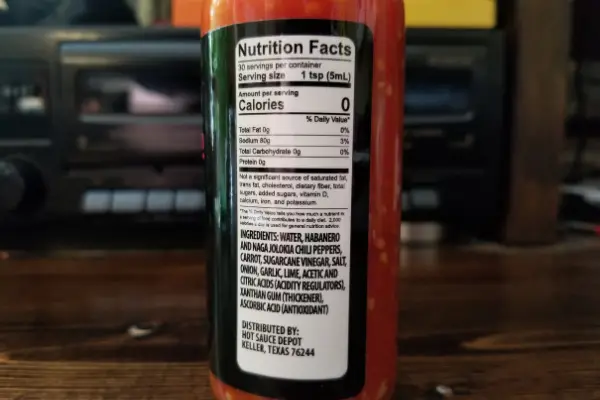 Manufacturer: Steve-O
Heat Rating: 6/10
Size: 148mL
Price Range: $15-$18

Ingredients: Water, Habanero and Naga Jolokia Chili Peppers, Carrot, Sugarcane, Vinegar, Salt, Onion, Garlic, Lime, Acetic And Citric Acids (Acidity Regulators), Xanthan Gum (thickener), Ascorbic Acid (antioxidant)
Appearance
One cannot help but laugh when looking at a bottle of Hot Sauce For Your Butthole for the first time. The label is adorned with a cartoon Steve-O sporting a firecracker in a sensitive place.
The hot sauce inside the bottle is a bright orange colour with speckles of pepper seeds and pepper flesh. It flows freely and coats your meal very well. The neck of the bottle does not clump up and the hot sauce settles evenly when resting.
Floating around in the sauce you can see bits of dried garlic and onion which add a nice crunch to the hot sauce.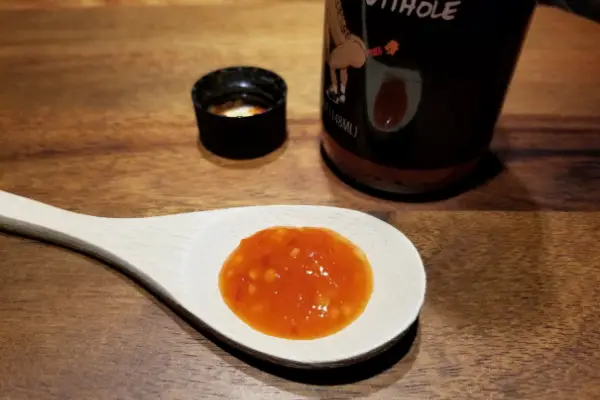 Smell
In my opinion, Hot Sauce For Your Butthole smells like a good piece of BBQ. A little sweet and most definitely spicy.
The smell is tangy and inviting and not at all off-putting. One of those scents that get you excited to taste the hot sauce immediately.
If you smell closely, you'll first notice that smoky garlic flavour, but underneath is a sweetness I can only imagine comes from the Sugarcane Vinegar. Kind of reminds me of a Louisiana-style hot sauce.
Taste
My favourite thing about the taste was the texture. This hot sauce was pretty crunchy thanks to the dried garlic and onion. Each bite into a chunk of garlic released a burst of flavour, same with the onion bits.
While your mouth was burning up, your taste buds were on fire with flavour. There is a little bit of habanero flavour poking through as well.
Hot Sauce For Your Butthole is not over-vinegary or over-watered. There is a great mix between the two that allows the ingredients to shine forward.
Heat Level
Steve-O's website estimated the Scoville rating of Butthole Destroyer to be around 700,000 SHU. Given that Hot Sauce For Your Butthole is supposed to be milder I would say this is probably closer to the 200,000 SHU level, but that is a pure guess.
For my rating system, I gave this hot sauce a 6 out of 10. It is hot but not too hot, I think it only took me 3 meals to finish this bottle. I was definitely sweating afterwards.
The sweat first began on my upper cheeks and then moved up to my hairline. It was short-lived but just enough to cool me down.
The heat did not stick around too long either, which was why I was able to consume so much. Hot Sauce For Your Butthole would actually make a killer wing sauce.
Flavour
I would say the flavour to heat ratio of this hot sauce is about 50/50. I enjoyed the smoky garlic flavour of the garlic and onions and the heat from the habaneros just right.
As mentioned above, the texture is amazing as well. I really love crunchy hot sauces. Seeds, garlic, onion, mustard seeds. I think the contrasting experiences of a sauce and a crunch blend well together.
Still, I would not call this a craft hot sauce, it definitely has that factory-made look and feel.
Conclusion: Overall Thoughts
I would buy this hot sauce again, I really want to try it as a wing sauce, maybe with some butter.
For taste testing this article, I tried Hot Sauce For Your Butthole with sandwiches, soups, and wings (my trifecta). On sandwiches it was killer. Coated well and complimented the cold cuts and pickles well.
On wings it was also awesome, the hot sauce added an extra kick and bit of flavour to my regular hot wings.
Soup however was a miss, which was expected. This hot sauce is meant to be enjoyed as it and not dissolved in a bowl of chicken noodle. The heat was nice though.
If you want to try this hot sauce from Steve-O, go for it, you won't be disappointed. It is a simple sauce with flavour, texture, and heat. Another trifecta.
Please remember that taste is subjective and everyone will experience hot sauce uniquely. These reviews contain my own thoughts and opinions. If you think you'll enjoy a hot sauce then you should definitely try it out.
Mike P
Mike is a hot sauce lover. He has never, and will never say no to hot wings. Mike loves a balance of flavour and heat; he prefers his food on the spicy side but also likes some sweetness too.

About Us