This hot sauce from Heartbeat Hot Sauces is a unique take on traditional Piri Piri sauces. It is smooth, creamy, extremely tasty, and just a little bit hot.
Lions Mane Piri Piri was made to celebrate the 4th anniversary of HEATONIST's tasting room in New York. What a great way to celebrate!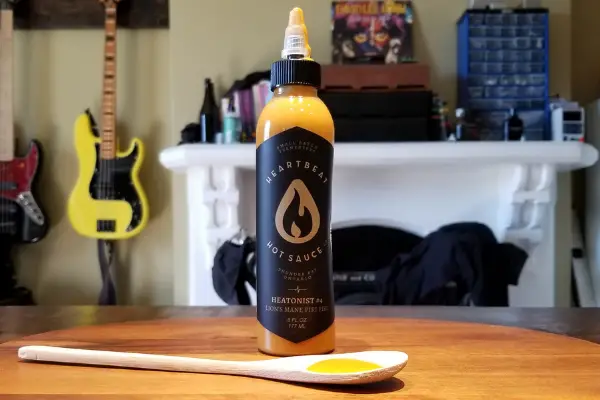 Introducing: Heartbeat + Heatonist Lions Mane Piri Piri
Heartbeat Hot Sauces are known for their excellent tasting hot sauces, THC hot sauces, and their many partnerships.
For example, they have a hot sauce partnership with a UFC fighter, a NASCAR driver, and with HEATONIST.
Lion's Mane Piri Piri hot sauce was created to help celebrate the 4th anniversary of HEATONIST's tasting room in New York. It tastes great and is an extremely unique hot sauce offering in the Canadian market.
Based in Thunder Bay, Heartbeat Hot Sauces makes all of its sauces with fermented peppers and fresh organic ingredients. There are no preservatives and their sauces are as natural as it gets.
They really make their sauces stand out with their unique bottle shape as well as their graphics.
You can usually find a bottle of Heartbeat Lion's Mane Piri Piri for $13-$16 dollars online or sometimes cheaper in grocery stores.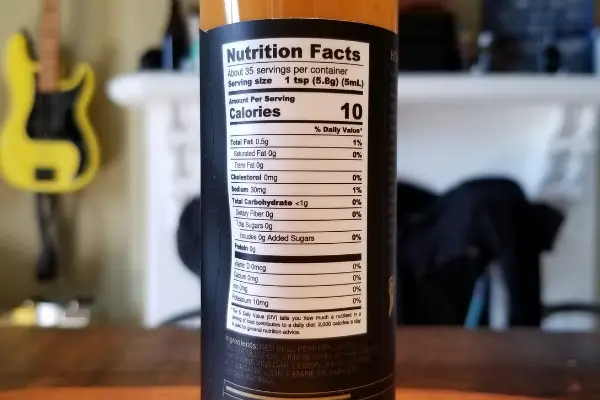 Manufacturer: Heartbeat Hot Sauce
Made In: Ontario
Heat Rating: 3/10
Size: 177mL
Price Range: $12-$16
Buy At Heartbeat Hot Sauces
Buy At Chilly Chile's

Ingredients: Red Bell Pepper, Distilled Vinegar, Olive Oil, Onion, Garlic, Habaneros, White Wine Vinegar, Lemon Juice, Sea Salt, Organic Lion's Mane Mushroom Powder, Paprika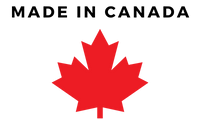 Appearance
At first glance, you can tell this sauce is unique. Heartbeat's bottle shape is instantly recognizable as well so you know you are getting a hot sauce created with passion and love for the industry.
The bottle is tall and plastic with a twist spout which makes Lion's Mane Piri Piri easy to pour. I find the plastic bottles tend to leak a little bit of the aroma, especially if there is a lot of garlic in the hot sauce.
This was not the case with Lion's Mane Piri Piri, I've had this on my desk for quite some time and I have not had the same problem I have with other plastic bottles.
The label on the bottle sports the HEATONIST logo in the graphic style of the other Heartbeat sauces.
Inside the bottle is a creamy orange hot sauce that almost looks like a tasty cheese dip.
The sauce is homogenous and does contain any chunks of ingredients, everything is finely ground.
When on a spoon, Heartbeat Lion's Mane looks like a cheese sauce with a bit of pepper blended in. It looks very creamy and pours very well onto anything.
Smell
Lion's Mane Piri Piri naturally has the aroma of mushrooms, which are earthy but very appealing.
I could also smell the red peppers used in the sauce.
It's like a tangy peppery mushroom aroma without any hint of heat.
Taste
The Lion's Mane really stands out in the flavour of this hot sauce. I could also taste the tang from the vinegars, salts, and lime juice.
There was a little bit of garlic taste present as well.
This tastes like a red pepper sauce blended with mushrooms. Pretty bang on to the description.
There is no sweetness to the taste, it is savoury, earthy, and tangy.
Heat Level
The heat level on Lion's Mane Piri Piri by Heartbeat was pretty mild. They rate it at a 4, but I would give this a 3 out of 10.
This one did not burn my tongue or make me sweat. It added a nice little bit of flavourful heat to my meal.
It was almost more like the habaneros were just popping in to say "Hello! This sauce is already awesome, here is a little extra zing for you!"
Lion's Mane Piri Piri is definitely more Spice-y than hot.
Flavour
Heartbeat's Lion's Mane Piri Piri sauce has a very well balanced flavour. First comes the earthiness of the mushrooms which is delicious on its own. Then comes the tang of the Piri Piri pepper sauce.
The creaminess of this hot sauce adds to the flavour as well, it's like a creamy mushroom pepper sauce.
This flavour is definitely one of the more unique hot sauce flavours I have experienced. Heartbeat did a great job seamlessly blending the flavour profile of the mushrooms with Piri Piri sauce.
Conclusion: Overall Thoughts
I really enjoyed the unique flavour of Heartbeat's Lion's Mane Piri Piri. It was different and not at all what I expected.
My favourite dishes to enjoy it with were pasta and salads. The creamy texture of Lion's Mane Piri Piri pairs well with both of these dishes.
For me, this hot sauce was best enjoyed in small doses, I like mushrooms but they are not my fav. As such, the heat level was pretty low and this was more of a condiment than a hot sauce.
Still, this is a great-tasting sauce that you should definitely try if you're into mushrooms!
Please remember that taste is subjective and everyone will experience hot sauce uniquely. These reviews contain my own thoughts and opinions. If you think you'll enjoy a hot sauce then you should definitely try it out.
Mike P
Mike is a hot sauce lover. He has never, and will never say no to hot wings. Mike loves a balance of flavour and heat; he prefers his food on the spicy side but also likes some sweetness too.

About Us