Smoky Mountain Punch by Villain Sauce Co. from Brantford, Ontario. Wow!
Back when I was working in Toronto, I used to listen to Kim Mitchell's radio show on Q107. He had this segment called "Damn I wish I wrote that! Where he would play songs that he wish he wrote.
Well, this is my "Damn I wish I made that" segment because damn I wish I made this sauce!
Smoky, spicy, flavourful, the whole 9 yards. Smoky Mountain Punch by Villain Sauce Co. is a great-tasting hot sauce made with many different types of peppers. Also, this is the first hot sauce I've tried that includes smoke flavour as an ingredient.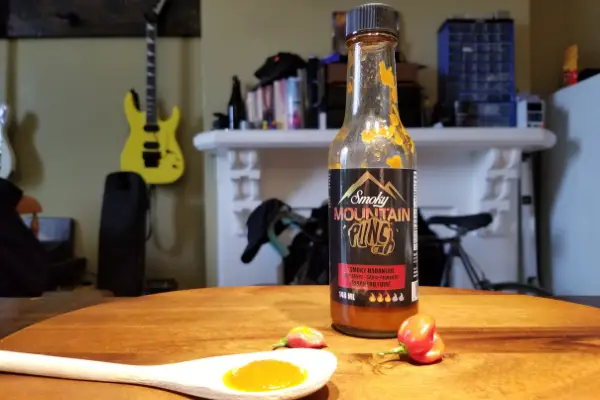 Introducing: Smoky Mountain Punch by Villain Sauce Co.
I first found Villain Sauce Co. on Instagram and was intrigued by its unique labels and branding. Something about them just clicked with me.
So I navigated over to their website and ordered one of each sauce (hint: more reviews coming).
The first one I tried was Smoky Mountain Punch. It was about mid-range in terms of spice level and seemed the most intriguing at the time.
This amazing hot sauce comes in a 148mL woozy bottle and has all the classic looks of an awesome hot sauce. The label has some gold and some clever graphics, their branding has almost a mobster/outlaw vibe.
The hot sauce inside is made from many different types of peppers as you can see in the ingredients list below. Most of the heat likely comes from the Ghost Peppers and the Habanero Peppers.
The overall flavour is smoky and very suited to BBQ. The team at Villain may not like what I'm about to say but the flavour reminds me of the DQ Flamethrower sauce. Except for way better!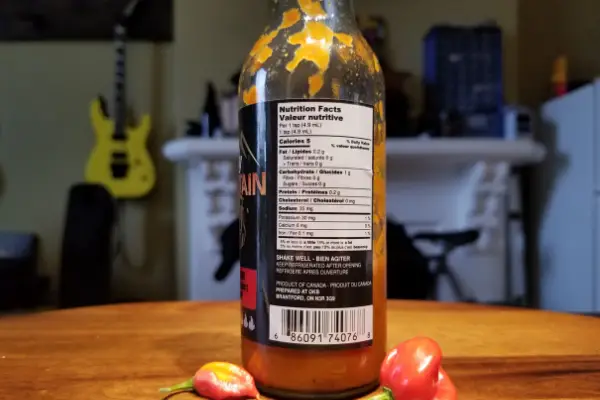 Manufacturer: Villain Sauce Co.
Made In: Ontario
Heat Rating: 6/10
Size: 148mL
Price Range: $10-$12
Buy on Villain's Website

Ingredients: Chili Pepper, Apple Cider Vinegar, Onions, Red Peppers, Habanero Peppers, Vinegar, Garlic, Water, Ghost Peppers, Chipotle Peppers, Sun-Dried Tomatoes, Smoke Flavour, Olive Oil, Sea Salt, Spices.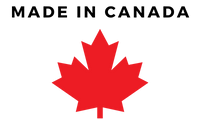 Appearance
Everything about Smoky Mountain Punch is incredibly inviting. The presentation of the bottle, the colour of the hot sauce, the texture of the sauce. Amazing all around.
The bottle is adorned with a busy yet memorable label. Everything you need to know is on the label, the heat level, the ingredients, the nutrition info. It is all there (See images above).
Inside is a finely blended, pumpkin orange hot sauce made with Habaneros and Ghost Peppers. Upon a closer look, you can see little bits of the spices and seeds that are used to make Smoky Mountain Punch. The colour is homogenous and the hot sauce has the consistency of mustard or tahini sauce.
Pouring this hot sauce is really easy and it will stick to whatever you put it on. This means you can get maximum coverage for maximum heat levels.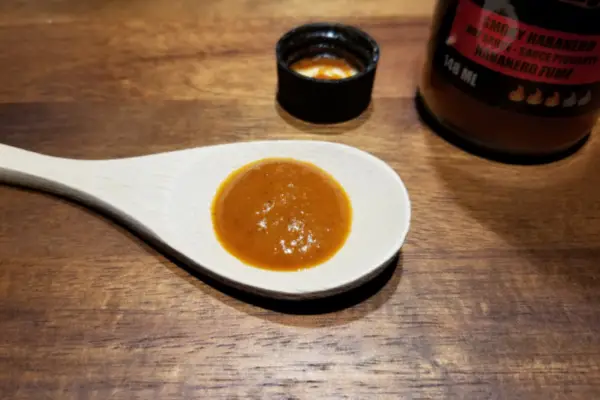 Smell
Smoky Mountain Punch smells like a campfire in the middle of the Rockies. Seriously, the minute I smell this hot sauce I want to eat a whole pile of ribs or something smoked over a fire.
This is all due to the smoke flavour added to the hot sauce.
Very subtly underneath the smoke are some fruity and tangy aromas. Presumably, these are from the Habaneros and the Apple Cider Vinegar.
The smell is another reason this hot sauce reminds me of a Flamethrower Burger from DQ. So inviting, so warm. It honestly smells like the steak is already in the bottle.
Taste
The taste of Smoky Mountain Punch is threefold. First comes the creamy texture of the well-blended peppers and spices. The second is the smoky BBQ flavour from the smoke flavouring. Third comes the heat from the Hot Peppers.
Every now and then you get the crunch of a seed that only releases more flavour and more spice.
This one is so good, I've had 3 spoonfuls just taste testing it already.
Heat Level
Smoky Mountain Punch also packs some heat. I graded this hot sauce at a 6 out of 10 on my heat scale for good reason. The heat is consistent. You can use a lot of this hot sauce and it will stay at the same heat level but will just last longer.
Most of the heat comes from the Habaneros and the Ghost Peppers. Both of those peppers have unique heat profiles and they blend so well under the guise of the smoke flavour.
It is definitely a sharp heat, sits around the mouth and above and does not move into the stomach at all.
The heat first introduced itself on my tongue and quickly spread up to my cheeks and my forehead. There was not too much sweating with this hot sauce which makes it great for lunch and social occasions.
Flavour
Smoky, BBQ, and meat are three words I would use to describe the flavour of this hot sauce. The ingredients would normally work with any type of meal from salads to beef. But for some reason, once the smoke flavour is present meat seems to be the only option.
As mentioned above, first you notice the texture, then the smoke flavour, and finally the heat. The most intriguing to me is the texture, especially when tried on its own.
Smoky Mountain Punch is so finely blended together that it almost fully marries the liquids and the solids used to make this hot sauce. Because of this, all of the flavours are distributed evenly.
Conclusion: Overall Thoughts
Smoky Mountain Punch was marked as green in my log. This is one I will definitely try again once I make it through the plethora of hot sauce in my cupboard.
Like most, I really love BBQ, the smokiness, the heat, the flavours. Everything about BBQ is amazing. This hot sauce encompasses all that is awesome about BBQing in the summer.
Instantly add smoke flavour to any meal you have. Burgers instantly become flame-grilled. Bacon is even improved with this hot sauce and who would have thought bacon could be improved upon.
I really can't wait to try Smoky Mountain Death as it is supposed to taste similar but be way spicier.
Give this one a shot if you are into BBQ!
Please remember that taste is subjective and everyone will experience hot sauce uniquely. These reviews contain my own thoughts and opinions. If you think you'll enjoy a hot sauce then you should definitely try it out.
Mike P
Mike is a hot sauce lover. He has never, and will never say no to hot wings. Mike loves a balance of flavour and heat; he prefers his food on the spicy side but also likes some sweetness too.

About Us