Dawson's Hot Sauce always continues to amaze me with its unique hot sauces. Sichuan Ghost Pepper Sauce is no exception.
This hot sauce packs a double punch of spice with ghost peppers and Sichuan peppercorns. Both combined create an ultimate spicy pepper sauce with a long-lasting burn.
If you're looking for a unique, super hot sauce, Dawson's Sichuan Ghost Pepper Sauce is for you.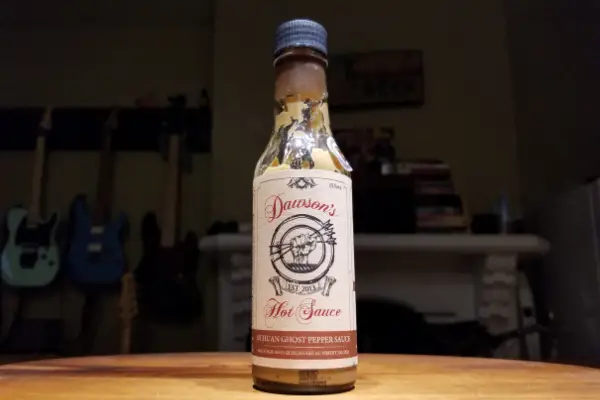 Introducing: Dawson's Sichuan Ghost Pepper Hot Sauce
Dawson's Hot Sauce is a company from Hamilton, Ontario that makes a variety of award-winning hot sauces. Dawson's is the Canadian hot sauce company that impresses me the most. I haven't found a flavour I did not like and I'm always excited to try a new sauce when I find out it's from Dawson's.
Sichuan Ghost Pepper is a unique blend they've put together using Ghost Peppers and Sichuan Peppercorns. It has an incredibly sharp heat that lingers around for quite some time. Seriously, this one burns.
One of my favourite flavours is peppercorns, especially Sichuan peppercorns. So naturally, this hot sauce really resonated with me.
The aroma of peppercorns, lemon, and ginger consumes you while your tongue is lit on fire by the ghost peppers.
You can find a bottle at either Dawson's website or one of the many Canadian hot sauce retailers online for around $12-$16.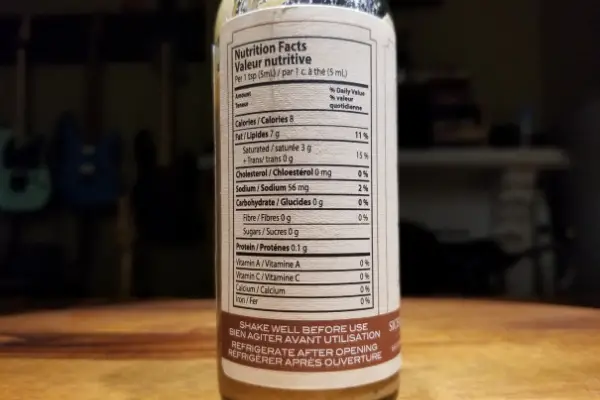 Manufacturer: Dawson's Hot Sauce
Made In: Ontario
Heat Rating: 9/10
Size: 155mL
Price Range: $12-$16
Buy At Dawson's

Ingredients: Vinegar, Extra Virgin Olive Oil, Garlic, Ghost Pepper, Sichuan Peppercorn, Lemon, Ginger, Sea Salt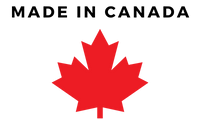 Appearance
This hot sauce comes in a standard woozy bottle adorned with classic Dawson's detail. The lid has a wax seal and the label is a parchment-style paper label.
Inside the bottle is a very light yellow/orange-coloured hot sauce with little flecks of pepper floating around. My guess is the colour and texture of the hot sauce comes from emulsifying the olive oil.
At first, the sauce kind of clogged up the top of the bottle but after the level moved below the neckline it poured out quite easily. Sichuan Ghost is a viscous sauce and not watery at all.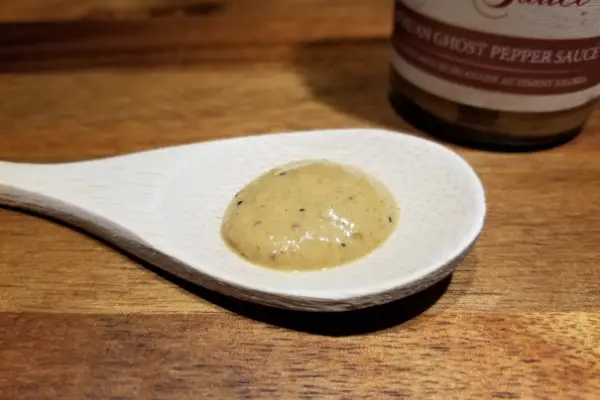 Smell
Sichuan Ghost smells like freshly cracked peppercorns mixed with ginger and lemon. Delightful!
This sauce smells fresh and tasty and you would never know how atomically hot it is.
The scent of the ghost peppers doesn't shine through at all when taking a whiff of this sauce. However, the heat from the peppercorns will warm up your senses.
Taste
Peppercorns, peppercorns, peppercorns. With a hint of ginger and lemon.
That was what I could taste before the overwhelmingly sharp heat from the ghost peppers took over.
If you know the taste of freshly cracked pepper than you know exactly what this sauce tastes like. Now mix in a bit of tanginess from the vinegar and the lemon and you've got Sichuan Ghost Pepper Sauce.
The texture is also incredible. You can actually feel crunchy bits of Sichuan peppercorns cracking between each bite.
Heat Level
This is one hell of a hot sauce. I mean it.
Something about the combination of Sichuan peppercorns and Ghost Peppers turns this sauce into straight lava that burns for quite some time.
Dawson's rates this sauce at a 9.5 out of 10 and it is one of their hottest sauces.
I gave this one a 9 out of 10 just to keep things even. But this is easily one of the hottest sauces I've ever had that does not contain some sort of capsaicin concentrate.
After enjoying about a tablespoon of this hot sauce on a sandwich I was sweating all over and breathing pretty hard just to cool down my tongue. This one gave me the full hot sauce experience.
Flavour
Sichuan Ghost Pepper Sauce is very very peppery. Dawson's definitely wanted to showcase the fantastic flavour of the Sichuan peppercorns. Every bit crunches a bit of peppercorn which releases even more fresh flavour.
It is quite hard to grasp the full flavour of this hot sauce as the burn from the ghost peppers takes over almost immediately.
Conclusion: Overall Thoughts
I really enjoyed Sichuan Ghost Pepper Sauce. It tasted unique and was extremely hot.
The heat definitely lingers around for quite some time and will melt your tongue if you're not careful.
I did find that this hot sauce was a little difficult to pair with foods. It worked well on pizza, but I think it really shines through in stir fry or Asian-inspired dishes.
If you really like the taste of freshly cracked peppercorns then you will love this hot sauce from Dawson's Hot Sauce. This one tasted like no other hot sauce I have ever tried.
Please remember that taste is subjective and everyone will experience hot sauce uniquely. These reviews contain my own thoughts and opinions. If you think you'll enjoy a hot sauce then you should definitely try it out.
Mike P
Mike is a hot sauce lover. He has never, and will never say no to hot wings. Mike loves a balance of flavour and heat; he prefers his food on the spicy side but also likes some sweetness too.

About Us