Another gem from Dawson's Hot Sauce, Big Smoke Chipotle is a smoky and spicy hot sauce. This quality hot sauce is made with peppers like Chipotle, Jalapeno, and Red Chili. The heat level on this one is about a medium-high, it will tingle your tongue, but not enough to make you recoil in pain.
The smoky flavour of Big Smoke Chipotle makes this a great sauce for just about anything. If you're looking for gourmet heat, this hot sauce is for you, not too hot and definitely not mild.
Introducing: Dawson's Big Smoke Chipotle Sauce
Dawson's is a hot sauce company with a storefront in Hamilton, Ontario. They make a variety of awesome gourmet hot sauces with fresh ingredients and real peppers.
Big Smoke Chipotle is a very flavourful hot sauce with a great heat level that gives you what you need but doesn't overpower the flavour.
It tastes a little sweet, a little smoky, and definitely spicy. The heat comes from a blend of Chipotle, Jalapeno, Red Chili, and Green Chili peppers.
I like to think of Big Smoke Chipotle as an all-around great hot sauce for most North American dishes. It goes great with BBQ, most meats, fries, wings, and just about anything deep fried.
You can find a bottle online at Dawson's store for $12. Some online on in-store retailers have a price tag of up to $16 for this one.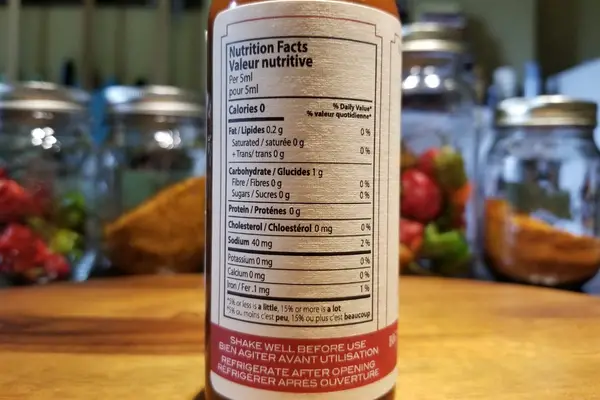 Manufacturer: Dawson's Hot Sauce
Made In: Ontario
Heat Rating: 6/10
Size: 155mL
Price Range: $12-$16
Buy From Dawson's Hot Sauce
Ingredients: Chipotle peppers, Sauce (chipotle peppers, tomato puree, vinegar, onions, sunflower seed oil, sugar, salt, paprika and garlic), Vinegar, Jalapeño pepper, Red chili pepper, Brown Sugar, Red pepper, Chili pepper, Garlic, Green chili pepper, Extra virgin olive oil, Sea salt, Spices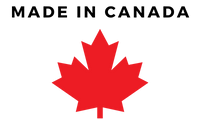 Appearance
Big Smoke Chipotle comes in a super fancy, artisan-style woozy bottle with a wax seal over the lid. Dawson's goes all out on their bottle appeal.
Inside the bottle is a rich reddish brown sauce with a little bit of texture. The texture comes from bits of ingredients and seeds. The sauce is pretty viscous but pours pretty well and is easily spreadable.
This is my second bottle of Big Smoke Chipotle and both sauces were pretty consistent with each other.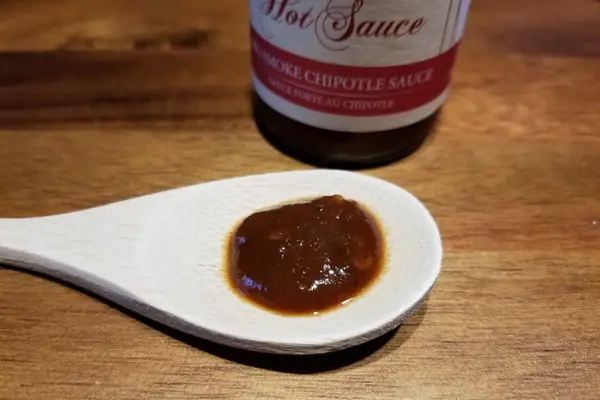 Smell
As the name suggests, this hot sauce smells quite smoky and reminds me of a good BBQ sauce. You can definitely smell the Chipotle peppers along with the sugar, salt, and paprika mix.
I could smell the tomato puree and maybe a bit of vinegar as well.
The scent is not too strong or overpowering, most of the flavour comes from the taste of Big Smoke Chipotle.
Taste
I was surprised to see there was no liquid smoke used in this hot sauce as it tastes incredibly smoky. The smokiness likely comes from the cooking methods as well as the flavour of the Chipotle peppers.
The sauce base made with tomato puree, salt, sugar, and paprika also stands out. A great base for any BBQ sauce or hot sauce.
There is a bit of complexity to the taste of Big Smoke Chipotle that comes with the blend of peppers used. Obviously, there is the smoky taste of the Chipotle Peppers, but there is also some taste from the Red and Green Chilies.
Heat Level
I give Big Smoke Chipotle a 6 out of 10 on my heat scale. This is right in my ideal zone.
Perfect for everyday consumption, just hot enough to satisfy the taste buds but not hot enough to throw me into convulsions.
The heat is pretty sharp, I think this has something to do with the Jalapeno peppers as I find they come on quite sharp. The level of heat definitely comes from the Red and Green Chillies, these are great peppers for adding heat.
First, the heat started at the tip of my tongue. The more I consumed, the hotter my mouth became.
I did begin to sweat just above my brow and a little bit on my cheeks, but nothing too intense.
The heat level is real and not at all from concentrates.
Flavour
Big Smoke Chipotle tastes like what you would expect a great gourmet Chipotle sauce to taste like.
Spicy. Smoky. Sweet. Savoury.
This one covers all four S's.
The aroma contributes to the experience as well and lends more smoky notes to the taste.
Finally, this hot sauce has a nice smooth texture with a little bit of crunch.
Conclusion: Overall Thoughts
I really enjoyed Big Smoke Chipotle. It took me only about 2 weeks to finish the two bottles I was gifted.
Usually, for lunch, I'll have a sandwich and for those two weeks, each sandwich was topped with a bit of this hot sauce.
I liked the smoky flavour this sauce adds and I like the heat level, just right.
If you're into exploring Chipotle sauces or you're just looking to try more from Dawson's, Big Smoke Chipotle should be on your list.
Please remember that taste is subjective and everyone will experience hot sauce uniquely. These reviews contain my own thoughts and opinions. If you think you'll enjoy a hot sauce then you should definitely try it out.
Mike P
Mike is a hot sauce lover. He has never, and will never say no to hot wings. Mike loves a balance of flavour and heat; he prefers his food on the spicy side but also likes some sweetness too.

About Us