I first discovered Coffee Hot Sauce by Saus through a Facebook ad. As a lover of hot sauce and coffee, it was a natural fit for me so I ordered a bottle.
After about a week the package finally arrived and I was excited to open it up and try coffee flavoured hot sauce for the first time. They did an excellent job at packaging up this hot sauce for shipping. So excellent in fact that I had a hard time opening the package. Nothing some scissors and a butter knife couldn't handle.
With all the packaging now sitting on the floor I was finally able to see the bottles that I had ordered. I cracked open the white lid and took a whiff to see if I could smell any coffee. Immediately, notes of espresso and hints of the harissa spices filled the air.
I was definitely not disappointed, the flavour was as unique as the ingredients list and the spice level was pretty decent too!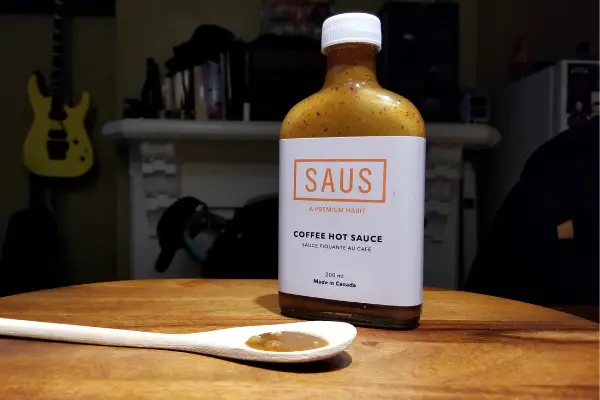 Introducing: Saus Coffee Hot Sauce
Saus is a sauce company that makes simple and refined condiments using unique ingredients. They make many different products to enjoy including barbecue sauces, hot sauces, and ketchup. Naturally, we chose to review the hot sauce…
Coffee Hot Sauce is made with, you guessed it, coffee. Cold-brew espresso to be specific. But that's not all. This hot sauce contains Harissa spices, Kashmiri Mirch, and for a touch of heat, cayenne pepper. 
The bottle this hot sauce comes in is a wider 200 mL bottle with a white label sporting the simple Saus logo. On the back of the bottle are the ingredients list, nutritional info, and a description of the hot sauce.
The day this hot sauce arrived, I ordered some fries to test it out. I was pleasantly surprised at how flavourful Coffee Hot Sauce was. This one is a thinner consistency than most hot sauces and therefore covers the french fries really evenly with the sauce being absorbed into each fry.
I definitely thought this would just be a novelty sauce and not very hot at all.  However, I quickly found out that this hot sauce had a kick and some flavor.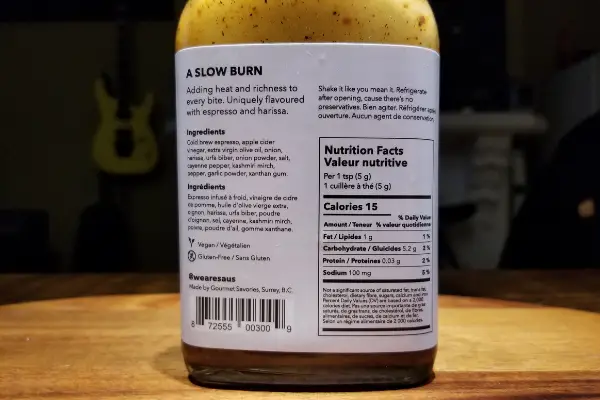 Manufacturer: Saus
Made In: British Columbia
Heat Rating: 4/10
Size: 200mL
Price Range: ~$20
Buy on the Saus website

Ingredients: Cayenne, Espresso, Harissa, Urfa Biber, Kashmiri Mirch, Apple Cider Vinegar, Garlic Powder, Onion Powder, Salt, Pepper, Olive Oil, Onion.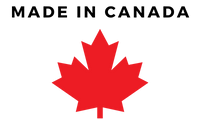 Appearance
As Mentioned already, Coffee Hot Sauce by Saus comes in a wide 200ml bottle with a white cap and a white label. All the info you need can be found on the label including the nutritional info, ingredients list, and a description of the hot sauce inside.
Inside the bottle, the hot sauce is a brown colour with a hint of red. The sauce is really thin and spreads easily but at the same time, it is not too watery. Inside the sauce, you can see ingredients like little bits of coffee, little bits of pepper and some other spices. These bits are about the size of ground pepper.
Everything is held together really well thanks to the xanthan gum that is used to make this hot sauce.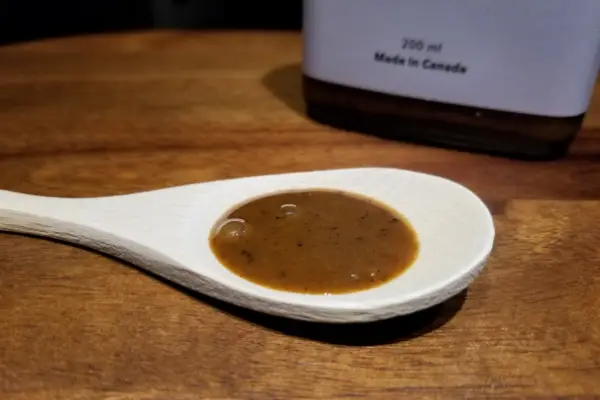 Smell
The smell of this hot sauce is as warm and inviting as your morning coffee. The aromas of the Harissa spices contribute to that warm factor. Coffee Hot Sauce almost smells roasted which I assume comes from the coffee beans in the espresso. This adds a nice earthy vibe to this hot sauce.
I also noticed a chocolatey scent with a little bit of sweetness. All of these combined I would say Coffee Hot Sauce smells earthy warm and inviting.
Taste
I have to say, I did not really taste the espresso while taste testing this hot sauce. I could, however, taste the Harissa spices and some of the other spices as well. These spices provided a nice soft base for the spiciness of the cayenne peppers.
I mentioned that the sauce is really watery and because of that you might think that there's a lot of vinegar. However, I can barely taste the apple cider vinegar that is used to make Coffee Hot Sauce. Saus did a great job of masking the carriers of your typical hot sauce with outstanding spices and flavours.
The texture of this hot sauce is both creamy and a tiny tiny bit crunchy. I say tiny because the crunchy bits are very tiny, about the size of ground pepper. I think the olive oil mix with the spices and vinegar is to thank for the creamy texture.
The cold brew espresso the cayenne pepper provide the crunch. It's a small crunch but when taste testing the sauce alone you can definitely notice the crunch.
Heat Level
Coffee Hot sauce is more of a culinary creation rather than a burn your face off hot sauce. Although, I would definitely be interested in this type of hot sauce made with much spicier peppers. Nevertheless, the Coffee Hot Sauce by Saus does come with a bit of a kick.
I gave this hot sauce a 4 out of 10 on the spice level as the heat was there but it just wasn't quite hot enough to enter super-hot territory. Sauce claims they're hot sauce is between 50,000 and 80,000 on the Scoville scale I would agree with this. That is pretty mild in terms of peppers these days.
The heat first starts at the tip of my tongue and then moved pretty quickly to cover the rest of my mouth. The heat level did not compound either and stayed pretty consistent throughout my whole meal.
In terms of sweating, this one did not make me sweat too much. I could feel a little bit of perspiration on my cheeks but that was about it. Nothing at the hairline and nothing anywhere else.
Flavour
I really liked this hot sauce, it was unique and it felt craft made but overall it was just different. The creamy texture of the sauce and the warmth of the spices create a great base layer of flavour. On top of this base layer was the heat level provided by the cayennes. It almost felt intentional which is impressive.
In terms of the coffee flavour, I didn't really notice it. I could sense the warm, roasted flavour of the espresso but I couldn't pick up that distinct coffee/espresso taste. I think perhaps this is by design and this hot sauce was made not to have coffee at the forefront. The espresso is simply there to compliment the spices and peppers.
Conclusion: Overall Thoughts
Overall I thought this hot sauce is really unique, I have never tasted anything like it before. As such, it is best on meals like fries or rice where the hot sauce can be the real star of the show.
I think this is the thinnest sauce I have in my house right now and I did kind of enjoy that. Coffee Hot Sauce by Saus was easily spreadable and it meant I ended up with a lot of hot sauce and whatever I was eating.
If you're into trying new flavours and unique hot sauces or you want something to spark a conversation at your dinner table this is a great hot sauce to have.
The only thing I really didn't like about it was the $20 price tag that it comes with. But hey, that's the price you pay for something unique.
Please remember that taste is subjective and everyone will experience hot sauce uniquely. These reviews contain my own thoughts and opinions. If you think you'll enjoy a hot sauce then you should definitely try it out.
Mike P
Mike is a hot sauce lover. He has never, and will never say no to hot wings. Mike loves a balance of flavour and heat; he prefers his food on the spicy side but also likes some sweetness too.

About Us