Meryl's Scotch Bonnet Hot Sauce is a good take on a classic Caribbean-style sauce. It is thin and chunky, a little bit tangy, and a little bit sweet.
It is pretty mild considering it is made with Scotch Bonnet peppers but it is a tasty heat.
The only thing I did not like about this hot sauce was the amount of Apple Cider Vinegar. I find it a little too much. The ACV is the first and last thing you taste with Meryl's.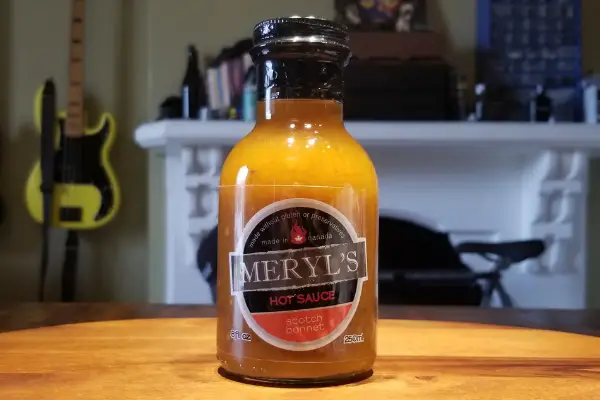 Introducing: Meryl's Scotch Bonnet Hot Sauce
Meryl's is a hot sauce made without gluten or preservatives. It is, however, made with a lot of apple cider vinegar which is a turn-off for me.
This hot sauce is made in Milton, Ontario by Harvest Goodies. It is one of the spicier hot sauces in Meryl's lineup but is also a little sweet.
It comes in a 250mL bottle and can be found online either at Meryl's website or at one of the hot sauce retailers in Canada.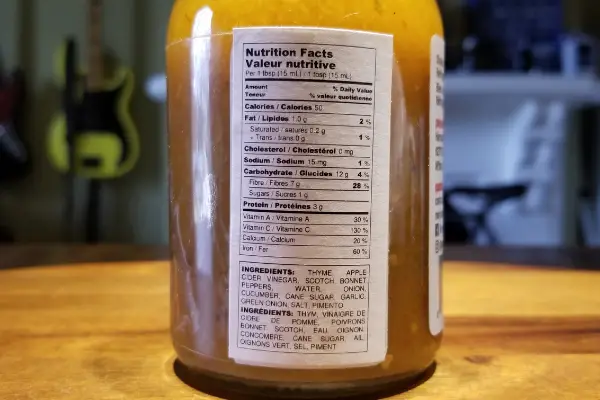 Manufacturer: Meryl's Hot Sauce
Made In: Ontario
Heat Rating: 5/10
Size: 250mL
Price Range: $13-$15
Buy At Meryl's

Ingredients: Thyme, Apple Cider Vinegar, Scotch Bonnet Peppers, Water, Onion, Cucumber, Cane Sugar, Garlic, Green Onion, Salt, Pimento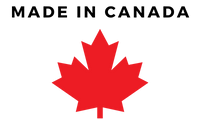 Appearance
At first glance, Meryl's hot sauces look unique and intriguing. They come in a 250mL BBQ sauce-style bottle with a wide mouth.
Inside the bottle is a yellow/brown chunky hot sauce. You can see bits of seeds and other ingredients floating around in the sauce.
Meryl's Scotch Bonnet sauce flows very well and thanks to the wide-mouthed bottle it is very easy to pour.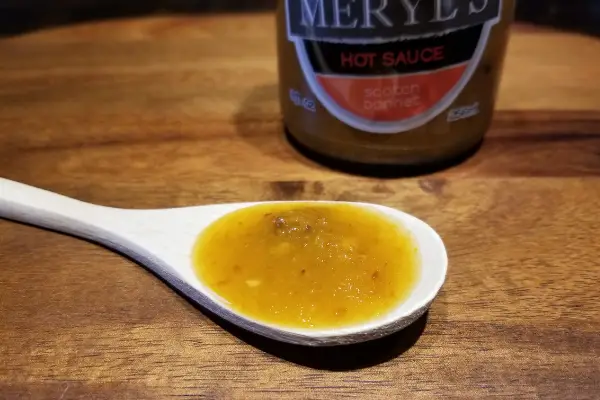 Smell
Apple Cider Vinegar is the first thing I could smell when taste-testing this hot sauce. In my opinion, it is a little overpowering.
There is really nothing else to smell, maybe a bit of sweetness.
If I were going to guess what this hot sauce would taste like just from the small I would say like a sweet tangy apple cider vinegar.
Taste
The taste of Meryl's Scotch Bonnet Hot Sauce was reminiscent of the smell.
My first bite with this hot sauce tasted just like apple cider vinegar followed by the sweetness of the cane sugar.
The only ingredients with some actual substance are the scotch bonnet peppers and the onions. Cucumber has a very neutral flavour so it did not stand out too much.
Still, all I could really taste was the apple cider vinegar and the sweet cane sugar.
Heat Level
I gave this hot sauce a 5 out of 10 for heat because it was a bit hot. Even though I could not taste the peppers, I could feel the heat.
The heat stuck around my tongue for a little bit but not too long. I did sweat just a little bit from Meryl's Scotch Bonnet sauce. Just a little bit around my cheeks and forehead but it went away quickly.
The upside is that this is real heat and not heat from a concentrated pepper source. These were real scotch bonnets.
Flavour
Again, apple cider vinegar is the flavour of this hot sauce. If you love apple cider vinegar you will love Meryl's Scotch Bonnet hot sauce.
There was a bit of nice texture with the chunky bits of pepper and seeds but that was about it.
Conclusion: Overall Thoughts
For me, it was too much tang and too much sweetness. I like a savoury sauce with a bit more substance.
The burn was nice but the flavour was a bit too overpowering. My suggestion would be to cut back on the ACV and add some pepper or mint.
But hey, to each thier own!
Please remember that taste is subjective and everyone will experience hot sauce uniquely. These reviews contain my own thoughts and opinions. If you think you'll enjoy a hot sauce then you should definitely try it out.
Mike P
Mike is a hot sauce lover. He has never, and will never say no to hot wings. Mike loves a balance of flavour and heat; he prefers his food on the spicy side but also likes some sweetness too.

About Us