Embark on a flavorful journey with Flavour Factory's Hot Pursuit, an award-winning, heat-packed sensation hailing from BC, Canada.
This vegan, gluten-free hot sauce is a culinary symphony, masterfully crafted with real Carolina Reaper peppers, renowned for their extreme heat. But Hot Pursuit isn't just about the spice – it's also brimming with robust garlic flavors, promising a taste explosion with every drop.
Perfect for those craving a real punch, this sauce elevates any dish it graces. No extracts, just pure, fiery goodness. An exquisite adventure awaits – let's delve deeper into this heat lover's dream.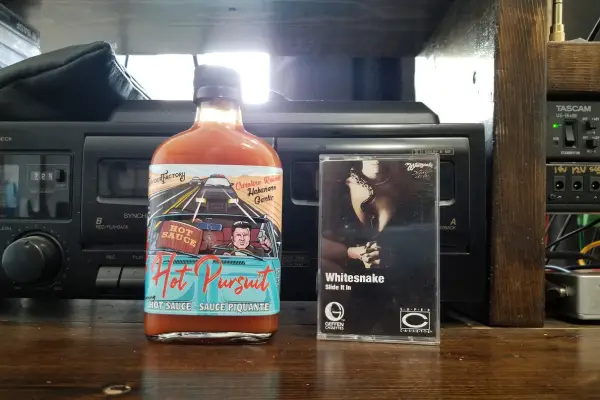 Introducing: Hot Pursuit by Flavour Factory
Explore Flavour Factory's Hot Pursuit – a gluten-free, vegan sensation, crafted in Chilliwack, BC, from fresh, quality ingredients. This globally acclaimed sauce secured first place at the prestigious Scovie Hot Sauce Challenge, cementing its status as the World Champion Hot Wing Sauce.
Bursting with the fiery yet enjoyable flavors of non-extract Carolina Reaper and garlic, it's your escape to a world of intense heat and flavor. This savory delight, priced between $14 and $18, comes in a unique flask-shaped bottle, adding a dash of intrigue to your kitchen.
Unleash its fiery magic on hot wings, BBQ, pizza, or anything craving a heat upgrade. Luckily, this gem escaped Danny the Hot Sauce thief, infamous for nabbing the world's best sauces!
Indulge in Hot Pursuit – your gateway to homemade hot sauce perfection.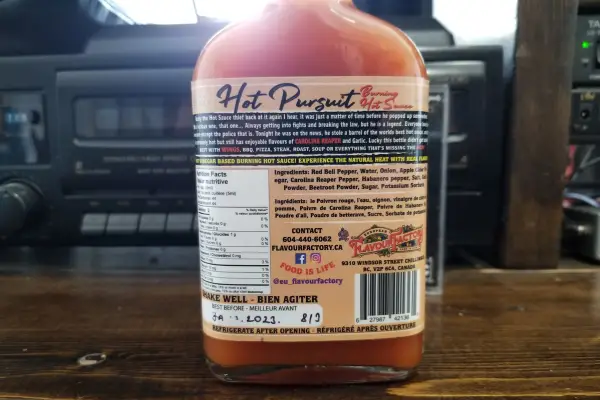 Manufacturer: Flavour Factory
Made In: British Columbia
Heat Rating: 6/10
Size: 220mL
Price Range: $14-$18
Buy from Flavour Factory

Ingredients: Red Bell Peppers, Water, Onions, Sugar, Carolina Reaper Peppers, Habanero Peppers, Apple Cider Vinegar, Garlic Powder, Beet Powder, Sorbic Acid, Salt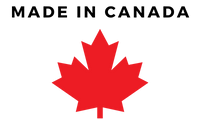 Appearance
Hot Pursuit captivates you even before you taste it. Housed in a unique, flask-shaped 250mL bottle (though labeled 220mL), its exterior promises an exciting experience.
The label features a thrilling cartoon of a law-defying badass, sporting greasy cool hair, audaciously running with a hot sauce barrel. His mischievous smirk, encapsulated in a circle sticker atop the cap, teases the fiery ride within.
The sauce itself – a homogenous blend in vibrant shades of orange-red, suggests an intense heat ready to engulf your palate. Smoothly flowing and finely blended, it's a consistent, luscious sauce that generously coats your meals, without any bits of ingredients present. Its bottle design ensures easy pourability, with a wide mouth that eliminates any clogging.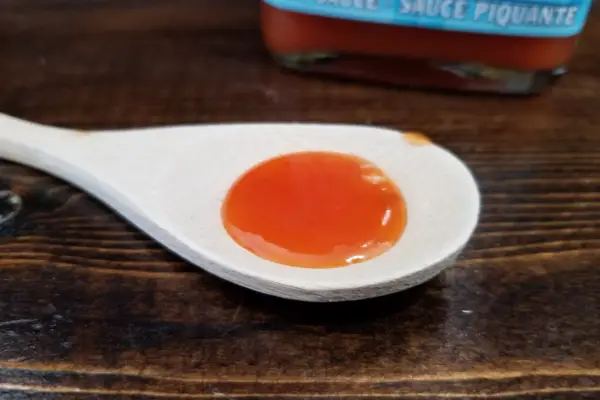 Smell
The aroma of Hot Pursuit teases the senses, weaving a tantalizing story of heat and tang. As you uncap the bottle, the pepper's robust character immediately hits you, intertwined with the sharp tang of vinegar.
Lying beneath these dominating notes is a delicate sweetness – an unexpected twist introduced by the apple cider vinegar. Though typically not a fan of sauces leveraging this ingredient, its usage in Hot Pursuit is remarkably well-executed.
A hint of saltiness graces the nostrils, yet it's the pepper and vinegar duo that largely define this sauce's aromatic profile. Dive into this fragrant world of Hot Pursuit.
Taste and Flavour
Hot Pursuit isn't your typical hot sauce. Sure, it starts off as a pepper-forward vinegar sauce, but there's a hint of sweetness that makes it unique. This subtle sweetness teases the palate, playing off the fiery heat of the Reapers and the distinctive taste of the habanero.
You can't miss the rich flavor of garlic, either. It adds a wonderful depth to the overall taste. There's even a touch of smokiness, adding yet another layer of complexity to this remarkable sauce.
Whether it's the secret use of beetroot powder or something else, Hot Pursuit truly surprises and delights in the flavor department. It's simply outstanding.
Heat Level
Hot Pursuit's heat level strikes a notable balance, coming in at a moderate 6 out of 10. While you can certainly detect the fiery kick of the Carolina Reaper peppers, it doesn't overpower the other flavors or your palate.
Interestingly, the heat seems to settle primarily on the sides of the tongue, sticking around longer than you'd expect. After indulging in a few bites, it's not unusual to feel a bit of sweat forming on your cheeks or hairline.
Unlike some sauces that have a concentrated, almost artificial heat, Hot Pursuit feels genuine, likely because of the use of fresh reapers.
While you don't need much to feel the burn, the overall flavor might tempt you to use a bit more than necessary. It's a sauce that combines both heat and flavor effectively.
Conclusion: Overall Thoughts
In wrapping up, Hot Pursuit left a lasting impression. I quickly found myself reaching for it, finishing the bottle sooner than anticipated.
Its potent garlic undertones perfectly complemented the fiery yet manageable heat. Truly a hot sauce worth savoring and a must-try for enthusiasts. Dive into this flavor journey today.
Please remember that taste is subjective and everyone will experience hot sauce uniquely. These reviews contain my own thoughts and opinions. If you think you'll enjoy a hot sauce then you should definitely try it out.
Mike P
Mike is a hot sauce lover. He has never, and will never say no to hot wings. Mike loves a balance of flavour and heat; he prefers his food on the spicy side but also likes some sweetness too.

About Us